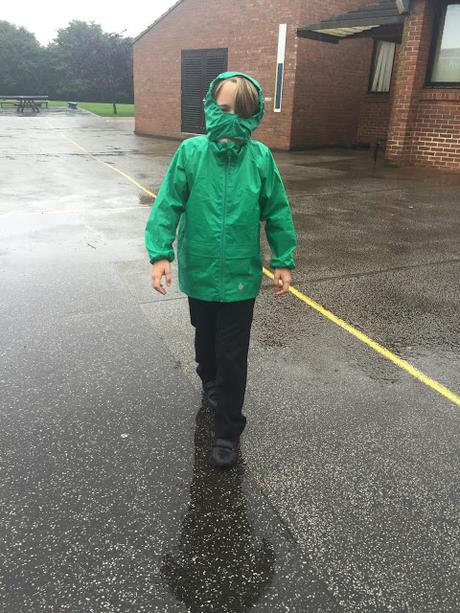 If it is going to rain, you can almost guarantee it will rain on school runs.
Typical British weather is, mostly wet in the mornings and then come the afternoon we always get ominous black clouds and bang on the school run there is total downpour. 
It's not just the school runs though, it happens when we go to take the dogs out for a walk, or we've made plans to go down the park for the afternoon. Rain can spoil your fun  - or does it?! 
 The kids don't mind the rain, and they especially love the puddles. 
There is no such thing as bad weather, just unsuitable clothing.

There is nothing wrong with being outside in the rain, it can be fun - as long as you have on suitable clothing, waterproofs, wellies, umbrella etc. then why not get outside.
Dry Kids sent us one of their Waterproof Jackets - Jacob chose green, but it is available in 5 other colours and costs just £9.95 - which is excellent value for money.
This waterproof jacket is perfect for those rainy days - it done us well when we went to Center Parcs and every day on the school runs, it keeps Jacob dry and warm - although, when it starts to get colder, he will need to wear a jumper underneath to keep him warm, as this is a rain jacket and not a winter coat.  
The Dry Kids Waterproof Jacket is a hooded zip coat, where the cuffs are elasticated keeping out the rain, with velcro hood straps, and two front pockets. 
The hood also can fold away into the collar.  
In addition, the whole thing folds compactly into itself in the front zip pocket, which is perfect for storing it away at home, or maybe to keep in your handbag etc.
This Dry Kids Jacket is a great jacket that keeps your child dry, and it is truly excellent value for money.