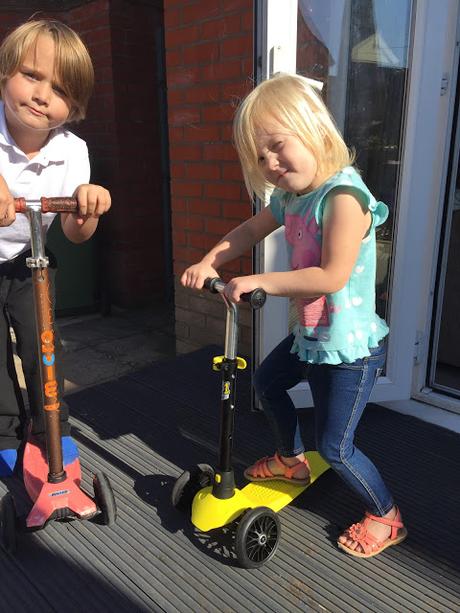 Children love scooters, they are everywhere - down the park, on the way to school, downtown 
and in the gardens. This is because they are fun, light-weight, portable, fast - perfect for zipping around.
Summer is at that age where she is getting too big for her buggy, she doesn't want to sit in it, she wants to walk, but as she is little she has little tolerance for walking long distances. She ends up wanting a carry - not to sit back in her buggy, no, she wants a carry. This is not ideal for when we take the dogs for a walk or if we walk to school etc. This is where a scooter fits in perfectly.
Recently, decathlon sent us their 
OXELO 
B1 Scooter
(appropriate for kids ages 2-4) for Summer to try.

A very light-weight, but robust scooter, it is customable with the ability to change the coloured shells that you can fix straight onto the frame. It has a height-adjustable handlebars with three wheels making it a great balance scooter. Summer quickly mastered the technique of riding her 
OXELO 
B1 Scooter and she was soon whizzing around the pavements leading the way on our dog walks. 

These scooters are ideal for short walks, perfect to just grab and go. Simple to use and fun. 
They will help develop your child's motor skills, balance skills, self-confidence, and of course, it will keep them fit and active.
Available in 5 different colours (Summer choose Yellow), RRP £22.99 - this 
OXELO 
B1 Scooter will make a great gift for any
2-4 year old
.