DJ Lance Rock and Yo Gabba Gabba! Live! Are back in the land down under..
Well in June anyway

Get your hot little hands on tickets now as they ARE selling fast, especially the brand NEW morning shows at

www.yogabbagabbalive.com.au
There's a party in my tummy, yeah YEAHH. There is a party in my tummy!!
Chugg Entertainment and Life Like Touring are super dooper excited to bring DJ Lance Rock back to Australia in June. YO GABBA GABBA! LIVE! has become a cult-family-favourite seen by almost 100,000 Australians since 2009, and this year DJ Lance Rock and the Yo Gabba Gabba! gang will perform the show once again in Sydney, Melbourne and Brisbane, and for the first time ever in Adelaide, Perth and Hobart.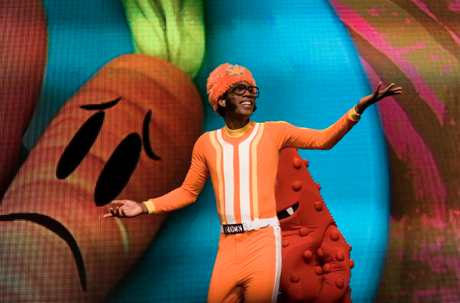 Last year when the family and I attended the YO GABBA GABBA LIVE! Show last year we all walked away singing the theme songs and dancing all the way home. It is such a great show for all ages, I even caught Matt who is 29 years old dancing and singing along with the girls.
DJ Lance Rock and everyone's favorite cast of colourful characters, Brobee, the little green one, Foofa, the pink flower bubble, Muno, the red Cyclops, Toodee, the blue cat-dragon and Plex, the yellow robot, take some of the all-time Gabba favourites like "I Like To Dance" and "Party In My Tummy," and mix them up with some awesome new songs.  YO GABBA GABBA! LIVE! will be familiar to many of the fans who have witnessed it before, and now fans in other parts of Australia will get to jump, shake and shimmy the sillies out too!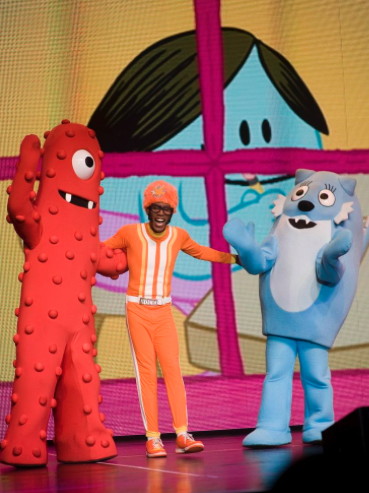 WIN a Family Pass to Yo Gabba Gabb LIVE!


YO GABBA GABBA! LIVE! Super Music Friends on past Australia tours include Art vs. Science, Dappled Cities, Little Red, Operator Please and Vydamo. Past Dancey-Dance guests have included members of iconic Australian bands Powderfinger, Sneaky Sound System and Spiderbait, alongside celebrities such as David Campbell, Peter Hellier, Adam Hills, Triple J's Tom and Alex, Nova's Ryan Fitzgerald, Dylan Lewis, Dave Hughes and many more. YO GABBA GABBA! LIVE! marks the fourth live tour in Australia off the back of the sell-out concert series, and promises to be the biggest and best Australian tour yet.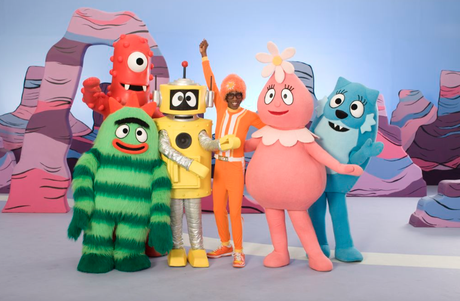 Yo Gabba Gabba! Live! 
2014 Australian Tour Dates and Tickets
Saturday 7 and Sunday 8 June
Riverside Theatre, Perth
Ticketek 132 849
Saturday 14 and Sunday 15 June
Thebarton Theatre, Adelaide  
VenueTix 8225 8888 
Saturday 21 June
Palais Theatre, Melbourne
Ticketmaster 136 100
Saturday 28 and Sunday 29 June
Big Top Luna Park, Sydney
Big Top 1300 244 867 or Ticketmaster 136 100 
Tuesday 1 to Friday 4 July
Powerkids Festival, Brisbane Powerhouse
Box office 3358 8600 
For show times and tickets in Sydney, Melbourne, Brisbane, Adelaide, Hobart and Perth, visit 

www.yogabbagabbalive.com.au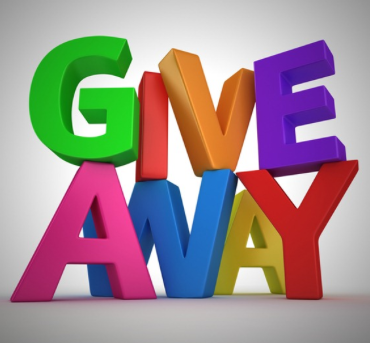 Luckily for you there is a chance to WIN a FAMILY pass to the Melbourne Show:
Saturday 21 June, 10:00am
Palais Theatre, Melbourne
All you have to do is tell me in 50WOL why you and your family would love to see the Yo Gabba Gabba LIVE! Show.
Open To Australian Residents only.
No transport to the show so you must be located in Melbourne.
Competition Closes 5th June 2014
Images thanks to 
Life Like Touring