HELLO Lovelies!
A couple of weeks ago, I bought Yardley London's English Daisy on sale at Boots. I absolutely loved the sweet and floral fragrance that reminded me of Marc Jacob's Daisy and Versace's Bright Crystal.  Well, the obsession with Yardley London's fragrances continue.  Today I'm here to review 3 fragrances by the recently relaunched Yardley London.  Peony, Iris and Lily of the Valley are the ones that I wore this week.  I'm going to show you my photos first, and then give you my review of these.  Just bear with me, there is a reason why I am reviewing these three all together.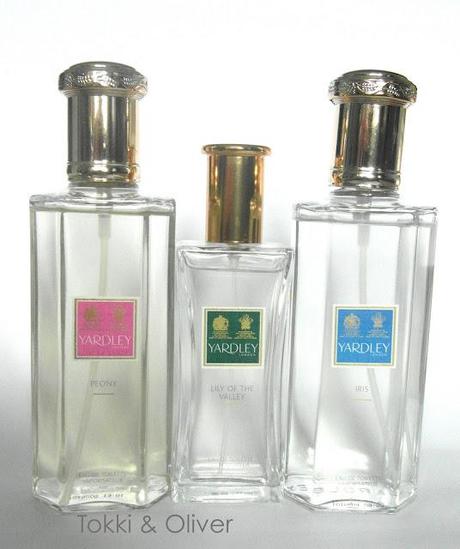 From Left to RightPeony 125ml £14.49Lily Of The Valley 50ml £9.99Iris 125ml  £14.99Can be purchased at Boots, Boots.com and Yardley's website
The 50ml bottles are shaped differently than their 125ml sisters, as well as their caps.I highly recommend opting for the 125ml, because the price is only slightly more and you get an ornate perfume cap as well.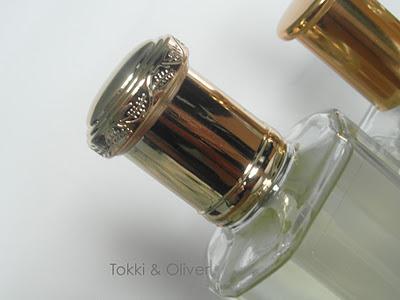 125ml bottle cap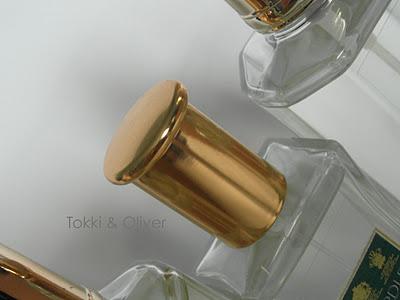 50ml bottle cap
I highly recommend the 125ml bottle over the 50ml, because not only do you get 75ml more for only £5 more, but you get an ornate cap with the 125ml bottle.  
PEONY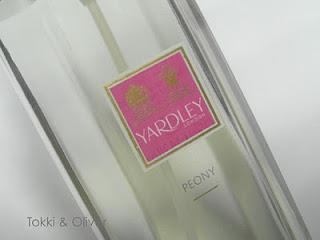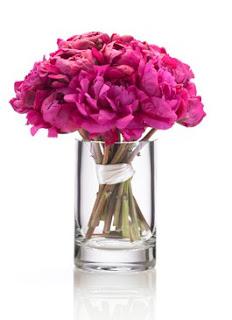 "Yardley London's Peony fragrance is a modern, fruity floral with top notes of fresh green leaves, complemented at its heart by a combination of peony flower, red currant, geranium and heliotrope and undertones of warm amber"
I was the most excited about trying Peony.  I'll be honest, growing up I lived in the city and basically there were no Peonies or other beautiful flowers, so it wasn't until I was older that I even knew what different flowers smelled like LOL!  Sure, I smelled synthetic imitations, but it wasn't until this past summer that I actually smelled with real flowers smelled like.  How sad right?!?! Well my in laws are very much into gardening, and last summer I smelled the amazing freshness and authenticity of an English garden.  So I can appreciate these floral fragrances a lot more now that I have experienced them in real life.  Peonies are sweet and floral and that is the scent that I naturally go towards when purchasing fragrances.  This version is a great replication of real peonies.  So if you love this flower, definitely get this fragrance.  It is uplifting and youthful.
IRIS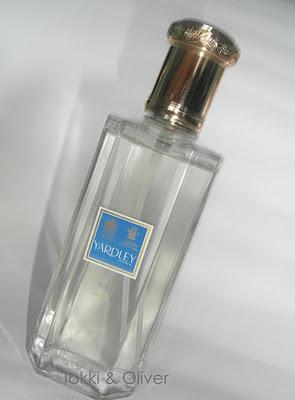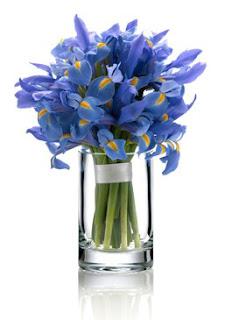 "Yardley London's Iris fragrance is a fresh, clean, spicy, floral that has an intriguing combination of fresh green leaves and citrus notes, a heart of iris, muguet, violet and rose with a warm vanilla base"
  How gorgeous are Iris flowers?  Gorgeous.  I can see why there is an obsession with this flower over here in Europe.  This fragrance has left me in a bit of a tongue twist, as I'm having difficulty expressing it's scent, so let me tell you how Yardley's describes it (because it is spot on!)
I love the green leaves and citrus notes in this fragrance.  It is definitely an uplifting scent, but subtle as well because of the violet and warm vanilla base.  It is very delicate.
LILY OF THE VALLEY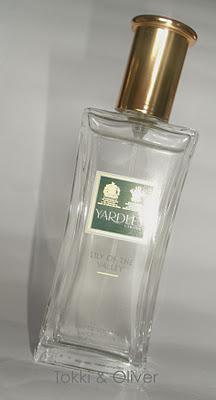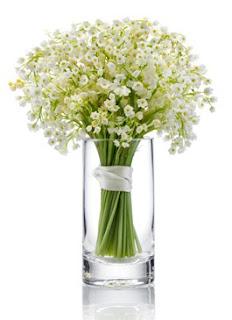 "Yardley London's classic Lily of the Valley fragrance is a light and elegant scent with citrus top notes, combined with a heart of fresh, spring flowers, including lily of the valley, jasmine, geranium and magnolia; dying down with an amber and woody base"
Lily Of the Valley is very light and delicate gentle scent.  It is very citrusy and green in it's initial spray.   Of all three fragrances, Iris and Lily of the Valley lasted the longest.
I tried each perfume on it's own, and each perfume brought it's own very unique floral quality.I guess I'm so use to modern perfumes where there are layers and different notes in one perfume, so I'll admit, I'm not use to single note fragrances anymore.  It reminds me of the Molinard single note fragrances; however, I highly recommend layering these perfumes on top of each other.
The magic that was born when I layered Iris, Lily Of the Valley and Peony together was an amazing bouquet of floral scents that made me smile.  I absolutely love these three together.  This past week I have smelled like an traditional English garden at its height of the summer.  I smelled unbelievably fresh and floral.  I couldn't stop smelling myself.
For the economic price of these, they are of high quality.It's well worth buying a few of these perfumes and layering them.  It's a great way of creating your own fragrance reminiscent of the classic English floral garden.
Have you tried the newly relaunched fragrances?
How did you like them?
*PR Samples