I wanted to share with you all some things that I treated myself too recently. I've had a lot of costume jewelry tarnish on me and most of it was binned or given to charity.  I was so in love with topshop jewellery, only to be disappointed when the gold would wear off.  It's just so painful to have to get rid of a piece of jewelry that you love.  Sure it only cost me like £1-3 each, but I have nothing to show for it now and it feels like wasted money.  Now, I'm not saying that designer jewelry never tarnishes, but I haven't had to toss away any of my designer costume jewelry away ever.  So it's all about having less but having it for longer.
Ringing in 2015 with some Moschino love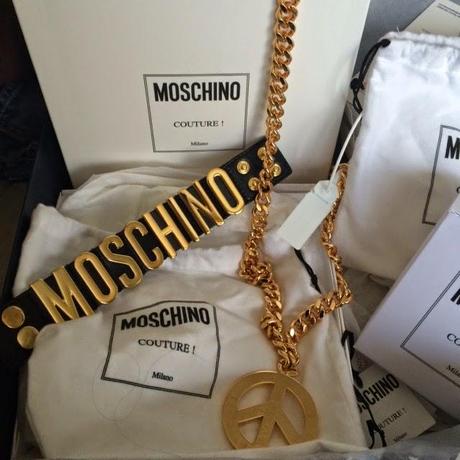 All purchased from Luisaviaroma during their sale. They were offering an additional 20% off sale items with free international shipping, so I took the plunge.  My order arrived 2 days later from Italy. That's not bad at all really.
The photos online did not do justice for what arrived in the post. The jewelry is heavy and well made.  The only disappointment was that the boxes were thin. I like a nice heavy box when it comes to my designer pieces.  Overall though, I'm happy with the purchases and looking forwarded to adding that golden bling to my all-black wardrobe this year.
I'm really loving what Jeremy Scott is doing with Moschino. It's reminiscent of the 90's and my childhood with a touch of couture.  I love it.