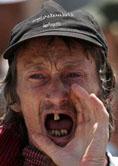 In a promotion widely hailed as a valiant first step in combating the epidemic of tooth decay among Yankees fans, the team announced today that for an upcoming game they will hand out a free official Yankees toothbrush to the first 1000 fans who have teeth.
"Yeah, we'll have a few left over," said Hank Steinbrenner. "But most of our fans have at least a couple of teeth, and experts say that with regular brushing those teeth can be saved."
Dental experts applaud the measure.  "This is a step in the right direction," said Perry O. Dontal, head of the United Dental Association. "I myself am the rare Yankees fan with all of his teeth still remaining. Still, like most Yankees fans I do enjoy throwing batteries at opposing players, making crude sexual comments about their mothers, and throwing up on other fans."
Steinbrenner said if this campaign is a success, the Yankees are considering offering a "Remedial Reading Day" for the tens of thousands of illiterate Yankees fans.  "One step at a time," Steinbrenner said. "Let's get the teeth in decent shape and then we can address the reading deficiency.  Who knows, by the end of the year we might have some fans you'd actually feel comfortable sitting down and watching a game with. Maybe."
Follow on Facebook and on Twitter