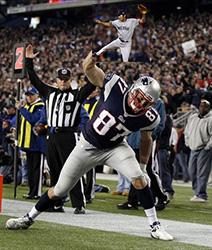 Opening Day at Fenway Park is always a day of great festivities, and the Red Sox are never shy about asking their brother teams in Boston to join.  With the Patriots recently capturing another Super Bowl, Sox PR whiz Dr. Charles Steinberg used some quick thinking and invited the ever-popular Rob Gronkowski to represent the champions.
"The idea we came up with is to take advantage of Gronk's signature move, the spike," Larry Lucchino recently told Call of the Green Monster. "Then, we thought it would be an added treat to watch him spike Koji Uehara!  Gronk's a friggin' monster, and Koji weighs about 15 pounds with silver dollars in his pocket, so it should be no problem. We're planning a raffle with fans guessing how high Koji will bounce."
When asked if Uehara had actually volunteered to participate in the violent stunt, Lucchino was pragmatic. "Two points here: One, we just gave him $18 million, and two, he pitched like absolute crap at the end of last season. This is a little reminder to him that he better get himself together and get back to form. Plus, Koji doesn't know anything about football, particularly what a spike is." Lucchino paused and smile mischievously. "But he will..."