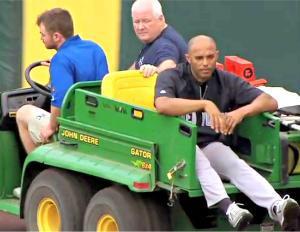 Photo: AP Images
- Adam Parker
The New York Yankees were defeated by the Kansas City Royals on Thursday night. I know. Shocking, isn't it?
But the Yankees don't care.
Their primary focus is on closer Mariano Rivera, whose incomparable career could be over after suffering a torn ACL and torn meniscus in his right knee while tracking a fly ball during pre-game batting practice for the Yankees at Kauffman Stadium.
According to team captain Derek Jeter, this was something Rivera, 42, has done for as long as he's known him (18 seasons as teammates in New York) and it was just a freak accident.
Two big questions immediately sprang to mind when I saw Mo' being lifted by manager Joe Girardi and another coach onto a cart before being taken off the field: Who will step in as the closer now? Is this truly the last we've seen of the future first ballot Hall of Famer?
I certainly hope not.
Even if you love to hate the Yankees, it's hard not to respect Rivera. He's been the best closer on arguably the best team in baseball for the better part of the last two decades. The 12-time All-Star is MLB's all-time leader in saves (608) and games finished (892).
Rivera's pitching repertoire consists primarily of one pitch -- a sharp-breaking, mid 90s mile per hour cut fastball that has been called an all-time great pitch.
It's crazy when you think about it, really. Rivera first debuted his patented pitch back in 1997, after he
accidentally
learned how to throw it. Since then, Mo' has been consistently baffling professional hitters with it, often leaving them looking like a deer-in-headlights.
Mariano did inform reporters that he made his decision before the season about whether or not the 2012 campaign would be his last hurrah. We might never know what that initial decision was, but as of now, Rivera plans to come back, citing that he doesn't want to have his career end like this.
It appears baseball hasn't seen the last of Mo', but in the meantime, the Yankees need to find a temporary fill-in while Rivera is sidelined.
The top two candidates are Rafael Soriano, the high-priced reliever whom the Yankees signed away after he recorded 45 saves for the Tampa Bay Rays in 2010 before joining the Yanks. Also a candidate is the Yankees' top reliever this season in David Robertson -- the guy many consider to be a setup guy with closer's stuff.
Mo's loss is a great one, indeed.
But it shouldn't hinder the Yankees' playoff chances much if at all.
Rest assured, baseball fans. The machine that is the Yankees' Evil Empire will keep grinding along.
Be sure to follow Beard And Stache on Twitter 
@BeardAndStache
, 
and also Adam 
@Adam_Parker43
, Like our Facebook page 
HERE
!