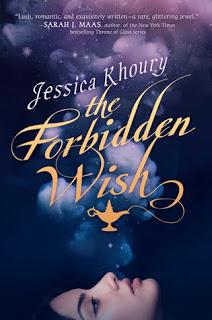 The Forbidden Wish
 by Jessica Khoury
Publication Date:
February 23rd, 2016
Publisher:
Razorbill
Page Count:
352 pages
Format:
ARC
Source:
Borrowed from Bookalicious
Genre:
Fairy-tale retelling, fantasy
Ages:
14+
Goodreads | Amazon | Barnes and Noble | IndieBound
She is the most powerful Jinni of all. He is a boy from the streets. Their love will shake the world...
When Aladdin discovers Zahra's jinni lamp, Zahra is thrust back into a world she hasn't seen in hundreds of years—a world where magic is forbidden and Zahra's very existence is illegal. She must disguise herself to stay alive, using ancient shape-shifting magic, until her new master has selected his three wishes.
But when the King of the Jinn offers Zahra a chance to be free of her lamp forever, she seizes the opportunity—only to discover she is falling in love with Aladdin. When saving herself means betraying him, Zahra must decide once and for all: is winning her freedom worth losing her heart?
As time unravels and her enemies close in, Zahra finds herself suspended between danger and desire in this dazzling retelling of the Aladdin story from acclaimed author Jessica Khoury.
Let me start by saying I've been absolutely OBSESSED with Aladdin and 1001 Nights re-tellings lately, so THE FORBIDDEN WISH caught my eye immediately. It's a great spin on the story of Aladdin, whether you're familiar with the original tale, or the Disney version, you'll see a lot of similarities and recognize many of the plot points.
My favorite part of Khoury's version has to be that the jinni is a woman. A kick-ass-punch-you-in-the-throat-turn-into-a-snake-and-bite-you woman. Zahra as she's named is THE BEST. Seriously, she takes shit from no one and despite being slave to the lamp has he fair share of fun with some of the wishes commanded of her. While she is technically incapable of going against her master, she knows how to manipulate wishes to her own advantage and has no shame in admitting it.
There are other amazing women in this story too - Caspida, is a hero in her own right. She's bold, fierce, and incredibly intelligent. Part of me would really love to read a short story, or novella, purely about Zahra and Caspida going on some kind of insane adventure together while leaving Aladdin at home to tend to whatever it is he has going on now.
Needless to say, I highly recommend THE FORBIDDEN WISH for anyone who enjoys fantasy, fairy-tales, strong women, and a bit of romance. A great read, I just wish there were more!