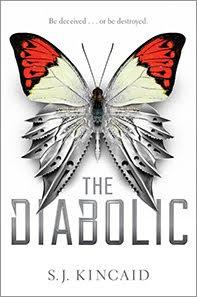 The Diabolic by S.J. Kincaid
Publication Date: November 1st, 2016
Publisher: Simon and Schuster Books for Young Readers
Page Count: 416 pages
Format: Audiobook
Source: Audible
Genre: Science Fiction
Ages: 14+
Goodreads| Amazon| Barnes and Noble | IndieBound
A Diabolic is ruthless. A Diabolic is powerful. A Diabolic has a single task: Kill in order to protect the person you've been created for. Nothing else.
For Nemesis, that person is Sidonia, heir to the galactic Senate. The two grew up side by side, and there's no one Nemesis wouldn't kill to keep her safe. But when the power-mad Emperor summons Sidonia to the Imperial Court as a hostage, there is only one way for Nemesis to protect Sidonia.
She must become her.
Now one of the galaxy's most dangerous weapons is masquerading in a world of corrupt politicians and two-faced Senators' children, and Nemesis must find within herself the one thing she's been told she doesn't have—humanity. With the Empire beginning to fracture and rebellion looming, that could be the one thing that saves her and the Empire itself.
Okay, THIS BOOK! I have to admit, I wasn't super into the first third of this book, but once things started picking up I could not stop! I got REALLY into it! The beginning is kind of difficult to grasp (and that could definitely stem from listening to the audio version), but once I started understanding the core concepts and the cultural importance of everything, I really started enjoying everything.
Nemesis is a Diabolic. From what I gathered, that means she's a humanoid creature designed to essentially sacrifice herself for her bonded human counterpart. I'm not going to lie, every time they said "humanoid" all I could think of were the Orcs from Lord of the Rings. She's supposed to protect the human who "owns" her or her master. Nemesis's master is Sidonia, the daughter of an important governmental figure (a senator) who doesn't have much interest in the courtly life she's supposed to maintain. So, when Sidonia is meant to visit the court, they send Nemesis instead.
This is where things really started getting good. I was sort of bored with the whole origin story and tailoring of Nemesis, but once she was on her own I was OBSESSED. I LOVED Nemesis around all those crazy court people. She as fierce, strong, loyal, and watching her become her own person was just fascinating.
If you haven't picked up The Diabolic yet, I highly recommend it. Just get through the beginning bits and things will start to pick up, I swear! Great pick for anyone looking for an interesting sci fi read!