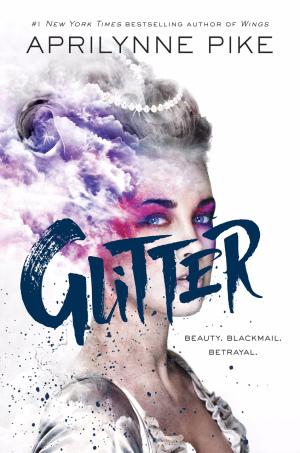 Glitter 
by Aprilynne Pike
Expected Publication Date: October 25th, 2016
Publisher: Random House Books for Young Readers
Page Count: 384 pages
Format: E-ARC
Source: Publisher via Netgalley
Genre: Science fiction, dystopian, romance, political intrigue
Ages: 14+
Goodreads | Amazon | Barnes and Noble | IndieBound
From #1 New York Times bestselling author Aprilynne Pike comes a truly original new novel—Breaking Bad meets Marie Antoinette in a near-future world where the residents of Versailles live like it's the eighteenth century and an almost-queen turns to drug dealing to save her own life.
Outside the palace of Versailles, it's modern day. Inside, the people dress, eat, and act like it's the eighteenth century—with the added bonus of technology to make court life lavish, privileged, and frivolous. The palace has every indulgence, but for one pretty young thing, it's about to become a very beautiful prison.
When Danica witnesses an act of murder by the young king, her mother makes a cruel power play . . . blackmailing the king into making Dani his queen. When she turns eighteen, Dani will marry the most ruthless and dangerous man of the court. She has six months to escape her terrifying destiny. Six months to raise enough money to disappear into the real world beyond the palace gates.
Her ticket out? Glitter. A drug so powerful that a tiny pinch mixed into a pot of rouge or lip gloss can make the wearer hopelessly addicted. Addicted to a drug Dani can sell for more money than she ever dreamed.
But in Versailles, secrets are impossible to keep. And the most dangerous secret—falling for a drug dealer outside the palace walls—is one risk she has to take.
Just, wow. This book. I have no words. I think I've been telling everyone I can find that they absolutely NEED to read Glitter as soon as it comes out. Honestly, if I had to wait for October to read it for the first time, know what I already know, I'd be pissed. Because this is not a book you want to wait for. I'm sorry for all of you.
Look, if you're not already hooked by my very convincing first paragraph, I get it. I'll have to do better. This book is set in the Palace of freakin Versaille. Yes, where Marie Antoinette lived. And because this is a futuristic, dystopian story, everyone has lenses and future tech that help them live in their historic castle. It's just such a weird and creative concept, I absolutely fell in love.
Danica is an interesting character. She didn't grow up with nobility, and only recently found a place in the palace. Because of this, she isn't as familiar with court ways as others and ends up finding herself in a very dangerous predicament. After witnessing the king murder a young girl, Danica's mother blackmails the king into agreeing to a marriage neither of them want, purely to propel her family further in the court. Danica is absolutely scarred from this experience and wears a corset which she tightens regularly to remind her that she is still alive. I found this whole concept fascinating and after tweeting Aprilynne Pike, she informed me that even to this day, some use corset training to deal with their anxiety - safely.
The king is an absolutely piece of garbage, which I'm sure you've already realized purely based on the fact that he KILLED A GIRL. Straight up MURDERED HER. Yeah, that guy sucks. Occasionally he would remind me of Henry VIII, but I'm not sure if that's because of the whole murder thing, or because he was power-hungry and a man whore. Probably all of the above.
Gossip Girl meets Cinder in this futuristic thriller. They throw the Breaking Bad reference in there, but I didn't see it. This is a phenomenal story and one that really stuck with me. Highly recommended!!