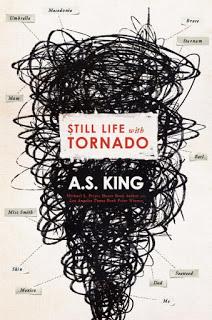 Still Life with Tornado 
by A.S. King
Publication Date:
October 11th, 2016
Publisher: 
Dutton Books for Young Readers
Page Count:
295 pages
Format:
Audiobook
Source:
Library (Overdrive)
Genre:
Magical Realism; Contemporary Fiction; Real Issues
Ages:
14+
Goodreads
|
Amazon
|
Barnes and Noble
|
IndieBound
"I am sixteen years old. I am a human being."
Actually Sarah is several human beings. At once. And only one of them is sixteen. Her parents insist she's a gifted artist with a bright future, but now she can't draw a thing, not even her own hand. Meanwhile, there's a ten-year-old Sarah with a filthy mouth, a bad sunburn, and a clear memory of the family vacation in Mexico that ruined everything. She's a ray of sunshine compared to twenty-three-year-old Sarah, who has snazzy highlights and a bad attitude. And then there's forty-year-old Sarah (makes good queso dip, doesn't wear a bra, really wants sixteen-year-old Sarah to tell the truth about her art teacher). They're all wandering Philadelphia—along with a homeless artist allegedly named Earl—and they're all worried about Sarah's future.
But Sarah's future isn't the problem. The present is where she might be having an existential crisis. Or maybe all those other Sarahs are trying to wake her up before she's lost forever in the tornado of violence and denial that is her parents' marriage.
"I am a human being. I am sixteen years old. That should be enough."
Every couple of years a book comes along that really alters the way I view my own realities. Books like Hate List by Jennifer Brown and Speak by Laurie Halse Anderson. Books that make you realize your own problems are trivial, that there are bigger things happening in the world. That some people have it much harder than you. That maybe you should stop and think before harshly passing judgment.
Still Life with Tornado is absolutely one of those books. It's haunting, heartbreaking, and thought-provoking. It makes you take a step back and really think about all kinds of abuse and the effects it has on the abused, the abuser, and even the bystander or family members. This is a book that deserves a spot on every required reading list.