It's competition time, girls! The lovely folk at FashionVouchers are giving away 3 £100 fashion vouchers! To get your mitts on them, you have to compile a party outfit using merchants from the list at FashionVouchers for £100 or less. Challenge accepted!
I chose Miss Selfridge, because of all of their beautiful beaded garments they've had in recently. When I think party, my mind instantly drifts off to Miss Selfridge.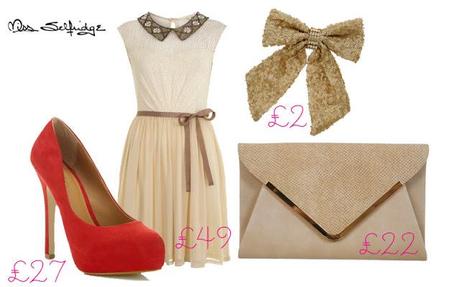 FashionVoucher Xmas Party Blogger Challenge, more info here!
This outfit is
exactly
£100! Oh yes! If it's one thing I'm good at, it's sticking to a budget. (Well, sometimes...) I love this outfit as it nods to old Hollywood glamour. The reds and golds are very Christmasy, and the gold bow is just too adorable for words!
I'd wear this look with a beautiful tube of Mac Ruby Woo lipstick to bring out the red in the shoes and to pay homage to old Hollywood. I'd style my hair accordingly, in soft subtle waves.
It was a very hard task for me sifting through Miss Selfridges website when I have no money to spare - sob! But I really enjoyed putting this outfit together. This would be amazing at Christmas parties, and I also have a very special 1 year anniversary on New Years with my boyfriend, that this outfit would be perfect for!
Good luck to everyone who has already entered is in planning on doing so!
And don't forget to enter my 100 follower giveaway!