Morning girlies,
I hope you're all having a better morning than I am, since Tuesday night I came down with a bad dose of the stomach bug, and the worst thing about it is that there is an on-going assignment at university this week... Although, thankful, I've spoken to tutors and they seemed very concerned and assured me my grade wouldn't be affected. Hurray for nice teachers!!
The one up side though of me being ill in bed is that I get to spend some well-deserved time with BBC iPlayer, and have time for blogging! 
I've recently been loving reading blog posts about what goodies you've bagged yourself in the January sales! And despite not indulging much this year (My mom and I are going for a weekend away in Worcester at the beginning of February, so I've been trying to resist spending temptation!) I managed to bag myself some lovely new clothes curtesy of the H&M sale!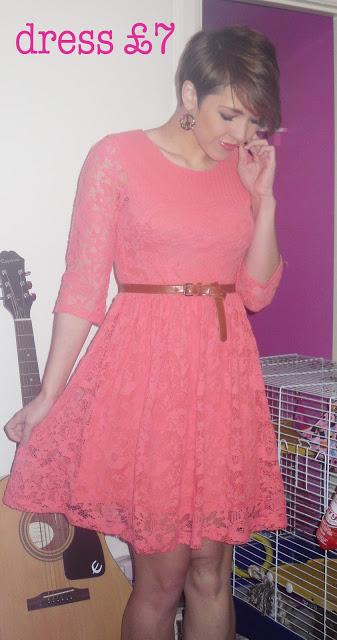 I love this dress! I almost brought it in October to be my birthday outting dress, but didn't know if I could justify £30, well, you can imagine my sheer and utter joy when I found it in the sales rack! The same dress I tried on a few months ago down to £7!!
It's a beautiful lace overlay, but has a velvety finish, that makes me want to touch it all the time! It also has the boyfriend stamp of approval as I broke it in Wednesday last week during a dinner date to Ed's Dinner, but of course with thick tights, boots and a giant coat, thanks to the cold weather!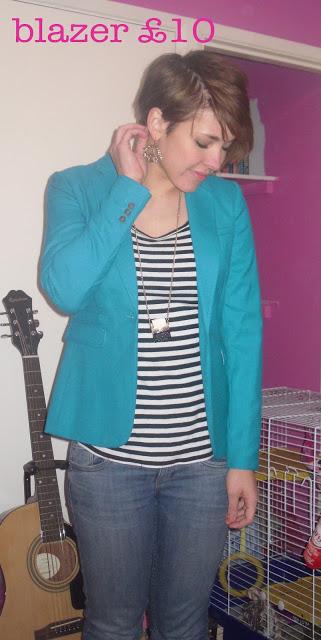 I love this blazer! And they had loads of different colours too, I was undecided between this and the pink one. And despite only being £10, I resisted buying both. It's a lot more fitted than the photo would have you believe, although it might be due to the fact that I took a photo of it having taken it straight out of the carrier bag, which is why there is a slight bit of creasing on the arms.
The color is also gorgeous. It's more of a greeny-turquoise than the color in the photo.
I also snagged myself a bright orange duffle coat for £10! So that's a grand total of £27! For a dress, a blazer and a winter coat!
Oh H&M, how I love you!
What bargains have you managed to bag yourself in this beautiful sales month?