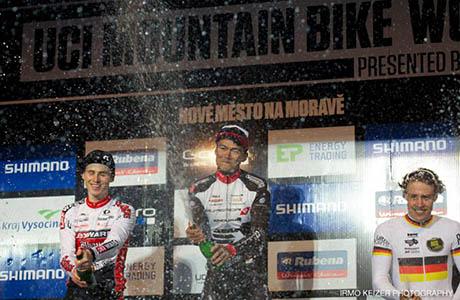 (google translate)Still cold and rain, this time in Czech Republic even if the ground of race has held up well since the rain was not abundant. The track was a little more than 1 km has been shortened compared to last year with an initial length of logs and then go get the double bmx with athletes who took flight and then face a slightly uphill asphalt which then led, through a short stretch of dirt road, in the final straight.
The races were quite technical and spectacular, with athletes who played the victory in the final straight with many arrivals at the photo finish. The men's race has lived with a final without the Cup leader Daniel Federspiel (who went on to win the match for 5th place) for the release of the pedal in full sprint that did not allow him to go through in the semifinals. To note the qualification of Martin Fruet (Arcobaleno Carraro) which, however, is eliminated in the quarter-finals.
Final round with the British Kenta Gallagher (Team Superior Brenjens), the German Daniel Pfäffle (Lexware Rothaus Team), the Slovenian Miha Halzer (Enerja Team) and the other German Simon Gegenheimer (Team Rose). The 2 favorites, Halzer and Gegenheimer, come out immediately after the start because in rocky section where Halzer breaks the gear while Gegheimer is puncture. There are therefore 2 to the win with a sprint that launches Pfäffle too long and is skipped in the last meters of the Gallagher (Team Superior Brentjens).
The women's race saw the clear supremacy of the young Swedish Jeny Rissveds who beat Katrin Stirnemann (Haibike Pro Team). In third place XCE World Champion Alexandra Engen (Ghost Factory). 4th place forEva Lechner (Colnago Team). 
SATURDAY 25 MAY (Czech Republic, UTC+1):
11.15 - Women U23
11.17 - Women Junior
13.30 - Men Junior
15.30 - Men U23
SUNDAY 26 MAY:
11.30 - Women Elite
14.00 - Men Elite
COMPLETE PROGRAM
COMPLETE STARTLIST
Results, MEN:
1. Kenta Gallagher (GBR, Superior Brentjens)
2. Christian Pfäffle (GER, Lexware Rothaus)
3. Simon Gegenheimer (GER, Rose Ultrasport)
4. Miha Halzer (SLO)
5. Daniel Federspiel (AUT)
Results, WOMEN:
1. Jeny Rissveds (SWE)
2. Kathrin Stirnemann (SUI, S. Spitz Haibike)
3. Alexandra Engen (SWE, )
4. Eva Lechner (ITA, Colnago Südtirol)
5. Linda Indergard (SUI, Strübi MTB Kader)