Good evening Beautiful,
Tomorrow is already hump day! Has your week flown by as quickly as mine? Well... half week I guess. It's been quite a long day. I got to work at 8am, left at 5:30pm and didn't take a break except to pee... and eat. My eyes are fairly tired...
How has your week been going? I've got a little bit of ADD going because I don't think I've given my brain a chance to rest in the last 72 hours, which is what I plan on doing after I finish writing this blog post! My week has actually been really great in terms of workouts and nutrition! Let me elaborate!
I've ate 100% clean and paleo the last 4 days and I'm super proud of myself!! Like seriously, 100% haven't ate ANYTHING bad or "cheating" in the last 4 days. Incredible! I have had a lot of cravings for a glass of red wine... serious cravings. Like, I'm drinking water out of a wine glass to try and convince myself that it's wine, but I didn't cave and drink the wine. I have 18 more days to get through of no drinking, and honestly... it's going to be hard. A really good friend of mine, he actually used to be my roommate, is coming up here on Saturday night and we're going out. I've already told CB that we can't go somewhere that's going to force me to drink (yes, the place we go could potentially force me to drink) so he recommended Earl's which is perfect. It's just a restaurant downtown which is nice to just sit at and chat! No dancing and no huge temptations of me and alcohol. That same night is Jenny's birthday as well, so that should be interesting too. I'm determined! I hope I don't cave...
Last night I made a chicken for dinner, and it was a recipe from one of my paleo cookbooks, and honestly it was the most work I've ever done to cook a chicken. The way I cooked this chicken was easily the most uncomfortable and the most disgusting way I've ever prepared a whole chicken. Take this as your forewarning, the pictures I'm about to show are NOT vegetarian friendly....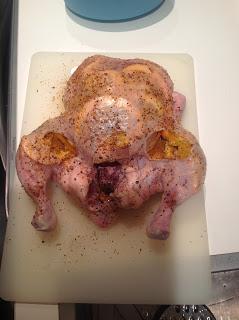 Seriously. I had to separate the chicken's skin from the meat and slide paper thin orange slices in there. Do you know what it's like to be wrists deep under the skin of a chicken??? It's not comforting, that's for sure. I'm sure there would have been photos of me acting like a baby while trying to do this if C had been home, but he was gone to the gym and THANK GOD because it would have been really embarrassing. Here is the whole recipe... it's way to long for me to attempt again for what it makes...
Orange & Herb Chicken
Ingredients
5 pound whole chicken
2 oranges
2 tablespoons of olive oil
5 garlic cloves (I think I actually used about 10)
Poultry seasoning
Salt and black pepper
1 large onion
2 celery ribs (I used 4)
1 carrot (I used 2)
1.5 cups of chicken broth
Directions
1. Preheat oven to 350F
2. Halve one of the oranges and grate the rind of one half into a small dish. Squeeze in the juice too. Add the olive oil, a clove of garlic crushed and 1/2 tsp of poultry seasoning and then set it aside.
3. Slice the remaining half orange paper thin. It's ok if you wind up with some partial slices, that's better than cutting them too thick. Sprinkle your orange slices lightly on one side with poultry seasoning.
4. Using clean hands, loosen the chicken's skin while leaving it intact. Work orange slices, seasoned side down, up under the skin keeping them flat against the flesh. Cover as much of the flesh as you practically can.
5. Salt and Pepper the inside of the chicken (skip the salt if you like) and dust it with more poultry seasoning. Use your hands to rub it around a bit.
6. Cut the second orange into eighths. Peel and halve a couple of garlic cloves. Whack the onion into chunks. Now stuff the body cavity of the chicken as full as you can with onion and orange wedges and the garlic as well.
7. Whack the celery ribs into chunks somewhere around 3-4 inches. Cut up the carrot into similar lengths. Throw both into the roasting pan with the rest of the onion and orange wedges and last few garlic cloves peeled but whole.
8. Use about half the orange juice/olive oil mixture to give him a nice massage (book's words, not mine). Cover every millimetre of the skin of your chicken. Place him on top of the veggies as they act as a rack. Put in the oven for 30 minutes.
9. When 30 minutes is up, base the chicken with some of the remaining orange juice mixture and put it back in the oven for another 20-30 minutes. Check if it's cooked and if not put back in for 5 minutes.
10. Pick the orange slices out of the pan but squeeze the juice into the vegetables as you do. Scoop out the vegetables and put them in the blender. Pour the chicken broth and run till the vegetables are pureed which will act as your gravy** and serve with the chicken.
** I found that this "gravy" was better as a big bowl of soup for lunch today! It's delicious as soup but odd as gravy, although not bad when I ate it on the chicken last night, it was good on chicken.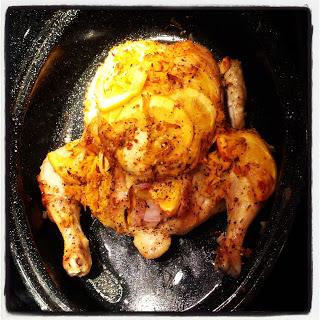 That's what the chicken came out looking like! Not bad, just a lot of friggen work to get there. This is the "gravy" that I made which turned out to be a really delish vegetable soup...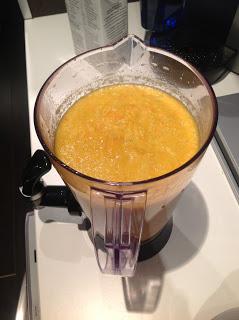 So not only has my food been great but my workouts have been good. As in, it's only Tuesday and I worked out yesterday soooo.... 1 out of 2 isn't too bad. Jenny and I have found that we really enjoy doing circuit training together when we don't get all caught up gossiping about girl stuff so I've decided to keep track of the workouts we come up with! I've updated my tabs at the top of my blog so now there is one included called "workouts" which you can see! I will be posting my circuits as cute little pictures under there and in here. I'm hoping eventually there will be a fun little collection of workouts that I'll get to choose from every now and then. You can choose from them too, I'll allow it. So anyways, yesterday this is what we did: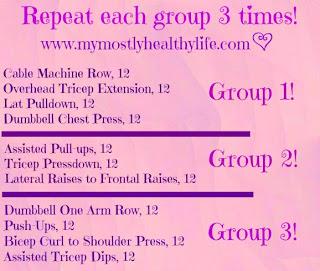 See how cute and pretty it is? :)
Today we were going to go for a run outside, but alas... everyone in the office was working their butts off and I couldn't even eat lunch without it taking forever because of the phone that was ringing off the hook.
This morning I woke up and my throat was dry. I'm reeeeeally trying to not get sick because I've announced on more than one occasion "I don't get sick!!!". So I'm sure I'd never hear the end of it if I did get sick. I've been taking Vitamin C, downing Oil of Oregano and drinking A LOT of water... any other suggestions? I'd love to hear them.
What's the weirdest thing you've ever made for dinner? Did it involve sticking your hand under the skin of a chicken? :)
xoxo S