The Detroit Tigers, at 88-74, had the fewest wins of any division champion in 2012. They were tied with the National League Wild Card St. Louis Cardinals for the fewest wins of any playoff team period. Meanwhile, the San Francisco Giants were 94-68.
In 2012 the Tigers' run differential on the season was +56, 13 runs fewer than that of the Giants.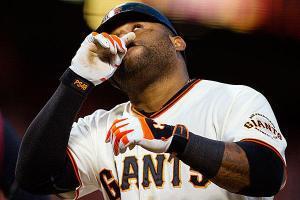 The dominant player on the field in Game One was a Giant: Pablo Sandoval
Yet a stunning 23 of 28 ESPN "experts" picked Detroit to win the World Series, many of them in six games or less. Several based their picks on the Tigers' "dominant starting pitching."
Eight of 11 MLB.com pundits chose the Tigers.
At FOX Sports, Ken Rosenthal also picked the Tigers.
"The reason I like the Tigers…actually there are three of them: Justin Verlander, Miguel Cabrera, and Prince Fielder" Rosenthal said before Game One. "Those will be the three most dominant players on the field."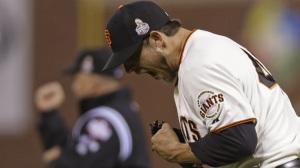 The dominant player on the field in Game Two was also a Giant: Madison Bumgarner (AP photo)
This is the same Tigers team that, prior to sweeping a stone cold, moribund Yankees team that lost its team captain early in the series, barely survived the divisional series against the Oakland Athletics. Two dominant Verlander outings carried them to a series win, but only a critical Coco Crisp misplay in Game Two in Detroit prevented the A's from possibly eliminating the Tigers before Verlander could pitch the decisive game.
The World Series isn't over yet. It's entirely possible (if also entirely improbable) that the Tigers could win three in a row in Detroit and head back to San Francisco needing just one win to claim the title. But the pundits aren't looking too good right now. Perhaps they should have paid more attention to actual performance and less to the star power of a Tigers team that just happened to catch the Yankees at a perfect time, as they were falling apart. These experts seemingly completely forgot about how difficult a time the Tigers had with Oakland, or with the entire American League much of the season, and just how talented the Giants' starting rotation is when it's clicking on all cylinders.