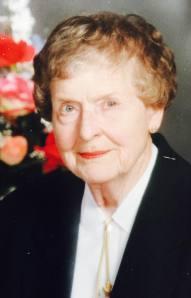 Marjorie Elizabeth Winter Johnson, 1917-2014
I write this in memory of my grandmother, Marjorie Elizabeth Winter Johnson, who passed away early today at the age of 97. Hers was a life well-lived, full of grace and dignity. She was the only grandparent I ever really knew, and she had a huge influence on me that has continued to this day, and one that lives on in my daughter.
Marjorie, or "Midge" as she was known, was the daughter of a man who worked his way from teenage office boy to Chairman of the Board of Atlantic Mutual Insurance Co., and she knew the value of education, determination, and preparation.
She graduated from Mount Holyoke College with a degree in Chemistry before World War II, at a time when not many women went to college, much less majored in the sciences. She later spent more than two decades working in the Dean's office at the Stanford University School of Medicine.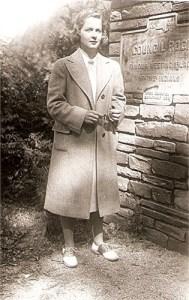 Midge doing some sightseeing in her youth. She would later travel to see many parts of the world in her retirement years.
Her husband, my grandfather, died young and suddenly 55 years ago, and she was left to raise three children in a tumultuous time. I wish I had known him, and I am so thankful that I grew up knowing her. From Scrabble games and many, many trips to a small, independent Cupertino bookstore when I was a child, to supporting and encouraging my educational and professional pursuits as a young adult, "Grandma Midge" always wanted me to learn, to grow, to strive for better, and to mature into a responsible adult, unfettered by the burdens of a difficult childhood.
Many of my fondest memories of that childhood are of Thanksgiving dinners, birthdays, and other family get-togethers on this side of the family. As she grew older those occasions became increasingly rare, and the family grew increasingly distant. Regardless, the memories and influences she left me with will never fade away, and I've worked to instill in my daughter the sense of responsibility, dignity, and purpose her great-grandmother Midge always carried.
Thank you, Grandma Midge, for all you did for your family. You will be missed, but you will never be forgotten.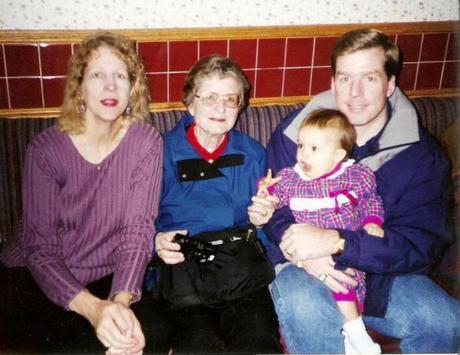 1995: Four generations.