Last week, the kind folks from Hard Rock Cafe's PR team contacted me with an offer I couldn't refuse: Visit my local Hard Rock and travel the world through the flavors of their limited-running World Burger Tour menu of juicy burgers and exotic cocktails, and let you guys know what I, along with my family, thought. Boom. I'm game. All I had to hear was "burgers" and "globally-inspired," and I was halfway out the door, headed straight for the Inner Harbor.
But I had to cool my jets, and wait for a good day to head out to our local Hard Rock Cafe. And that day came this Sunday when there was a break in the rain. We headed out to the harbor, and as we were walking, I was struck with a sense of deja vu. I've done this before... I've been HERE... BEFORE...
Back in 9th grade, our high school ensemble/band packed up the bus and headed down to Baltimore to preform on the harbor. When we were done, the whole lot of us walked over to none other than the Hard Rock Cafe. The very same Hard Rock we were going to. It was fun to be able to share my fun memories with my family, and show them right where we played!
We arrived around 2 p.m., and the place was jammed. Like, no-more-room-in-the-waiting-area crowded. But the expert waitstaff waded through the chaotic scene forming in the entry way. I mean, It's Hard Rock at the famous Inner Harbor on the weekend. Of course it was packed.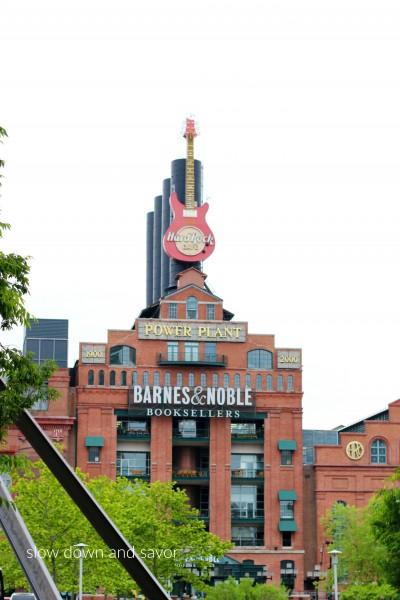 I put our name down on the list, and within about 20 minutes, we were seated in the "Blues Room." When it comes to Hard Rock Cafe, I always have LOVED the theme. I love the memorabilia, and how each item displayed has actually been used, worn or in some cases, even thrown up on, by famous musicians.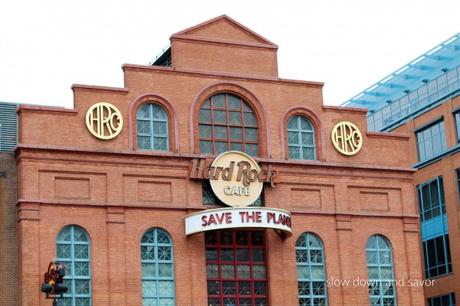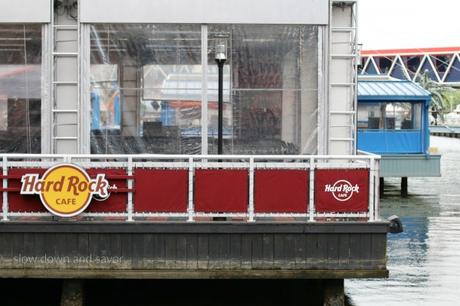 We were given menus, including the special, limited time menu for the world burger tour burgers and drinks. The first thing I noticed was that our Hard Rock location only had 4 of the different world tour burgers that are available. Check out the full list I published last week here! There were also only 4 cocktails, and 1 mocktail available at our location.
Out of the full list, our location had:
The Greek Burger, with Tzatziki sauce, arugula, tomato and a "legendary" take on feta cheese, including capers, black olives, peppers and onions. It's presented with piping hot fries, paired with Tzatziki sauce for dipping.


The Atomic Burger inspired by Las Vegas, NV, featuring high roller flavors, including atomic fried onions and jalapeños, tomato, arugula, and pepper jack cheese on a toasted brioche bun. Smothered in sriracha mayo and stacked with two atomic beer battered peppers for a fiery finish. It comes served with seasoned fries and atomic ketchup.


The Aloha Burger inspired by the flavors of Honolulu, HI featuring Spam, guacamole, Monterey jack cheese, arugula, a grilled pineapple ring and a sweet soy glaze with pico de gallo. It's also served with seasoned fries.


The Tango Salsa Burger inspired by Buenos Aires, Argentina features andouille sausage, salsa criollo, garlic aioli, Monterey jack cheese, fresh arugula and a fried egg, served with a side of seasoned fries.

But before we ordered our burgers, we had to get some nachos. We were seriously starving. I was shaking I was so hungry. So when our server made his way back to our table, we ordered the nachos, and we got some drinks.
For Major, we got him the special mocktail, the Black Cherry Melonade, a non-alcoholic fresh blend of Black Cherry Real, Monin Cucumber, lime and ginger beer that puts a sweet spin on your classic lemonade. It was SO delicious! The flavors were so crisp. The layers of flavor were very pronounced, and Major LOVED it.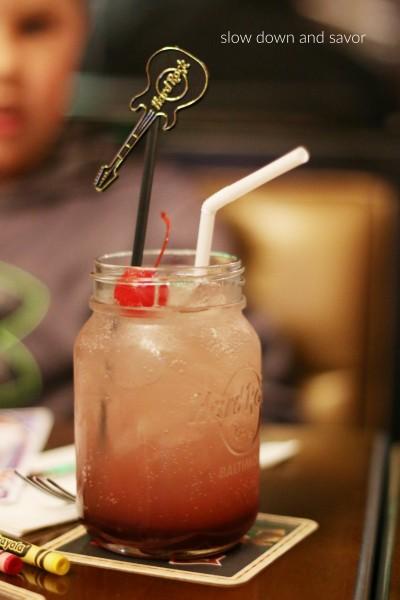 Michael selected the All Jacked Up, a combo of Jack Daniel's Tennessee Whiskey, Jack Daniel's Tennessee Honey and Sailor Jerry Spiced Rum mixed with pineapple juice and lime juice. This one was astounding. I was in love with it! Again, the layers were so pronounced. I love how the honey cloaked my mouth in a blanket of subtle sweetness, and how the pineapple shone through like a beacon of love. It was really, really good.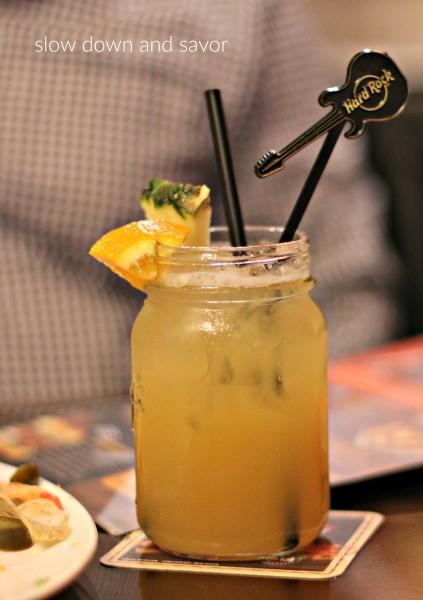 As for me, I decided to get a Black Eyed Susan, because like I mentioned in my Black Eyed Susan/Preakness Stakes post, I can't get enough of them! As usual, it was delicious.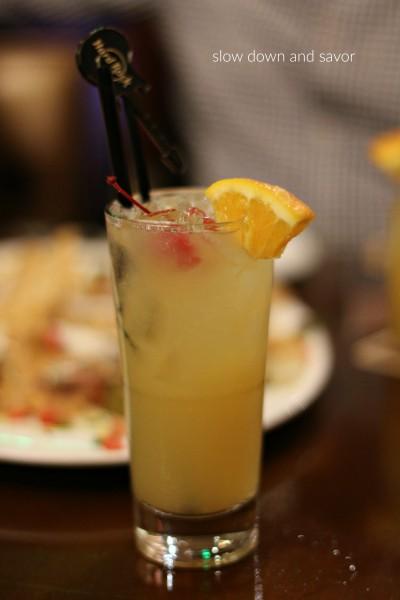 Our nachos came shortly after, and I pounced on them like a ravenous tiger.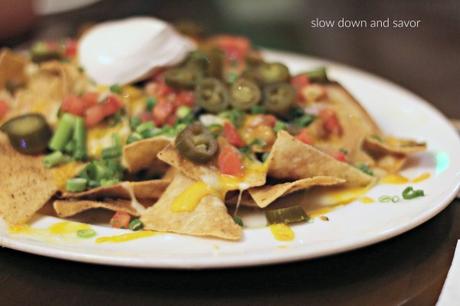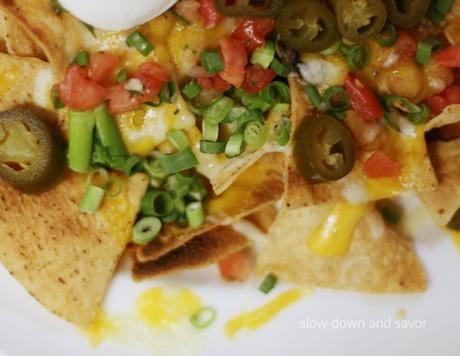 They were hot, and perfectly smothered in all of the amazing toppings. The four of us, yes, even Jack, got down on these nachos. Yum.
The server came what seemed like forever later to finally take our burger orders. We had plenty of time to get down and dirty with the menu and make our decisions. Michael decided on The Atomic Burger, and I settled on The Greek Burger. Major got a kid's meal cheeseburger, and Jack planned on eating off of all of our plates.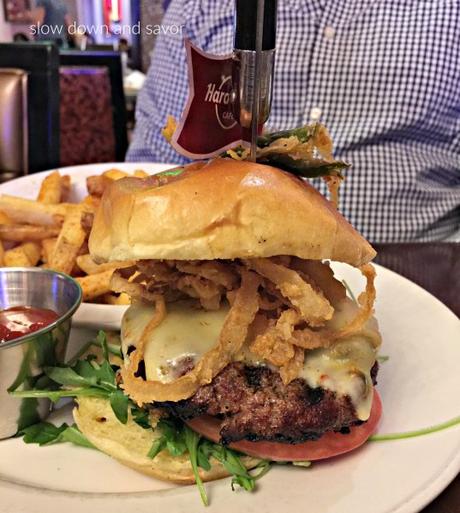 We snacked on the remaining nachos all the way up until our burgers were delivered. Michael's looked good. The knife and flag made it fun, and the meat looked well cooked. I also liked the stacked atomic fried onions.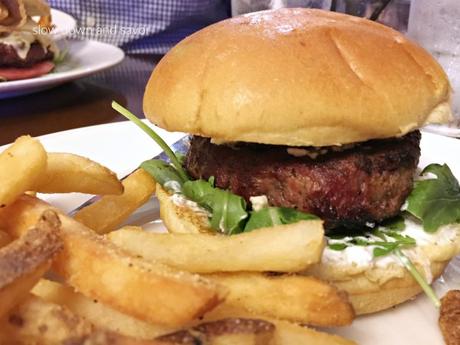 The cheese looked nice and melty, and the fried jalapeños on the top were a nice touch. The atomic ketchup was awesome. I'm pretty sure it was mixed with ancho sauce from chiptole peppers. Very nice and smoky with a touch of heat. I could have eaten that sauce for the whole rest of the week on anything and everything. delicious.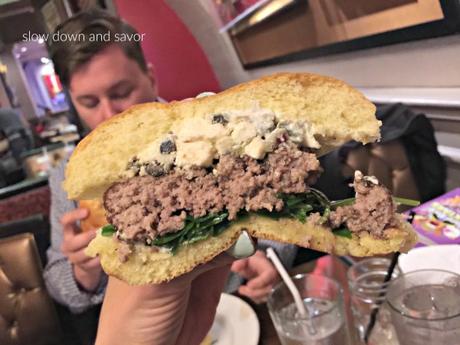 My burger didn't really look anything like the burger on the menu, and I noticed half way through that I was missing my tomato, and the feta mixture didn't include olives or red onions as advertised. It was really good though, don't get me wrong. I ate it, and enjoyed it. It just wasn't what the menu said it'd be.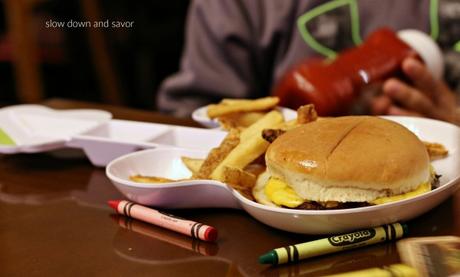 Major loved his kid's burger. It was big, juicy and made the kid happy. Plus, it came on a cool plate.
Michael and I decided to split another drink, mostly since we both really wanted to try the Sweet & Fiery cocktail, featuring a blend of ABSOLUTE Pepper Vodka, Domain de Canton Ginger Liqueur, DeKuyper Blue Curaco, Hard Rock Lemonade and ginger beer, topped with a red pepper.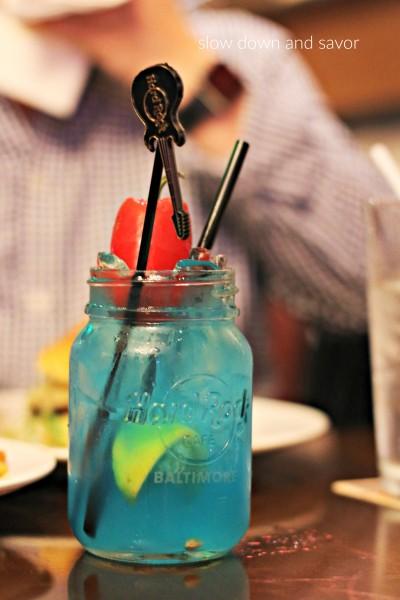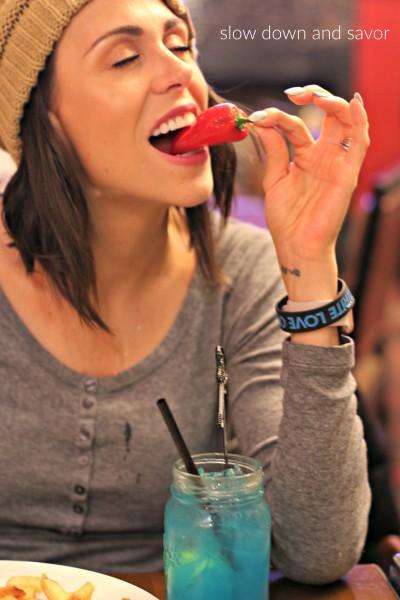 Once again, they KILLED it. These cocktails are bomb-sational. This Sweet & Fiery was so refreshing and perfectly spiced. It wasn't super spicy, but it had a nice kick. It was a fun cocktail.
We all liked our meals just fine. Were they incredible, mind-blowing or life-changing? No, but they were solid, and I have to say, every time at Hard Rock Cafe is a good time. I'm glad we went, and tried something new! We really loved the live music, the fun decor and the overall experience we had.


Will you or have you been to Hard Rock for the World Burger Tour? Did your local Hard Rock have more of the burgers? What did you think? Let me know down in the comments!