ld outTuesday, Feb 6th was the FIRST Secret Supper event of 2018, and it was I couldn't wait! And as usual, before I get into the details, I'll quickly go over the details of The Secret Supper, for those of you don't already know.

With the exciting news of Baltimore becoming one of The United States' premiere cities for great food, actually coming in number 2 in Zagat's top food cities in 2015, as well as being listed as one of 2017's most exciting food cities, again by Zagat, the folks at The Sun decided to introduce the people of this great city to some of the best, most appealing and interesting restaurants in Charm City.
CHECK OUT ALL OF THE SECRET SUPPER ADVENTURES HERE!
They scoured Baltimore City to find THE outstanding restaurants around, and hand selected their favorites to host this year's second Secret Supper series open to eager Baltimore food lovers, like you and me. Yes. It's a series, and each all-inclusive ticket allows you to enjoy a specialty cocktail and a remarkable 4-course meal with expert wine pairings. Plus the entire evening will only set you back $99. That's a huge bargain if you ask me.
So what's the secret?
IN EACH INSTALLMENT OF THE YEAR-LONG 4-PART SERIES CURATED BY THE BALTIMORE SUN INVITES US ALL TO EXPERIENCE AN EXTRAORDINARY MENU AT ONE OF THE CITY'S TOP RESTAURANTS - BUT WHICH ONES WILL YOU VISIT? THEY DON'T GIVE US A CLUE...YET!
And in my opinion, that's the best part. And yeah, maybe it's also the hand-crafted cocktail, the four-course drool-worthy meal and the expert wine pairings, but let me say, the whole build up and anticipation waiting to find out WHERE we would be dining was extra fun. Shaking up the routine is something that I crave, and this steps in right where I need it.
Check out this quick video on the series, starring yours truly and yours truly's husband!
I have to say, 2017 was a good year for the Secret Supper series. Between The Elephant, City Cafe and Ouzo Bay, we ate well, explored different neighborhoods and personally, I made some great friends along the way. But I'm sure that hearing all about 2017's series isn't why you're here.
Let's get into it! The reason you're all here... The 1st Secret Supper of 2018!
The morning of Tuesday, February 6th started like any other Secret Supper morning; with me eagerly refreshing my email, waiting for the news of where we'd be dining that evening. My husband was out of town so I had already invited my dad along, and luckily he agreed, even though he didn't know where he was going. Daring.
GET YOUR TICKETS FOR THE NEXT SECRET SUPPER ON APRIL 3 HERE!
At 9 a.m. on the dot, the email came through into my inbox and I dove right in, to discover that we'd be enjoying a meal at a Fell's Point favorite, Points South Latin Kitchen. Now, I can't tell you how many times I've been invited to go to lunch or dinner here. I can't count on my fingers the amount of times someone suggested I join them for an evening of Drag Bingo (yes), and unfortunately, I never was able to agree. I was either pregnant, or with a brand new infant and just wasn't up to it, but finally, FINALLY, I got my chance to go to the place everyone seems to enjoy fawning over.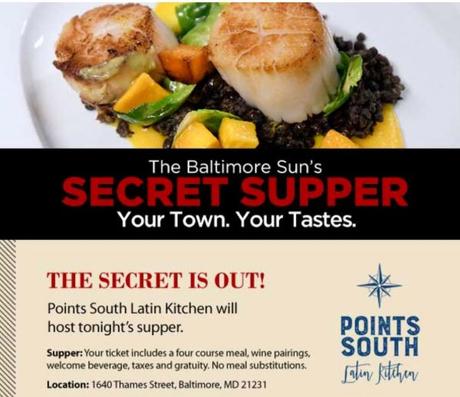 I decided to vlog my journey for this first Secret Supper of 2018, so if you want to check that out, you can do that here!
My dad and I (and Genevieve, since she's still exclusively breastfeeding and refuses bottles - yes it's as fun as it sounds) arrived to Points South, and took advantage of their valet service so we didn't have to mess with parking at 7 p.m. on a Tuesday night.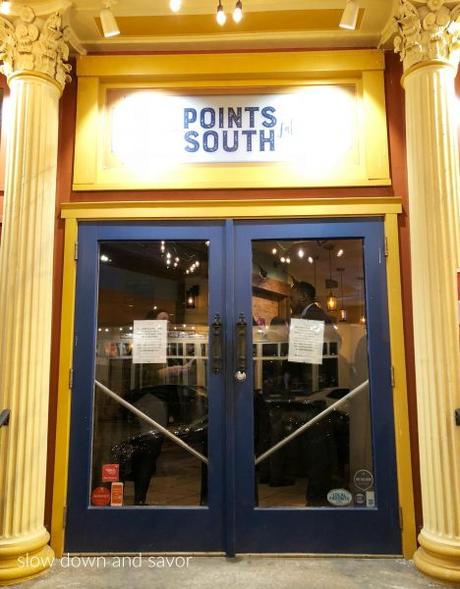 The space was bustling with activity, and despite the stream of people, we were immediately checked in, and guided to the dinging space beyond the entrance.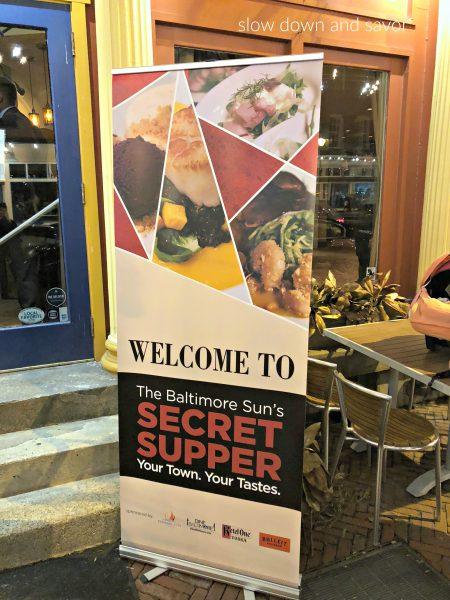 We could choose to sit wherever we pleased, so we decided on the downstairs dining area, close to the kitchen. There was also more room for G-Baby down there.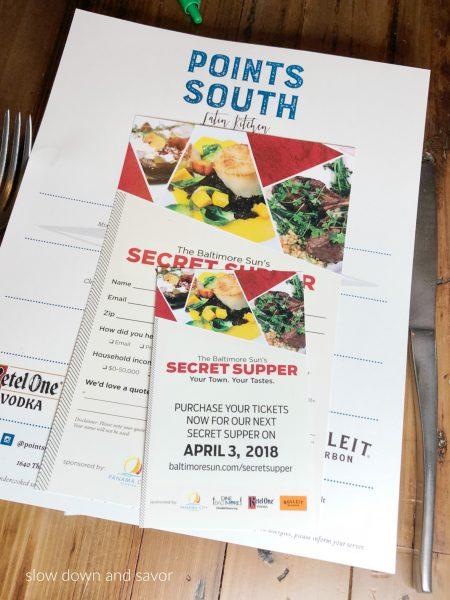 Once we found our seats, my dad and I went to grab a welcome cocktail. We could choose between a Bulleit Gold Rush, featuring Bulleitt bourbon, Argentine Yerba Mate tea, honey and lemon, or a Kettle One Moscow Mule, featuring Ketel One, Ginger Beer and fresh lime.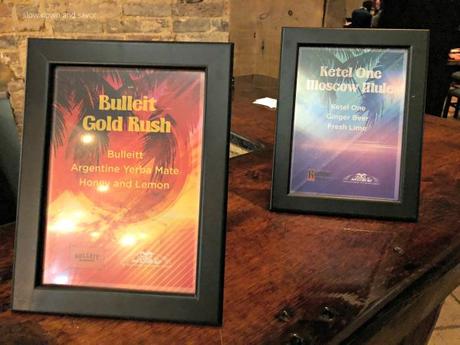 We both chose the mule. I really enjoyed it. Moscow Mules are refreshing and a great way to start a meal.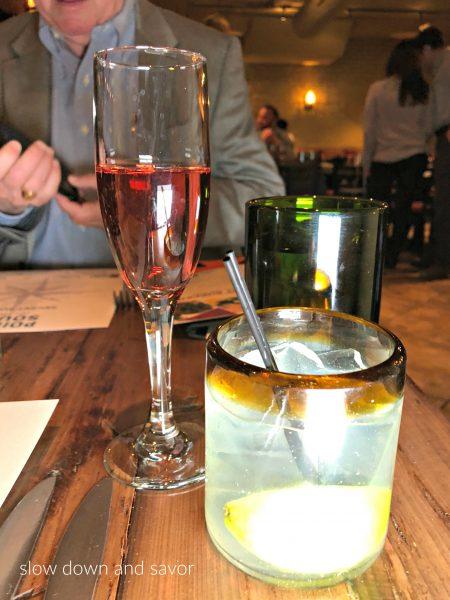 About 20 minutes into seating, the first courses were delivered to tables, and it looked so good. We started our meal with poached shrimp ceviche with avocado, onion, cucumber, tomato sauce and crispy chips, paired with a Gouguenheijm Valle Escondido, a sparkling Malbec.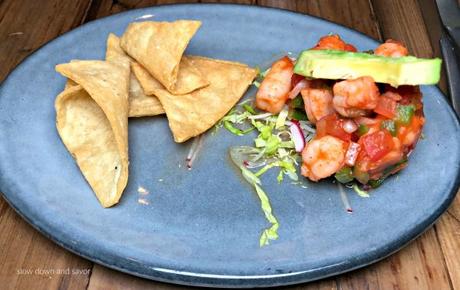 The ceviche was nice and chilled, and the shrimp were poached perfectly. The flavors were explosive and delightful, and really reflected the Latin inspiration of the restaurant. There was a ton of acid, and a great balance of sweetness and spice. I also loved how texturally, there were a lot of components. It was solid, and honestly, I could have this dish every day of my life from here on out. I really, REALLY loved it.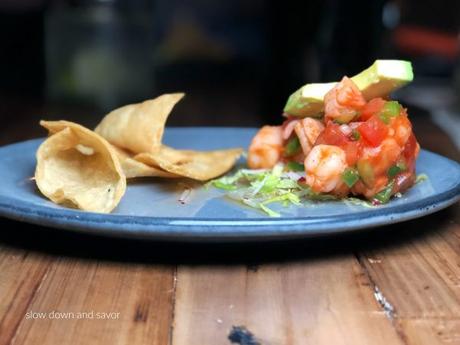 The sparkling wine was very good, and I liked how it paired with the ceviche. It was dry but bursting with juicy fruit flavors, and was just as exciting as the dish itself.
Our second course was less impressive, a simple mixed greens salad with mixed greens, avocado, toasted pumpkin seeds, onions and smoked tomato vinaigrette, paired with a Cousino Macul Isidora, a Sauvignon Gris.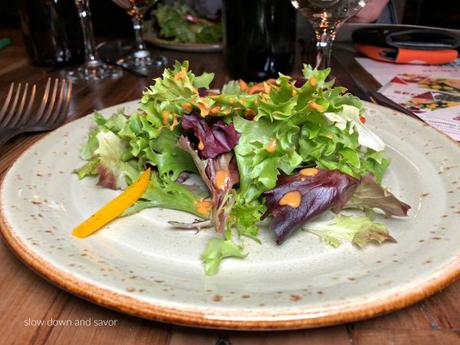 I mean, there honestly wasn't much to say about this dish. It was lettuce, seeds, bell peppers, and dressing with a slice of avocado on top. The dressing was good, and I do love salad, so I ate it all, but it wasn't what I would have expected as part of a 4-course meal meant to show off your concept to a sold out crowd who may have never even heard of you before that evening.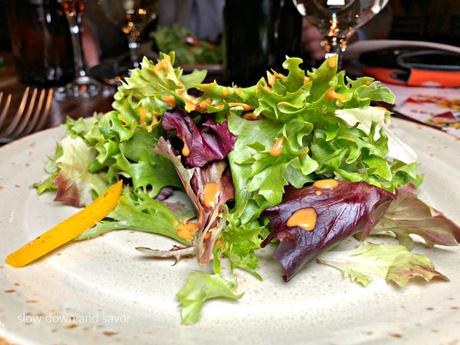 Genevieve was glad for the avocado, and ate it all up!
The wine was super dry, and I really enjoyed it.
The third course presented was a lot more complex than the 2nd, that's for sure. We were served what I can only assume to be an entree sampler, featuring beef short ribs and Chifa style salmon. The wine as a Sierra Batuco Reserva, Pinot Noir.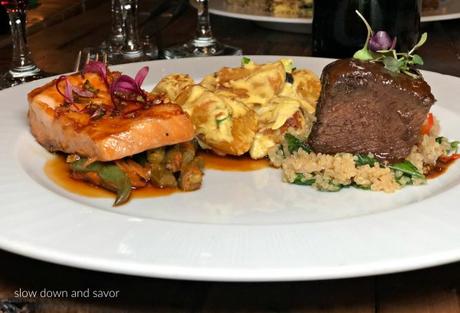 To the right, there was a super tender and absolutely delicious beef short rib, braised in bittersweet chocolate sauce, set atop quinoa with spinach. I LOVED the short rib. It was a no-knife-needed situation, and the flavor was wonderful.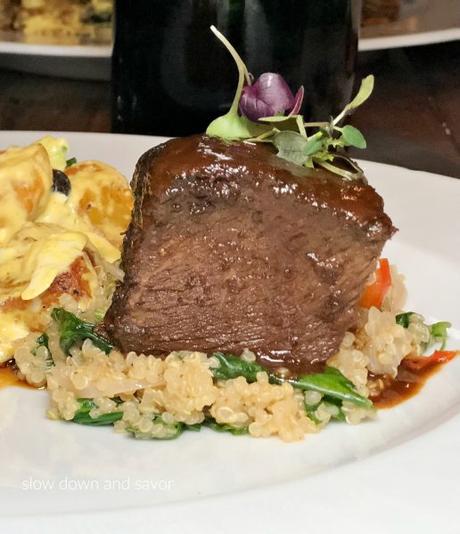 To the left, Chifa style salmon with a Peruvian-Chinese glaze set atop similarly glazed green beans. The salmon was PERFECTLY cooked, and I mean it was PERFECTLY cooked. I just thought the glaze was veering towards supremely salty, and was almost - not quite - but almost inedible to my palette.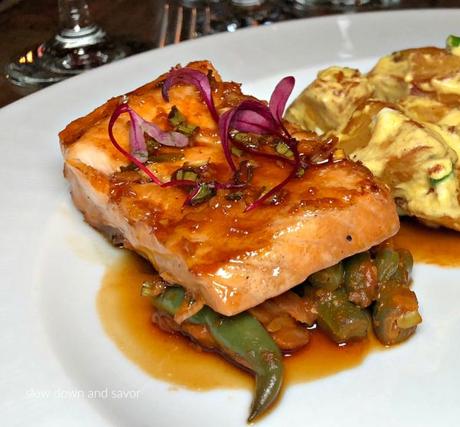 In the middle were Huancaína potatoes which I want 904759347549 more servings of. After some light research, I learned that Huancaína potatoes are a thing in Peruvian cooking, a spicy cheese sauce generally served over cold potatoes as an appetizer, so this was a different take on a classic dish, so it seems. All I know is that the potatoes were crisp, hot and that cheese sauce was life-giving and life-receiving. It was spicy in the best ways, and I seriously could eat them for breakfast, lunch and dinner. And at midnight. And at 4 in the morning...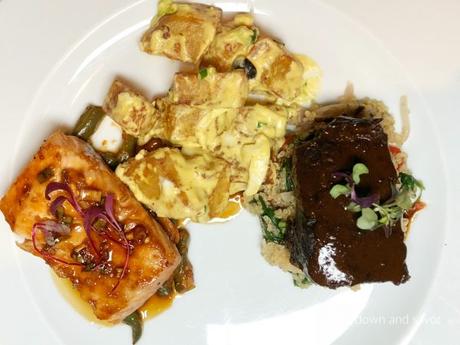 The wine was a favorite at our table, but honestly, I didn't totally enjoy it. Lucky for us, since service was taking quite a long time, we were able to get refills of whatever of the wines we chose, so I was able to get a little more of the white. And honestly, I thought it paired well with the course, if not better than the Pinot Noir. But who am I? Not a sommelier, thats for sure.
For our fourth and final course, the dessert presented was Pastel de Chocolate y Cheesecake, chocolate cake, cheesecake, fresh strawberries and strawberry puree, paired with a Taylor Fladgate, a 10 year port.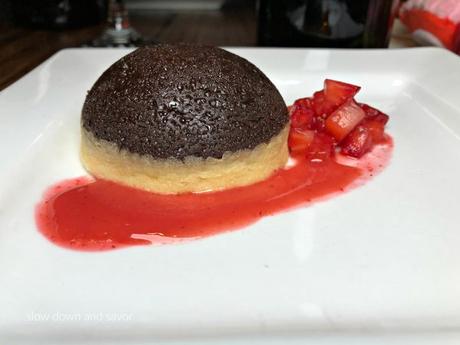 The dessert was nice, a stacked combo of chocolate cake and cheesecake with some strawberries, and while it tasted really good, it was sort of a miss for most people at my table, including myself. I guess we just expected more. I really loved the wine here though. It was luxurious and warming and almost tasted like raisins, but I know that's probably not the correct description. It was wonderful.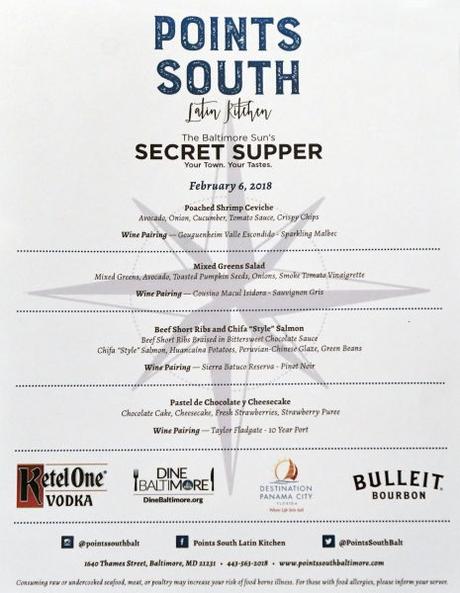 At the end of the evening, I had a truly wonderful time. My dad and I had a chance to spend time together, just the 2 of us, which isn't something that happens all too often. Plus, I was able to introduce him to a friend I made through past Secret Suppers, and we all had a blast talking and enjoying each other's company at the table.
I've said it before but I'll say it again, the Secret Supper series is more than just a chance to go out to eat. It's a chance for you to do something totally different, meet new people, explore your city and shake up your day-to-day routine. I love using it as a date night for my husband and myself, but when he can't attend, it's a fun treat to find someone to join me and experience something new and exciting together.
Thank you so much to Points South Latin Kitchen and The Baltimore Sun for another incredible experience that I won't soon forget.
If you want to join me for the next secret supper on April 3, click here to get tickets! They go quick!