I had surgery last Friday, and to say I'm uncomfortable is an understatement to ruin all other understatements. My surgery was to repair an umbilical hernia, and so they made an incision in my stomach muscles, the muscles which rule the whole body. So laying down, sitting up, doing anything at all, has proven to be extremely difficult, and painful.
For the past 3 days following surgery, all I've been able to do - and wanted to do - was retreat to my bed, where I could nestle, and feel the most comfortable. Now, this is where the DreamCloud Mattress comes in. And thank God DreamCloud came in.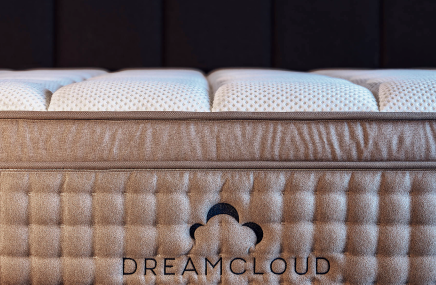 Let's back up for a bit. I want to first talk about our sleeping/mattress woes. When Michael and I got married, we slept on the same mattress Michael had for years. So it was old, lumpy and not all that great. Plus I read somewhere along the way, or maybe I saw it on TV, but it's said that an old mattress, like 8-10 years old, becomes a heavy and weighed down from pounds of dead skin, gallons of sweat, and millions of dust mites. And now I want to die. I'm deceased. GROSS.
I also really was into the idea of getting a mattress that was "just ours." I wanted to make our house a home, and make it a joint thing. I liked having "our" stuff, not just his stuff or just my stuff. It's about time anway.
So we went on a mattress search, testing out all sorts of beds until we settled on the impossibly boujee Sleep Number. When it arrived, we excitedly set up our dual-sided bed to our specific and personalized "sleep number," and at first, we adored it.
Honestly? I actually don't think either of us REALLY liked it, but we liked the idea of it. We liked how we could make it inflate and deflate and it was pretty fun, but when it came to comfort, we quickly realized we spent a ton of cash on a glorified air mattress.
Neither of us slept very well on that bed, and when we both finally had it, we switched the Sleep Number with the old mattress that had found a home in the guest room. So there we were, back on Michael's skin-filled mattress that he had years before we even knew each other. Bleh.
We'd been in talks about getting a new mattress for a while, again, but didn't know what route to go. I personally was really interested in mattress-in-a-box mattresses from online-retailers like Casper, Ghost, Purple, and Nectar. I'm not sure why, but I'm a gimmicky person and loved the idea of a mattress being delivered to our home, shrink wrapped and tiny, and watching it expand and turn into the bed of our dreams.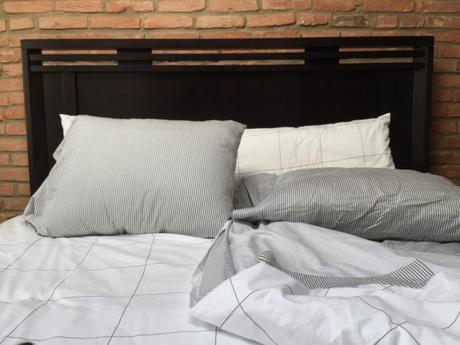 Michael was interested too, but unlike impulsive-as-hell me, he did some research. A lot of it. And after a week or so, he presented me with DreamCloud hybrid mattress. The DreamCloud combines high-density foam with encased coils for a sleeping experience that promises to be as luxurious as it is supportive. Sounded great to me, so we decided to give it a go.
We ordered a queen size mattress, along with white-glove service, which basically meant that the delivery folks would not only set up the new mattress, but they'd take the packaging AND the old mattress away. Poof, gone. Amazing.
Once the bed was delivered, the kids and I all piled on to give it a quick test-drive. The hand-tufted cashmere blend topper is mind-blowingly soft, and my middle son, Jack (3 years old) couldn't stop rubbing his face all over it. Yeah, weird, but it was soft as hell.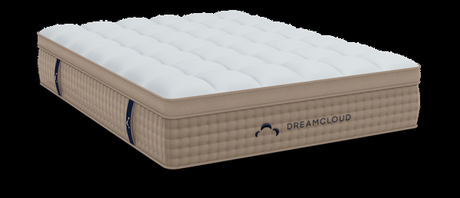 Laying on it, I could immediately feel the gel-infused memory foam that does double duty, providing heat distribution and support that ACTUALLY contours perfectly to your body. I remember distinctly saying out loud, "D amn, it feels like it's hugging me." And it did. It's not a super squishy hug. It's like a comforting, strong hug. A hug that makes you feel loved and happy.
Another selling point of the bed is that it's organized into 5 distinct comfort zones, DreamCloud's patented "BestRest" Coils. They provide the precise level of support you need, exactly where you need it. And while I have no idea where the 5 zones are, after sleeping on it for a couple of weeks now, I can say that wherever they are, they're super cozy.
The DreamCloud mattress is constructed with 8 layers. Yep, 8. To learn about all 8 magical layers that result in your bed actually hugging you, click here.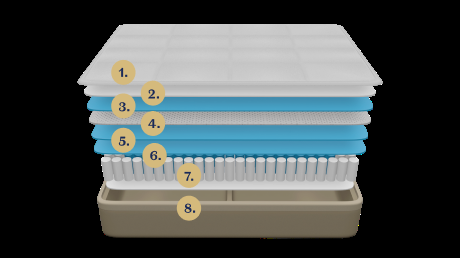 Back to me, post-surgery. I can't even IMAGINE crawling into the old, lumpy bed, or the glorified air mattress right now. NO. The thought makes my incision ooze. I'm so dramatic, I know. But seriously, what I needed was true support that was also mad-comfy. And that's exactly what I got.
When I lay down on my DreamCloud mattress, I feel stress from different points of my body relieved. I feel my lower back strain lessen, while my hips and shoulders relax. It's not a soft, SQUISHY, you're-going-to-sink-in mattress, by any means. I'd say that it's probably a 7.5 out of 10 in terms of firmness, but with the top squishy layer, it somehow also feels sink-in-able. So it's sink-in-able with a ton of support...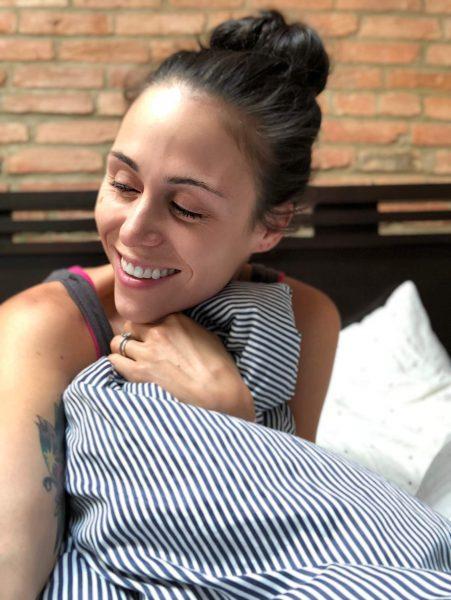 I'm not the type to approach this bed scientifically, but more subjectively from my own personal experience, and that of my husband. We both LOVE it. And I've found that it's a good couples-mattress, meaning that I don't feel like I'm being thrown off the bed when he rolls over or gets up. He barely even notices me get out of bed in the morning, if he notices at all, which is nice. And I really like the edge support, which is something I never noticed on ANY mattress ever in my 32 years of sleeping experience. Like, the edges hold up when you're close to them, like they're making sure you don't roll off. They're there for you. They've got your back.
I also feel significantly cooler at night than I did on the traditional mattress or the air mattress, which I think is attributed to the gel layer.
Plus? Last night I slept a full, uninterrupted 8 hours. THIS WAS THE FIRST TIME IN OVER LIKE 3 YEARS THAT THIS HAS HAPPENED AND I'M NOT EVEN KIDDING. THIS IS REAL LIFE. SOUND THE ALARM. I SLEPT!
All in all, I'm a huge fan of DreamCloud hybrid mattress, and if you think you're ready to make the switch to a new mattress, give DreamCloud a try!
CLICK THE IMAGE BELOW TO SHOP! Also, use code SHOP200 to get $200 off your purchase! I mean, who DOESN'T want to save some coin???
General info:
Sleep Trial: 365 days. If you're not happy with it at any point during your first 365 days, they'll come to pick the mattress up, for free, no questions asked.
Warranty: DreamCloud's Everlong warranty is a lifetime guarantee.
Shipping: Free, comes compressed in a box.
Bonus: One free cleaning with purchase.


Latest posts by Katie (see all)