Giada De Laurentiis is a name that evokes excitement, energy, and joy, at least in me. As a fan of The Food Network for far longer than I care to admit, I've been a fan of the celebrity chef for just as long.
Whether it was joining Giada in cooking one of her simple, clean and elegant Italian recipes demonstrated on one of her various cooking shows, joining her on an Italian adventure where she'd shamelessly sit in the back of a cab, with a giant wheel of cheese on her lap - eating it, or eagerly following Next Food Network Star where she hosts alongside Chef Bobby Flay, I've been cheerfully consuming Giada-vision for well over a decade.
So learning that Giada De Laurentiis would be opening her next restaurant concept just minutes from my home here in Baltimore, MD, I was stoked. And when I was invited to attend Giada's intimate media event at Horseshoe Casino, where Giada herself would be revealing the in's and out's, and all of the details of her "casual but elegant" dining experience, GDL Italian, I was floored.
That's right. You heard me. Giada is opening a restaurant - GDL Italian - in Horseshoe Casino here in Baltimore City, and I WAS THERE TO LEARN ALL ABOUT IT. FROM HER MOUTH.
While at this amazing event in Horseshoe's Diamond Lounge, I was able to get the scoop on what's to come with her restaurant, what her role is/how involved she is/will be with the restaurant, and yes, the answer to the question I'm sure everyone has,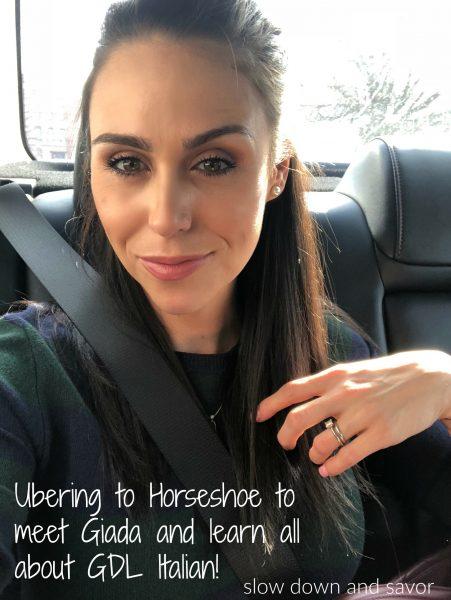 "Why Baltimore?!"
GDL Italian, the trattoria-style restaurant at Horseshoe Casino, will be a whole new concept for Giada and her brand. While she was encouraged to just copy and paste, or replicate her successful fine dining restaurant in Las Vegas here in Baltimore, she insisted on a different concept, one that will be warm and welcoming for those of us who call Baltimore home.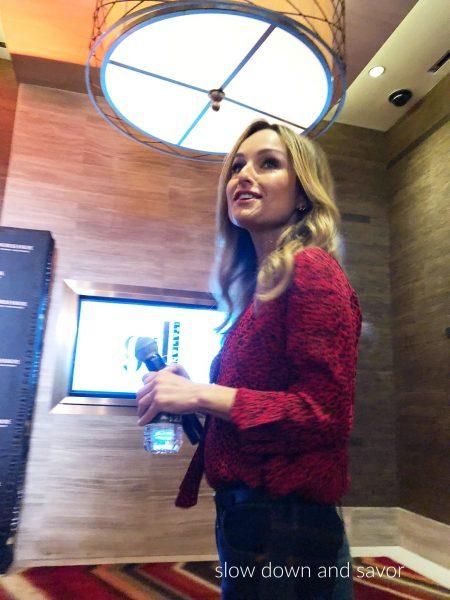 "At the beginning of this discussion, everybody just said to me, 'Let's just rebuild Giada Vegas but in Baltimore,'"
she said
. "And I thought, 'No, it doesn't work here.' It's not the same community, which is why I had to spend time here to understand it."
But really, "Why Baltimore?" I mean, I know I thought it when I first heard rumblings of her opening her first east coast restaurant here, and I wasn't alone. Let's face it, there are some really obvious choices for someone of her caliber and esteem to open a restaurant, like say Washington D.C., Manhattan or Brooklyn NYC, Boston or Miami, right? But Baltimore? And no, I'm not knocking Charm City. I LOVE it here, I just didn't get it.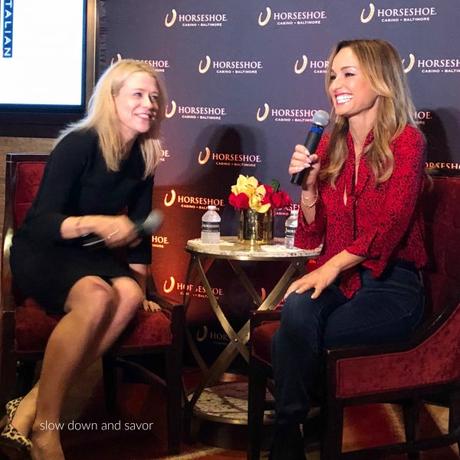 "I'm not one of those chefs who has lots of different restaurants all over the world,"
she said. So when the people at Caesar's provided her with the opportunity to come here to Baltimore to open a restaurant in a city that isn't quite a destination, she scratched her head.
"I thought, 'But why? Why would I go to Baltimore? I don't understand why I would do that."
But like she does everything, a self-professed type-A personality, Giada dove right in, and began exploring the many distinct neighborhoods and districts that help define Baltimore. She wants to know the city deeply and intimately. She wants to get to know the people and the places. She wants to experience the vibe, and understand the very fabric that makes a place like Baltimore tick.
And what she learned is that we Baltimorians are very proud of where we live, and where we call home. Just like Italians are very proud of their culture and heritage, Baltimorians are fiercely passionate about being a Baltimorian, and that zeal and spirit she discovered while exploring Charm City is part of what sold her on bringing her brand here to Baltimore.
Giada has actually already visited Cham City 4 times this year and has made it a point to meet and befriend local chefs, such as James Beard Award Winning Cindy Wolfe of Charleston on Lancaster St. in Harbor East. Giada plans on using her new friendships, as well as the experienced food and wine team at Horseshoe, including Jay Lattimer, vice president of food and beverage, to learn more about what's what here Baltimore in terms of food, since she wants local Baltimore suppliers to be at the forefront. In fact, she plans on incorporating ingredients from local purveyors such as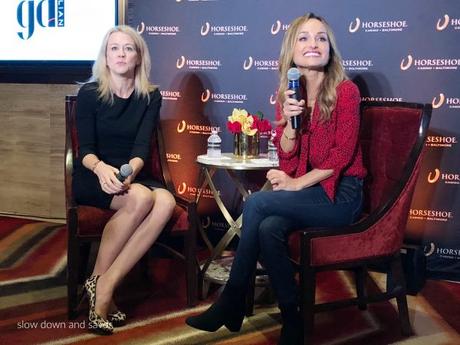 "We're now texting friends,"
she said of her new relationship with Wolf.
Stone Mill Bakery,
seafood vendor
JJ McDonnell & Co.
, and local beef provider,
Roseda Farm
.
"It's really lovely."
As for the menu, it's still being formed and figured out, but it will obviously be Italian. I mean, duh. But what she could share is that antipasti, seafood, fresh pasta, and pizza will adorn the menu, as well as a few favorites from her Las Vegas restaurants,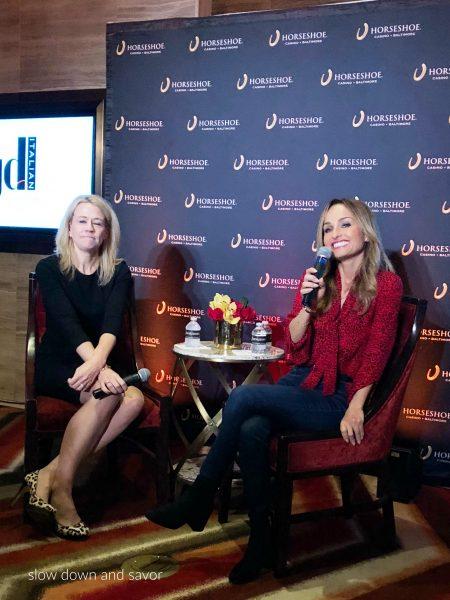 Giada at The Cromwell
, and Pronto by Giada at Caesar's Palace.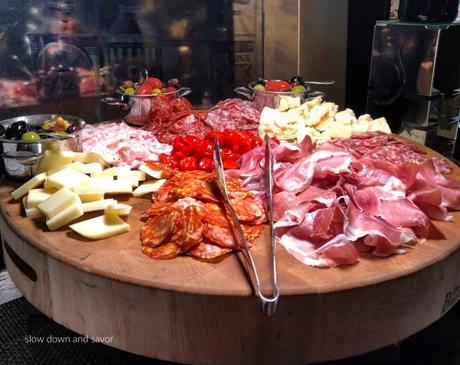 She also said that she wants GDL Italian here in Baltimore to be a place where guests can learn a thing or two and thinks that a build-your-own pasta bowl concept will help educate diners which type of pasta, whether dried or fresh, goes best with which sauce and what flavor profiles complement each other in the best ways. I think that sounds like a lot of fun, to be honest.
When I asked Giada why the people of Baltimore should choose GDL Italian for a night out over any of the places down in Little Italy, or even one of the local neighborhood Italian joints Baltimore holds, she replied, "My food is a little bit different than most Italian restaurants. Yes, it's classic Italian, but it has a much lighter spin to it. It definitely has a more vibrant sort of California feel to it." She cited dishes such as a lighter take on the classic alfredo, her lemon alfredo, and her she also mentioned a best seller at her other restaurants, her lemon spaghetti.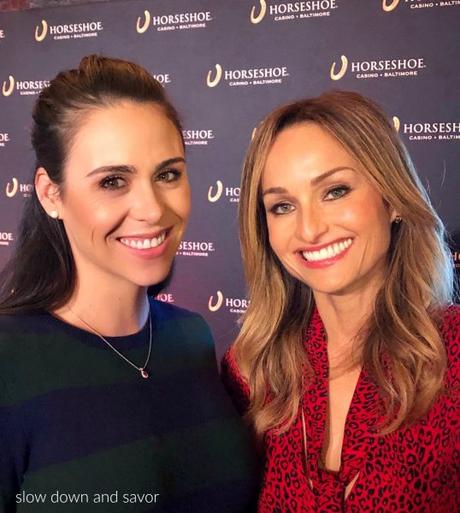 As for how she will pay homage to the city of Baltimore in her menu, Giada will likely have an Italian spin on a crab cake, probably in the form of arancini with Old Bay aioli. She confirmed that seafood will play a predominant role on the menu, also as a nod to our city, known for its love of seafood. After sitting in her company, actually getting the chance to talk with her and listen to her vision, I am even more excited, more now than ever, for Giada's newest concept, GDL Italian, to open its doors, revealing the large, airy, warm and inviting atmosphere, with 180 seats, surrounded with feminine touches, and warm and vibrant tomato reds and citrus colors.
I don't know about you, but I can already smell the bubbling dough, sauce, and cheese. I can already taste the freshness and the innovation. I can already see the large open kitchen, sprawling antipasti bar and red-hot pizza oven. Can April be here already??? Please????
Unfortunately, since Horseshoe Casino is a 21+ establishment, those under 21 will not be able to enjoy GDL Italian.This is a huge bummer for me, being a local mom of 3. Giada expressed her disappointment with the gambling law preventing anyone under 21 years old entering the casino. Giada is big on family and is actively trying to figure out a way to allow those under 21 to dine. So for now, plan on an adult-only outing to GDL Italian, unless her dream of a new and special entrance from the street is realized, allowing for younger diners to join. And plan on paying between $35-40 a person, for an amazing meal prepared by the team headed up by Executive Chef While at first Giada was hesitant to agree to bring her brand to Baltimore, after getting to know our city, she now believes,
Brian Drosenos
.
"This is a wonderful opportunity to try a new concept,"
she said.
"When I'm incredibly fearful of something is when I have to jump off the ledge and try it because otherwise, that fear stops you from ever moving forward."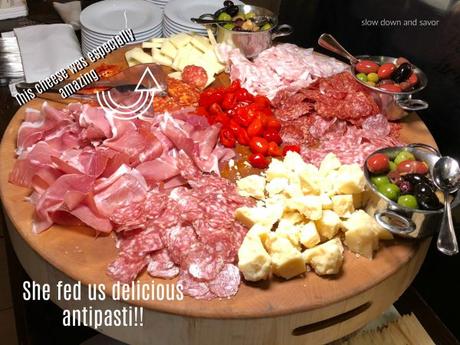 So here's to jumping off the proverbial bridge! I don't know about you, but I am SO excited to visit GDL Italian this spring! And in case you were curious, Giada is just as amazing and genuine as she seems. She was gracious, funny, smart, and of course beautiful. I'm so thankful to have been a part of the media event at Horseshoe, and am currently counting down the days until her opening in mid-April!
What are your thoughts on the new Giada De Laurentiis project here in Baltimore?