Phillips Seafood: A century old culinary powerhouse serving up classic seafood favorites, while provide outstanding service, and creating a memorable dining experience every single time someone steps through the doors of any of their locations.
I love seafood. Like a LOT. And so it may come as a surprise that I'd never stepped foot in a Phillips Seafood restaurant before. I mean, it surprises me. I don't know why we never visited before. But luckily for us, I was contacted by the kind folks from Phillips, inviting me and my family for dinner at the Baltimore Inner Harbor location. I couldn't pass up this opportunity, and lucky for me, my entire family, including the 2-year-old Jack, LOVES seafood!
If you live in Baltimore, or have visited Baltimore's famed Inner Harbor, you've seen it. It's beautifully historic facade with its name emblazoned in neon, it's impossible to miss. I couldn't wait to have our family date night out to Phillips.
The day came, and you guys, it's cold here in Baltimore this winter. I am talking ridiculously cold. Disgustingly cold. Too cold to walk to dinner cold. So we piled up in the car, and headed out to the Inner Harbor, arriving just in time for our 6:00 p.m. reservation.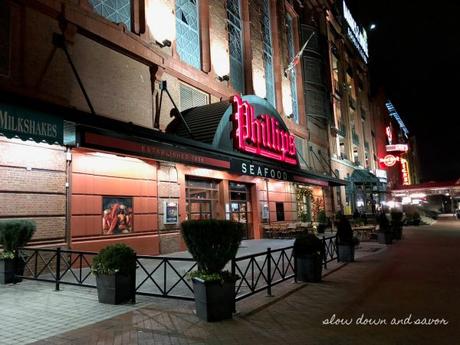 We were seated promptly by a super nice gentleman, who I assume to be the manager, and he left us at our table with menus and for the kids, crayons and kids menus perfect to color and play. Our waiter greeted us warmly and answered any questions we had, including, "Are you for real?????"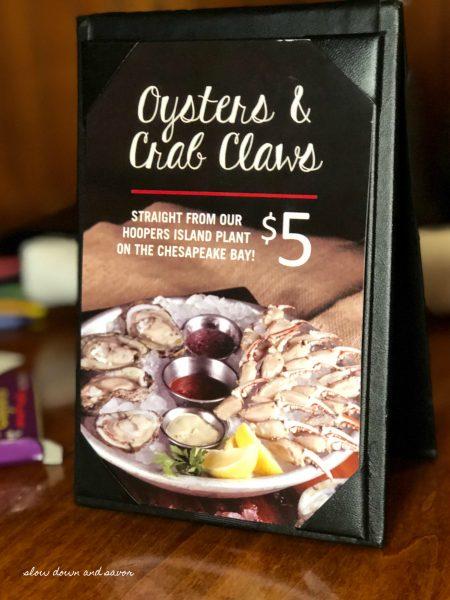 We saw one of those special promo advertisement things on the table boasting 4 oysters and crab claws for JUST $5. I mean, $5 for what now? It couldn't be $5 for all of that... could it? Yes. It could. Apparently because Phillips has their own oyster bed, it makes things easier.
So naturally, we started with that, along with the family favorite, steamed mussels (and clams) with garlic and Phillips Amber Ale ($13.95). The kiddos got Shirley Temples, and us grownups ordered Blue Crab Margaritas: tequila, blue curaçao, sour and fresh squeezed orange juice ($11). Festive.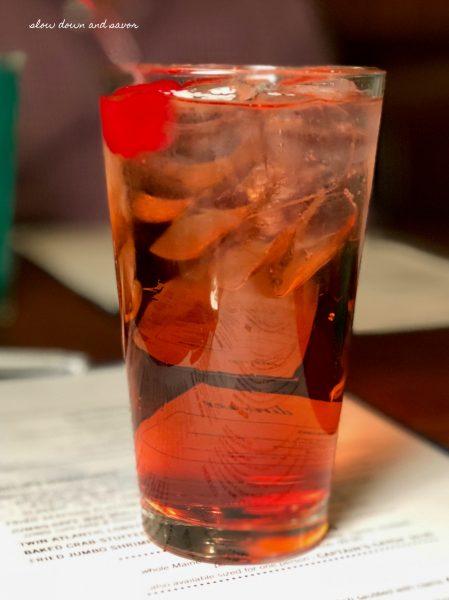 The drinks were a hit all around. I really liked the margarita. The orange juice was a nice fresh twist on the classic. The kids clearly loved their Shirley Temples. I mean, who doesn't love an ST?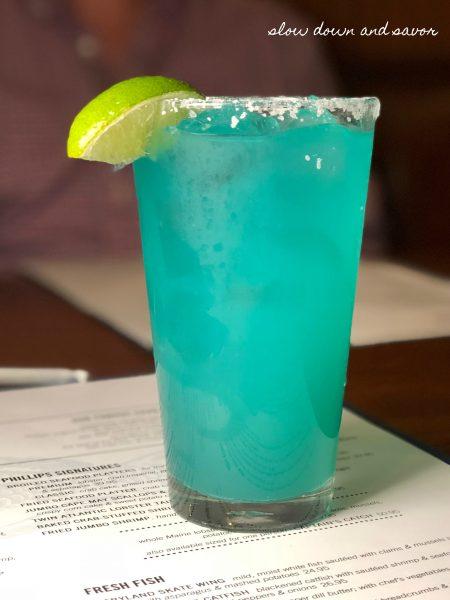 The $5 special and the mussels & clams were soon to follow. The promo was just as promised, 4 oysters and a bunch of little claws. It was fun to watch my oldest slurp down an oyster, and hilarious to see my toddler's reaction to watching his brother eat one. Everyone loved the claws, even the toddler. Jack got into the claws, first enjoying the meat, and then enjoying playing with the claws. Shh, don't tell, he plays with his food when his food has claws.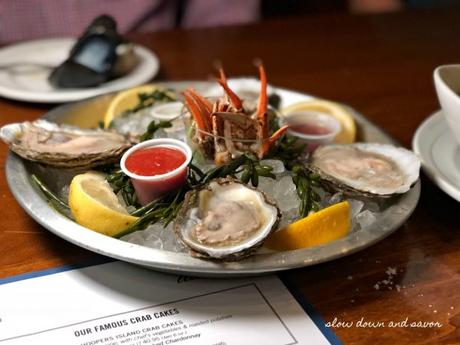 The mussels were delicious. Everyone dug in and enjoyed every single little guy, followed by dipping the warm bread into the intoxicatingly garlicky and mouth-watering broth, sopping it all up. It was a perfect way to start our first meal at Phillips.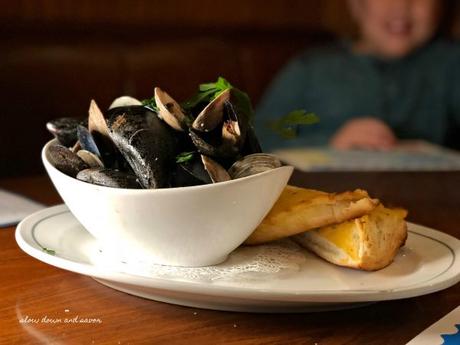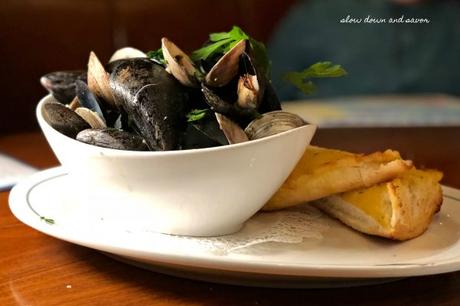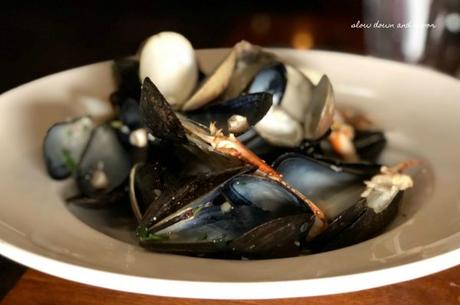 When it came to ordering entrees, my little guys knew exactly what they wanted from their kid's menu. Major opted for the crab cake slider served with fries ($8.95), and the little guy wanted chicken tenders and fries ($6.95).
Michael decided on the Classic Phillips Signature Broiled Seafood Platter: crab cake, grilled shrimp, barramundi, mashed potatoes and asparagus ($34.95), which sounded outstanding, and I almost got the same thing. But I decided, hey, when in Rome...
I ordered The Captain's Catch, a pared down single-person version of their Clam Bake For 2, featuring a whole Maine lobster, snow crab legs, shrimp, clams, mussels, potatoes and corn on the cob, ($50.95). Ummm, omg. I also switched over to a glass of Echo Bay Sauvignon Blanc, which I figured would pair nicely with my seafood extravaganza I was about to enjoy.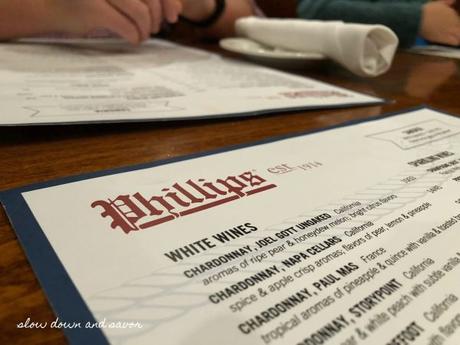 What a site to behold! The food presented to us was STUNNING. I was really excited about mine, especially. I was also really excited that it came with a bib. And yes, I wore it.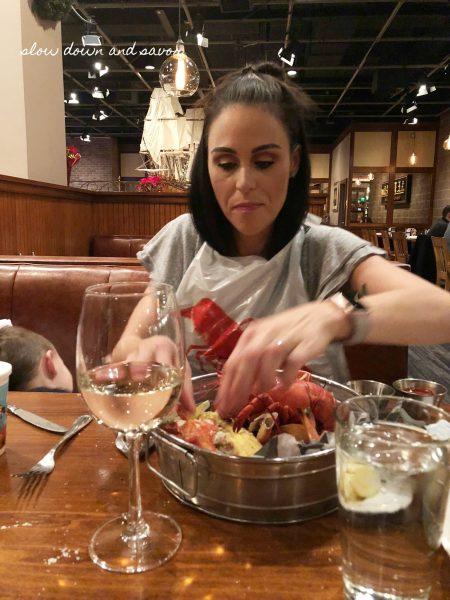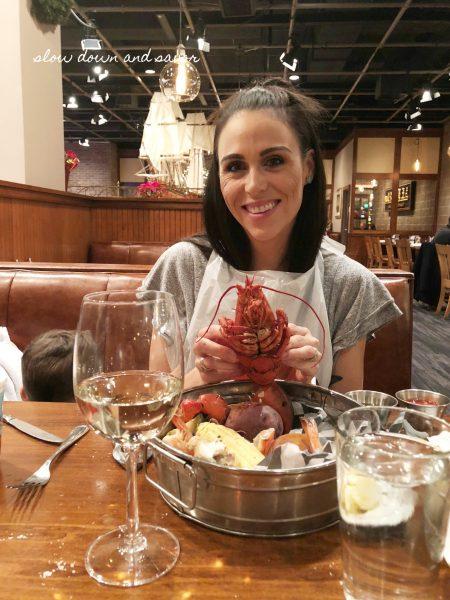 We all loved our dishes, and I surprised everyone, including the waiter, by finishing my entire plate.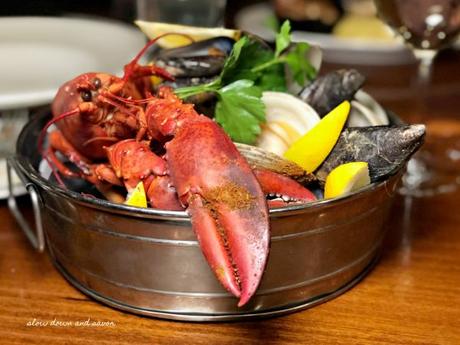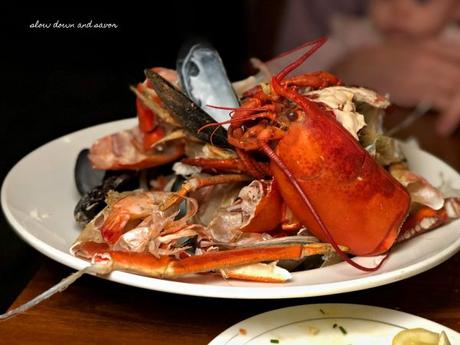 It was wonderful. Michael loved his fish, saying it was perfectly cooked and delicious. Major kept raving about the crab cake, and jack actually ate, so there's that.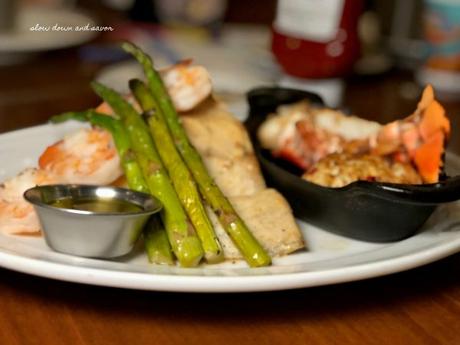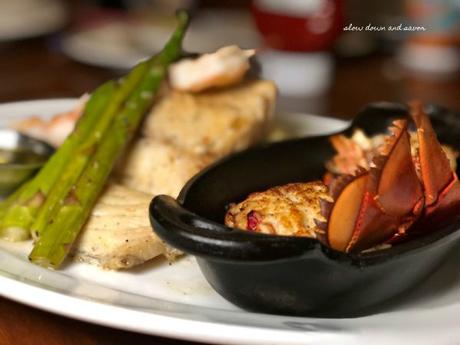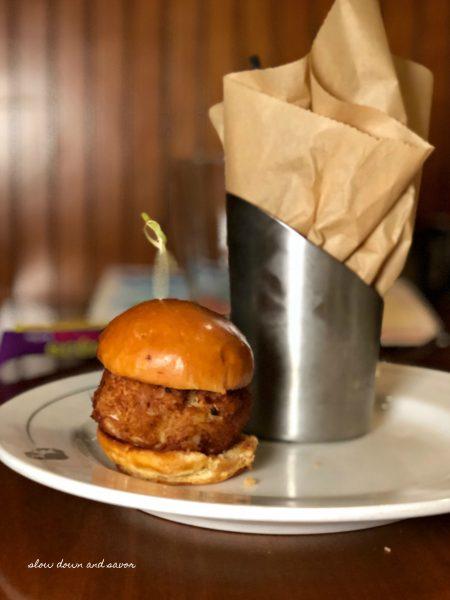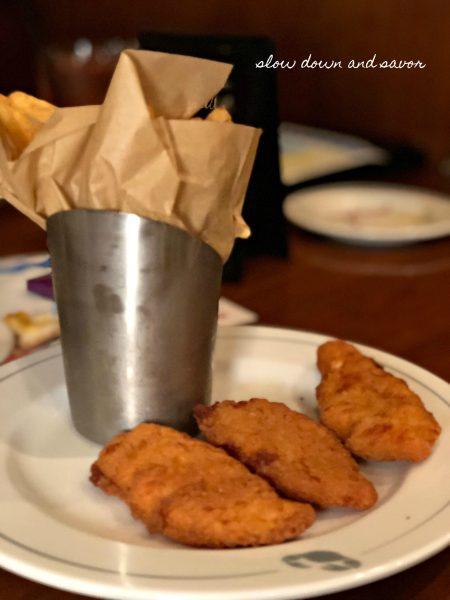 We were way too stuffed to try dessert at Phillips, but the table across the way from us ordered several desserts and I will say that they looked AMAZING. Like, really good.
Anyway, the take away from our Phillips Seafood adventure was fantastic. The atmosphere was comfortable, complete with live music, and the food was terrific.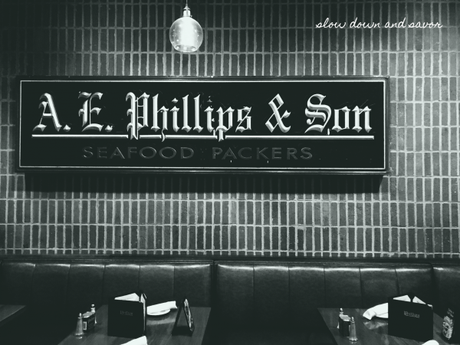 The staff were attentive, helpful and welcoming, and I loved that it was family friendly, looking out for our little dudes.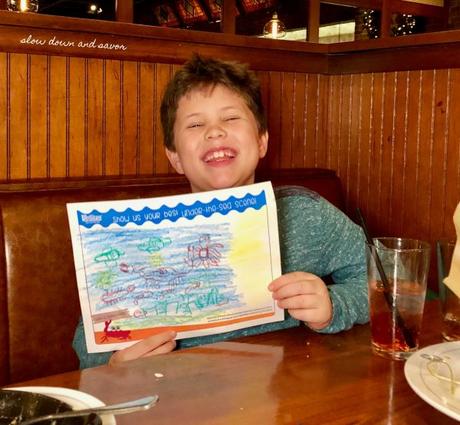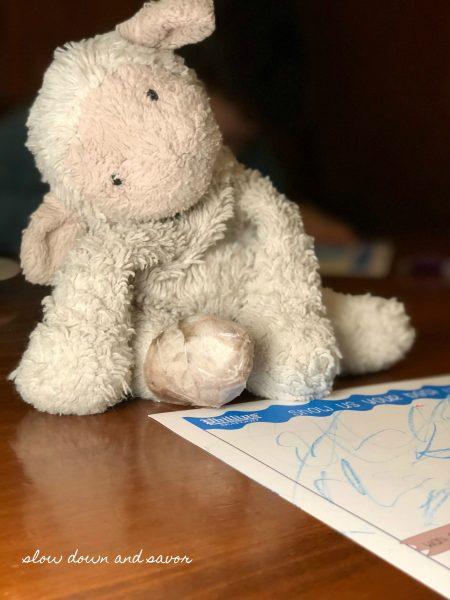 Thank you Phillips Seafood, for a memorable and delicious evening that we won't soon forget.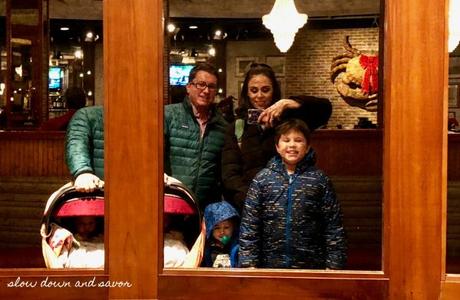 Disclaimer: I was provided with a meal for purposes of review. I was not obligated to write the review and opinions are 100% my own, and honest.