Good afternoon Beautiful,
Whheewww! Sorry about my last "fake" post, although it seemed to be well received by my fellow readers and twitter-ers... So that was pretty good I suppose! I wanted to tell you guys about my workouts for the week, but I skipped over that on my last post and so I get to tell you about them now! :). I worked out 5 days this week and they were all pretty great workouts!
On Monday, Jenny and I attempted to do a quick circuit workout and I totally can't remember what it was, soooo there's that. On Tuesday I decided to just run on the treadmill so I ran for 30 minutes straight with no walking, it was great! Although I think I told you about that already... Wednesday I did my own thing in the gym. I was in a weird mood and I just wanted to be with  myself, my headphones and the weight room. Do you ever get in moods like that where you just want to be with you? Does that sentence even make sense? Anyways, I blasted my running playlist and just immersed myself into my lifting. I focused on upper body because my legs were sore from deadlifts on Monday. It was a pretty good workout and I really pushed myself more than I normally do when I'm alone. Thursday I was back on the treadmill, except I had the lovely Jenny join me! We both ran for 30 minutes and did some stretching and foam rolling after.
Yesterday Jenny and I did an insane workout with one of the trainers at the club we work at... He most definitely knows how to kick some ass. He was Mr. Kenya or something back in the 90's in Bodybuilding... it's hilarious, but needless to say he's like 8 feet tall and 3 feet wide... he's MASSIVE and it's all muscle. When you hear him laugh though it's a little giggle, which makes me laugh too haha.  Anyways, if I can remember everything we did, it looked something like this:
Deadlifts
Lat Pulldown
Hammer Strength Chest Press
Smith Machine squats
Sit up bench
Dumbbell bicep curl
This leg thing where you stand on one leg on a bench and bring the other leg from one side of the bend over the bench to the other side and back, also known as the INSANE leg burning exercise.
Bound jumps
Kettlebell swings
x2
I was shaking and sweating and huffing and puffing by the end... holy mamma. Sometimes I feel like I'm in decent shape, then he puts us through something like this and I feel like I'm just starting out all over again lol... incredible! I'm not sore today like I thought I would be. This week though I've really noticed that my IT band is getting tight. I'm assuming it's from both running and lifting and lack of foam rolling... but I reeeeeeeally dislike the foam roller!! I try every possible excuse to not use it, but then my legs really start hurting and I have to suck it up. I'll probably have to do some foam rolling today... I'm officially dreading it. I was also thinking about doing a yoga workout today! Because I'm doing the Power of Movement in March, they gave us 1 month of this online yoga video website for free, so I'm definitely going to make use of that!
Last night was my friend Katie's birthday so we went out for dinner and drinks to celebrate!
Katie is in blue!
Instagram cut out her two other friends beside her for some reason... sorry!!
We went to Bar Vespa for dinner in Liberty Village here in Toronto. I've seen it a gazillion times but had never been, it's so nice and so fun! They have vintage style photos hung on the walls, the decor was matching of course... it wasn't loud and it was just super nice! The menu was mostly Italian but I managed to find something I could eat! To start I had fries (yes, I know!) with truffle oil and parmesan cheese and rosemary. They were unreal! I got them because Carlton had some a while back and I loved them so I jumped at the opportunity to have them last night! For my main course I had a piece of seared salmon with pureed butternut squash, capers and rapini! It was so flavourful and delicious! I've never cooked with rapini before, but it was definitely something I'd like to try on my own!
After dinner we went across the street to our local watering hole, Williams Landing for drinks and to bring in Katie's birthday at mid-night with a shot. It was fun! A couple of other friends of ours were there too so it was nice to see everyone!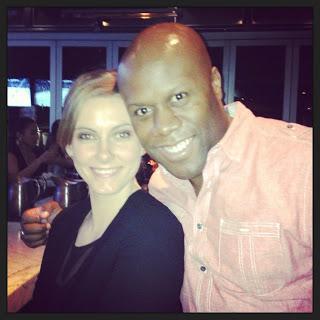 Me and Carlton at Williams Landing
It was definitely a great time and it was great to be able to spend Katie's birthday with her!
This morning I woke up thinking it was 8am when it was really 10am... whoopsies. I made myself a power smoothie to get my day rolling!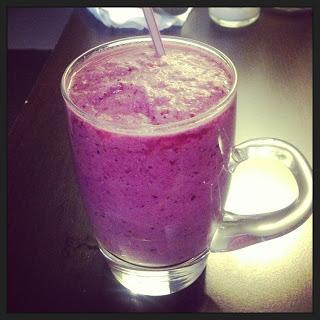 I put the following ingredients into my blender until smooth:
Vanilla hemp milk
an apple cut up
frozen berries
Sun Warrior Warrior Blend chocolate protein
hemp hearts
flax seeds
Taadaaaa. It was delicious and I just love smoothies a ton. So easy to make and fun to drink through a straw! I always want to try new ones, but I never have any different ingredients. What's your favorite smoothie to make?
DON'T FORGET! Share it! Sharing is caring! The perfect addition to your smoothie is some Sun Warrior protein!! Remember?? The super cool fantastic giveaway I'm doing?? There's only about 3.5 days left so get in while you can! Click here for all the fun deets!
I'm spending the rest of my day today studying since I pretty much bailed on studying this week... Time to make up for it! I'm glad it's cold and gloomy outside so I'm not feeling like I'm missing much. Oh right - I have to find time to do a yoga video! I will totally tell you about it once I do it! :)
Happy Saturday!