I know I have mentioned it here or there over the past few months but I have never really gone too deep with details about the program.  As it sits, I can only review the workouts in the starter kit and cannot touch on the meal plan since I didn't do it.
Kettleworx
is an
infomercial
workout DVD set centred around kettlebells.  The instructor is a Canadian - Ryan Shanahan - and I found him to be gentle and encouraging.  Jillian Michaels, he is not.  If you are looking for a video instructor to scream at you or make you cry - you will not find that here. Quite simply - Ryan is likeable and the kind of guy I think I'd want as my trainer if I was ever at a gym.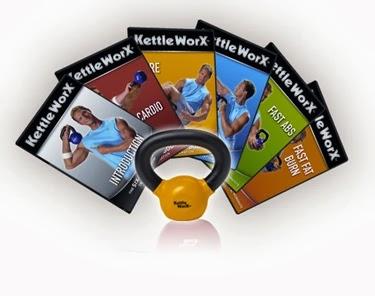 The premise behind the series is:
Workouts under 30 mins each
3 days a week - one day each for core, strength and cardio
Minimal equipment - you pretty much just need a kettlebell and a mat.  Some of the ladies I worked out with found they could easily adapt the exercises to a dumbbell.
The workouts themselves are easy yet challenging.  You aren't doing endless lunges or mind-numbing kettlebell swings for the whole 20-some minutes of each workout.  I have worked out with videos for years and still found there to be some new-to-me exercises included.
Each video is made up of separately filmed clips that have been combined in different ways to create the workout. The warmup and cool down are identical in all of the workouts.  The core video consists of 3 sets of the same exercises, while int he strength and cardio videos, there are only 2 repeats. While you may do the same exercises in many of the videos, they are distinctly different workouts.  Best of all - each disk has 6 separate workouts on it so you never do the same sequence twice.  In the two rotations I did - I found that I was never bored.
There are some counting inconsistencies in a couple of the exercises, but it doesn't take long to realize when you need to add or subtract reps from each side.  Some of the ladies in my workout group got to the point where they would just work one side per set and switch for the second set.
As for results...well - I ate like crap the first time I did it, but I still saw incredible strength gains (for me).  My core strength was significantly better at the end of the first 6 weeks, even though I hadn't lost weight.  And I was feeling these in muscles I had forgotten about after EVERY WORKOUT...and I did that first round with a 5lb kettlebell.  The second time I did the rotation - with an 8lb kettlebell -  I was on DietBet and saw better results and lost about 10lbs.
I like the set.  A lot.  So much so that I decided to carry on and do the Advanced set now.  I'm flying solo since my workout group decided they wanted to be screamed at by Tony Horton, but even I think I can stick to 30 mins, 3 times a week on my own at home.  I may even drag Hubby along for the ride this time!  I'll be back with a review of the advanced set in a few weeks time.  My hope is that if I can clean up my diet and stick to this and running - I can be down quite a few pounds before I really amp up my marathon training.
* I was not compensated in any way for this review.  I purchased all of the Kettleworx videos myself and just wanted to share my experience to anyone who may be looking for something to add to their workouts.