Workout Music:
Linkin Park, Faint
Link back to Number 3 <–
Number 4!
Hello NF NATION!
Lloyd Sterling here, your go to fitness coach With some workout music! Today's song is from an older genre but I still like it. Many of the hardcore true music people know of this band and how their older music was just amazing at the time. No one had done it like that. So I hope you guys enjoy this song, its got fast paced rhythm, some screaming lol(not too bad though). Its a pretty good workout song cause it gets you pumped to push beyond and keep going! This workout music is sure to get you excited & pumped!
Artist: Linkin Park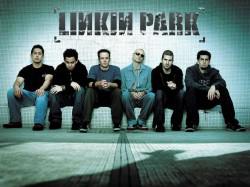 Workout Music : Linkin Park
Who Is?
Linkin Park is an American rock band from Agoura Hills, California. Formed in 1996, the band rose to international fame with their debut album, Hybrid Theory, which was certified Diamond by the RIAA in 2005 and multi-platinum in several other countries.[1] Its following studio album, Meteora, continued the band's success, topping the Billboard 200 album chart in 2003, and was followed by extensive touring and charity work around the world.[2] In 2003, MTV2 named Linkin Park the sixth greatest band of the music video era and the third best of the new millennium behind Oasis and Coldplay.[3] Billboard ranked Linkin Park #19 on the Best Artists of the Decade chart.[4]
Workout Music
Having adapted the nu metal and rap metal genres to a radio-friendly yet densely layered style in Hybrid Theory and Meteora,[5][6][7] the band explored other genres in their next studio album, Minutes to Midnight, which was released in 2007.[8][9] The album topped theBillboard charts and had the third best debut week of any album that year.[10][11] The band has collaborated with several other artists, most notably with rapper Jay-Z in their mashup EP Collision Course, and many others included on Reanimation.[6] The band's most recent work, the concept album A Thousand Suns, was released on September 8, 2010. Linkin Park has sold over 50 million albums worldwide and has won two Grammy Awards.[12][13][14]
Workout Music:
Faint