WMF or Württembergische Metallwarenfabrik (meaning "Metalware Factory of Wuerttemberg" in English) has a long history of 161 years in making the finest, high quality cookware, tableware and kitchenware since founded by the miller Daniel Straub and the brothers Schweizer in Geislingen an der Steige, Germany.
Many years on today WMF, who is currently the leading brand in this industry in Singapore, has once again proved themselves to be the most favoured brand here with the introduction of their latest product – the Concento Cookware Range and the Chef's Edition Performance Cut Knife Series.
We were invited by WMF last Saturday to the introduction and launch of these new cookware and kitchen knife series. We take a look at them and find out how are they different this time as compared to their earlier series.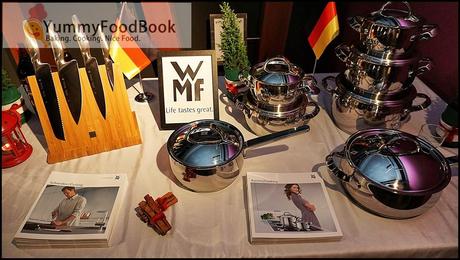 Concento Cookware Series & Chef's Edition Performance Cut Knife Series
The word "Concento" means "harmony" in Italian and when this word applies to this range of cookware, it balances the functionality and aesthetic appeal design in them. There is a saying – "nice to see, nice to eat". These cookware will not disappoint you despite their good looks.
The Attractive, Mediterranean Design
Concento Cookware Series was designed by industrial designer Daniele Dalla Pellegrina with the inspiration of cookware used to cook up Mediterranean cuisine. We were attracted to the rounded shape of the pots (we don't know why but it gives us a feeling like "Ooh, there must be something delicious inside the pot" feel especially the point when you close the lid) and indeed as what WMF said, it really makes us hungry for Mediterranean cuisine and wanting to whip up some beef stew with it.
What Is Cromargan 18/10 Stainless Steel
Concento pots are made of material called Cromargan 18/10 Stainless Steel. This means it's stainless steel consisting of 18 percent chromium and 10 percent nickel. Combining every individual material's unique properties, the Cromargan 18/10 Stainless Steel makes the pots unable to tarnish, rustproof, acid-resistant, unbreakable, easy to clean and therefore extremely durable.
Metal Non-Insertable, Steam Vent Lids
The lids are of a different design now compared to the old ones we have at home. The lids are metal non-insertable now flushed together with the brim of the pot for easier cleaning whenever it needs to. Sauce or gravy got onto the lid? We can now wipe it off easily without those sauces and gravy gets dried on them which will then becomes quite difficult to clean it off. There is also steam vents to allow steam to vent through prevents steam escaping around the sides and water splashing onto the hob.
Lesser Heat Conducted Handles
The handles now are designed differently compared to the previous models. It is more comfortble to hold and though it looks all metallic and too hot to hold on the stove, it isn't the case. The design is such that heat conduction is kept low so heat is conducts lesser over to the handle, making it easier to hold the pots when you are done with your braised pork knuckles.
TransTherm® Universal Base – For More Even Heat Conduction
The last unique feature about the Concento pots is the TransTherm® universal base which through optimal heat conduction, distributes the heat evenly and retains it for a long time. It is suitable for all types of hobs including induction ones, suitable for all types of cooking such as braising, stewing, steaming and boiling soups.
The Concento Cookware Series are dishwasher safe.
We were fortunate to be served with German cuisine cooked with the Concento cookware by Chef Sawarto and his team, presented during the launch's lucheon. Check them out below!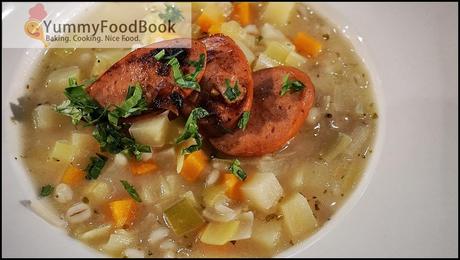 Graupensuppe: German influenced Barely & Vegetable Soup Served With Bockwurst Sausage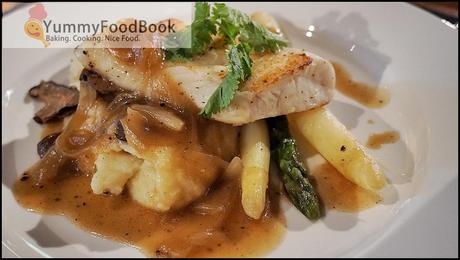 Roasted Chilean Snapper: Spargel & Mashed Potatoes.Assortment of Garden Mushrooms & Onion Gravy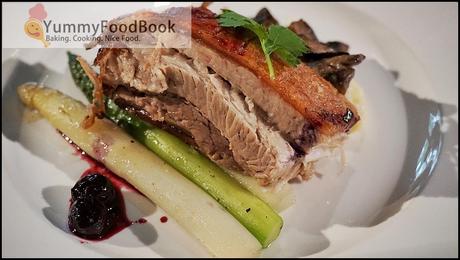 Crackling Pork Belly: Spargel & Mashed Potatoes.Assortment of Garden Mushrooms & Blueberries Sauce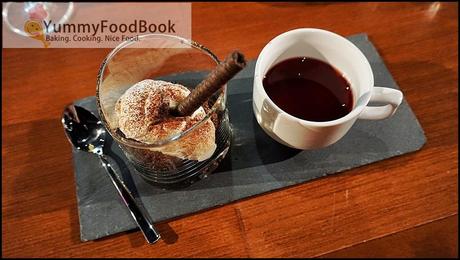 Deconstructed Black Forest: Xo Macerated Cherries and Vanilla Ice Cream
Chef's Edition Performance Cut Knife Series
The Chef's Edition Performance Cut Knife Series are a set of knives that we think we cannot do without in the kitchen. Why is this so? Okay, we start off with our experience with the knives. The knives are really unbelievably sharp and this makes precision cutting, as some of the other bloggers experienced in the mini Christmas theme food decoration competition we had, a lot more easier and effortless.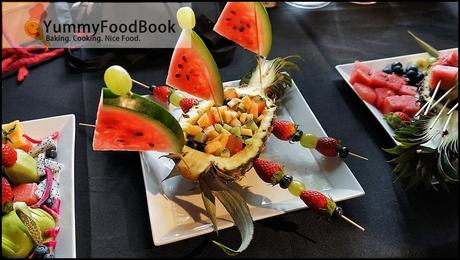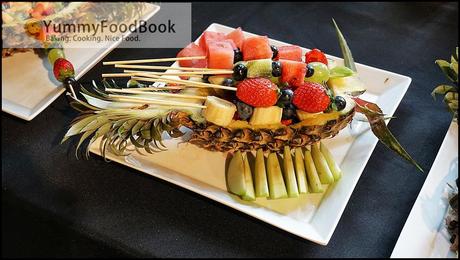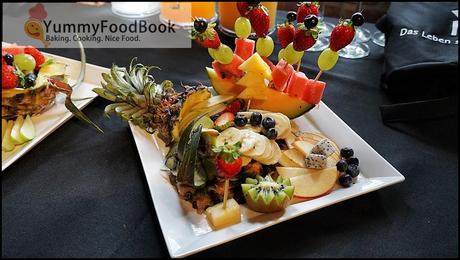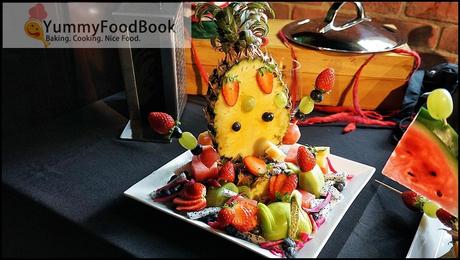 Besides food decoration, everyday cutting such as chopping, julienning, dicing and slicing is also easy and faster and yes, it does make us feel like a celebrity chef when we were working with the knives. Here's a demonstration by Chef John Sawarto of how easy it is to cut ingredients in the kitchen with the Chef's Edition Performance Cut Knife Series.
One Piece Forgery.
The knives are very unique even from the beginning; they were forged out as one piece rather than the usual Chef's knives you see that comes in two pieces – one is the handle and the other is the blade. No, WMF's Chef's Edition Performance Cut Knives are just one. We remembered Chef Sawarto's tip on picking up good Chef's knives lies in the quality of its blade and this is evident with a faint "ting" sound if you flick your finger on the blade. Indeed, it was a knife of quality.
Why Are The Knives So Sharp?
They are forged using traditional smithery and latest manufacturing technology called the "Performance Cut Technology". This results in long-lasting superior sharpness. The knives' blades are consistently and precisely sharpen at an constant exact angle and combining with the new refinement of the steel, the blades are made finer, harder and less prone to corrosion. WMF, forging knives with this state-of-the-art technology and with precise blade grinding and perfect blade withdrawal, is able to produce higher quality knives than before. They don't just become extra-sharp knives with longer sharpness quality; their longer cutting ability exceeds expectations and the DIN standard 8442-5 (or known as ISO 8442-5:2004 – Specification for sharpness and edge retention test of cutlery) by far.
Cromargan 18/10 Stainless Steel
The material used to manufacture these knives are the same to the Concento pots – Cromargan 18/10 Stainless Steel so these knives will last, with the same benefits Cromargan can bring, as long as your Concento pots. This means, in case you have forgotten the benefits, the knives are unable to tarnish, rustproof, acid-resistant, unbreakable, easy to clean and therefore extremely durable.
We find the knives very easy to hold, light and best of all, one of the WMF's signature, is its sleek aesthetic looks. The knives are not dishwasher safe and is recommended to be hand washed instead.
Conclusion
WMF has done it again proving the quality of their products with the launch of the two series – the Concento Cookware Series and the Chef's Edition Performance Cut Knife Series. In our opinion after our experience with the knives, they are indeed what WMF claim to be – feels like a professional, cuts smoothly, grips comfortably, sleek design and very sharp definitely. The pots on the other hand was able to produce good food, in particular German cuisine, through their distributive heat conduction and non-insertable lids with steam vents, sealing in all the goodness and flavours of the food in the pot. Oh yes, the pots have this design that has a strange effect on us that really makes us hungry…anyway in all, these new products from WMF are really attractive espcially the knives, very nice want to cut cut and cut. Hahaha!
The Concento Cookware Range and the Chef's Edition Performance Cut Knife Series are available in store from December 2014 onwards, with Robinsons the first store to kickoff this new exciting products from WMF.
WMF – Life tastes great.