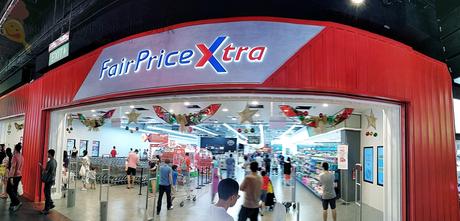 Recently Frog, and I as well as my sister-in-law and niece nephew were invited to an event hosted by NTUC Fairprice to tour around their new hypermart concept store located on level 3. Hang on, you may think that you've seen one at NEX, other supermarket company's hypermart or you think you know what a hypermart is and what to expect, you will be in for a surprise because initially, that was what I thought to myself too!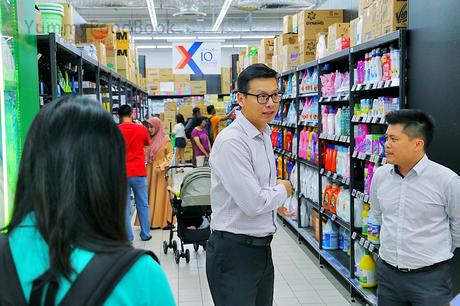 Mr Marcus Wong
Alright, stepping into this Fairprice Xtra Hypermart at Jurong Point really looks like any other regular supermarkets – the trolleys, the baskets and some product showcase, the real difference lies within the explanation of Mr Marcus Wong, General Manager of NTUC Fairprice Xtra Hypermart, who was the one giving us a tour around and it's not your regular hypermart. Why? First of all, this store is more interactive, convenient and exciting to customers.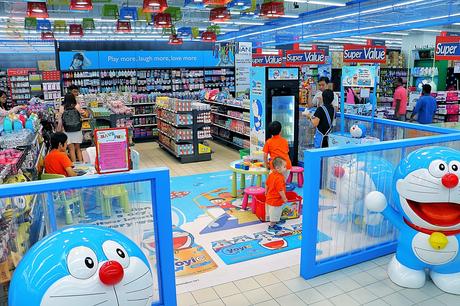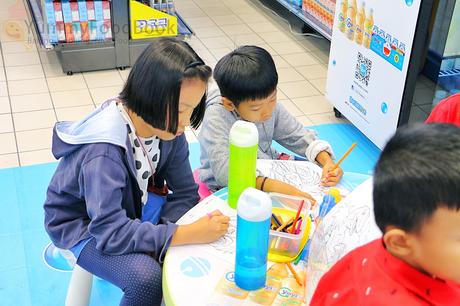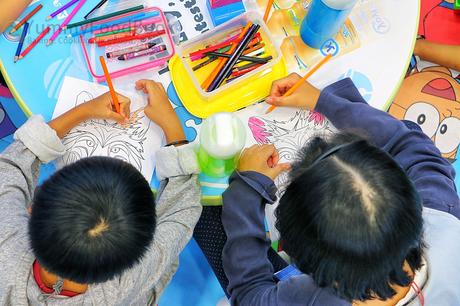 Not far from the main entrance is a kids play area where your kids can get busy with fun activities such as picture colouring and playing with the colourful building blocks available there. The theme for the kids play area changes every now and then. Within the play area there are also kids' merchandise which you can conveniently pick it up while your kid is busy colouring or building something out of the blocks. Not far from the play area are essential baby-kids' necessities such as lotion, powder and diapers.
Just opposite is an Unity pharmacy and is located just by the entrance. You can get all your medicine, first aids and such from there without going all the way into the store and queueing up at the cashier or checkout counter with just a box of Panadol or plasters.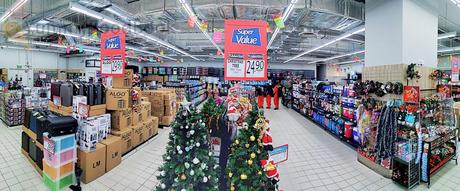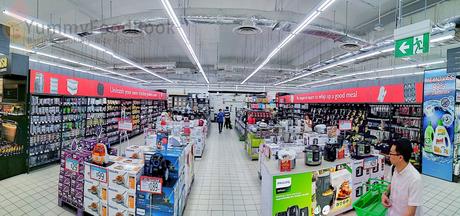 The amazing thing about this store is how the space is being optimized and maximized as well as arranging it to customers' needs while not compromising on convenience. Marcus explained the store's space is no extra bigger than the other Fairprice Hypermarts. Just look at how spacious it is! Low shelves are used instead of the typical high ones to prevent having that claustrophobic and cluttered feel, which will make the store looking and feeling less "breathable".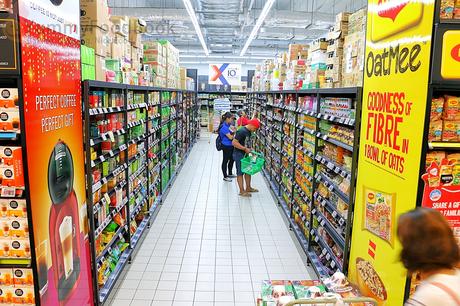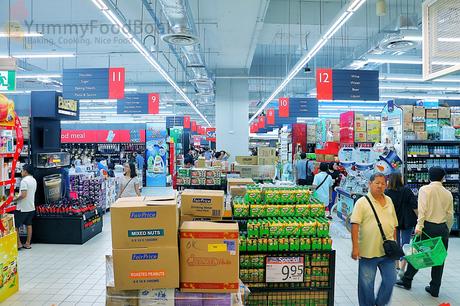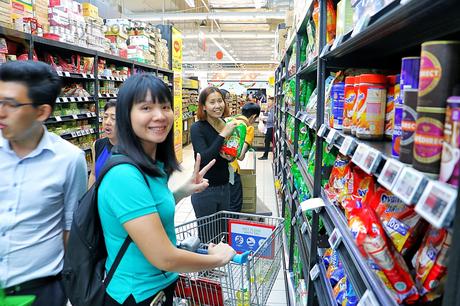 The aisles are also purposely designed wide enough for families to walk down the aisles together, looking at products on the shelves left and right. I'm sure you probably know the coziness feeling of discussing and talking about the products on display. Speaking of displays, there are also large interactive displays of products at the start of every shelf that are the store's special. Oh yes, these specials don't stay there all the time because they are changed every week. Be sure to check them out!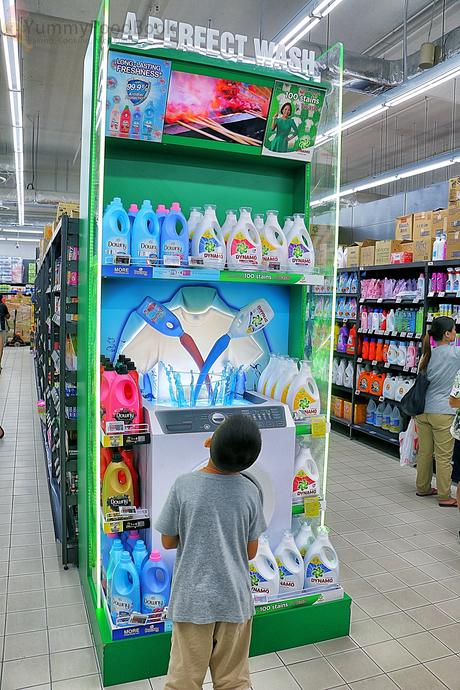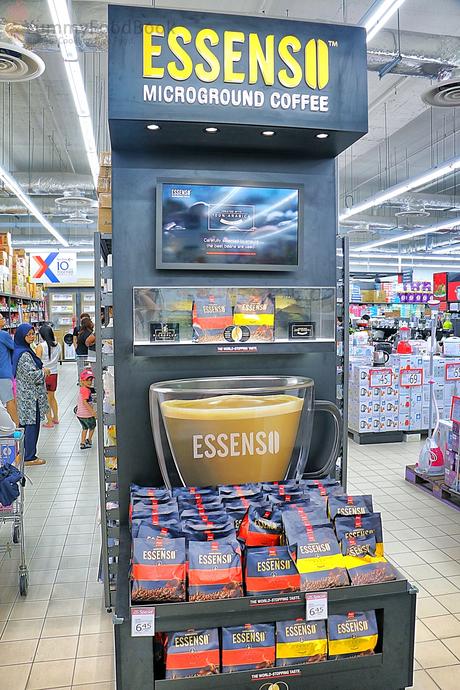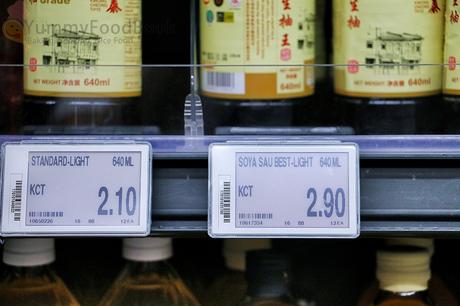 And that thing mostly discussed with your family during supermarketing, is the price. Speaking of that, you also won't miss out the price of an item because the price tags are larger than the normal ones so that the price will be easier to see at a comfortable distance.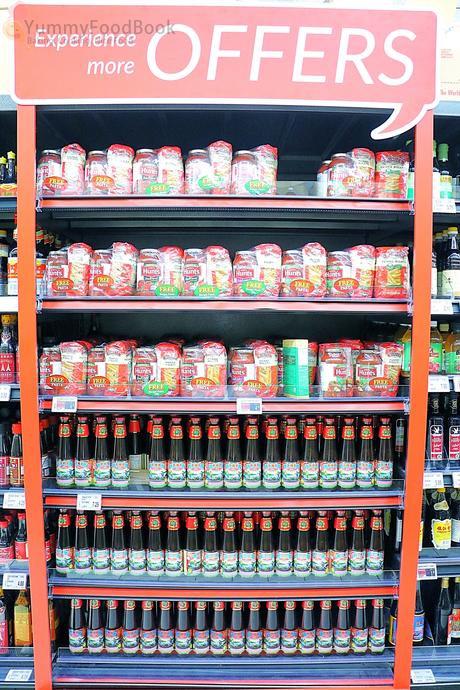 In addition, get surprises on special offers indicated by the "Special Offers" frame outlining a specific column of a shelf. Be sure not to miss out….probably not because it's so visible!
As mentioned, organization of this store is convenient because they are arranged specifically to the consumer behavior pattern of customers patronizing the store. Kitchen utensil and food storage needs are placed conveniently beside the food section so customers can easily pick them up whenever they thought of cooking up or storing something with the foods they have on hand. No longer are the days when the food section and utensils are so far apart, one end to another.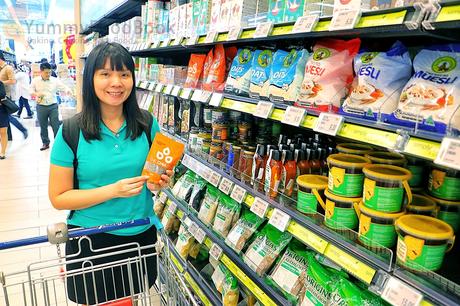 Compared to the NTUC Finest here in my area, the variety of organic products here is a lot more. If you are a fan of organic items, this section will wow you. Usually organic products take up shelf-level spaces but this is the entire playground, I'll say!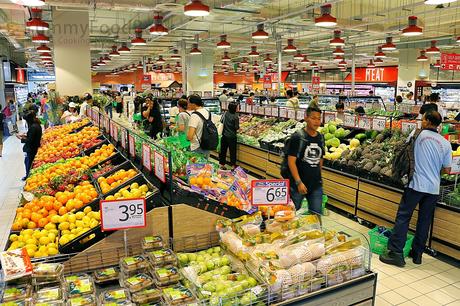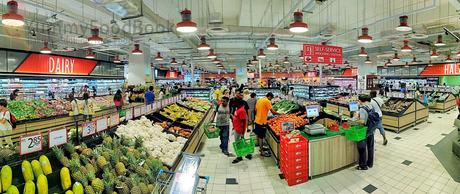 Speaking of huge, the next area that is also huge, is the fruits, vegetable, seafood and meat section. They are all clustered together conveniently within short walking distance in a huge open area so you probably won't miss anything or even forget anything you want to buy! Stepping in we were greeted with beautiful green vegetables, colourful fruits, aroma of roast meat and the fresh-looking seafood! Overwhelmed with ideas for your next meal…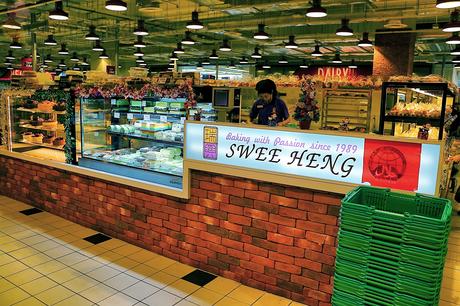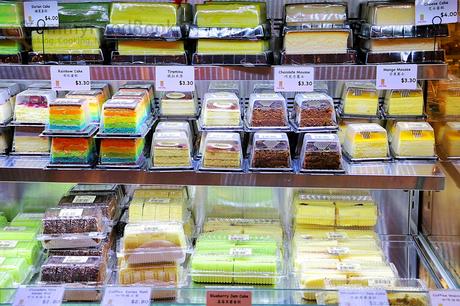 If you also need to buy some bread and buns for your breakfast the next day, you won't have to step out juggling with your many and heavy groceries to the bread shop elsewhere out of Fairprice Xtra Hypermart. You can conveniently grab them at Swee Heng right within the store! They also have cake selection too so if you are whipping a feast, you won't forget about the colourful delicious-looking cakes as dessert to end your menu, for dinner perhaps, perfectly.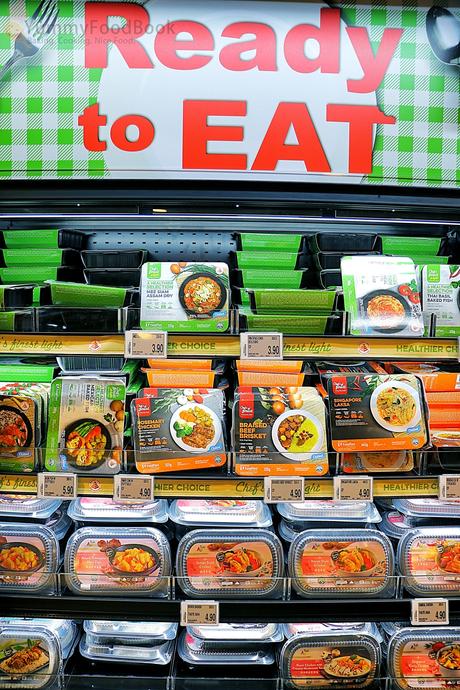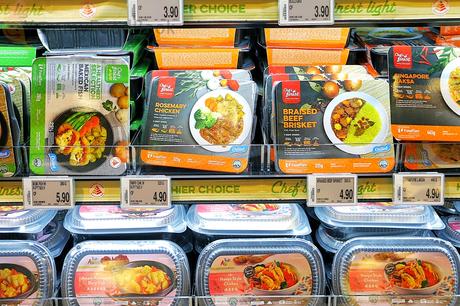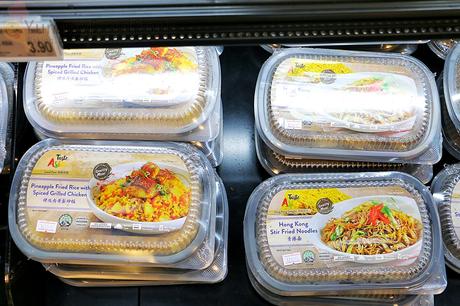 Another feature of this Fairprice Xtra Hypermart is the Ready-To-Eat section near the self-checkout counter. This is for anyone, especially busy working professionals, who have little time for a decent meal to just grab one and go. There are many selections to choose from and they have local delights such as Mee Siam Assam Dry, Sambal Chicken, Hong Kong Stir Fried Noodles to western meals like Rosemary Chicken and Mexican Baked Fish. Sounds tantalizing, huh?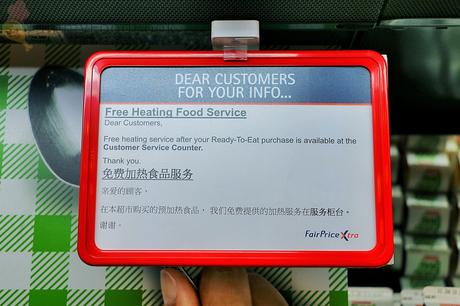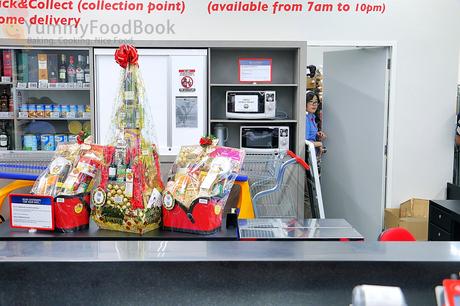 For me, the best part is the staff will do the heating for you at Customer Service counter. I think I can take a short breather, looking through Facebook or simply spacing out, for that few minutes while waiting for my food to be ready. It's a very straightforward and simple process – go right in, take a meal, checkout and heat it up. Fast in, fast out!
Not far from the Ready-To-Eat section is a small event area where promoters can promote new products to customers with their neat, interesting and attractive display of their products and providing samples for customers to try.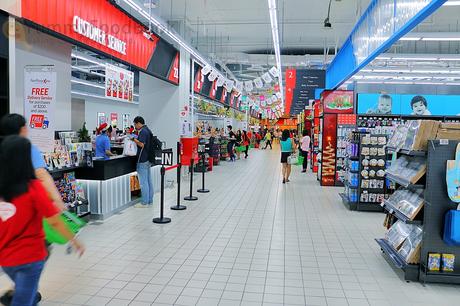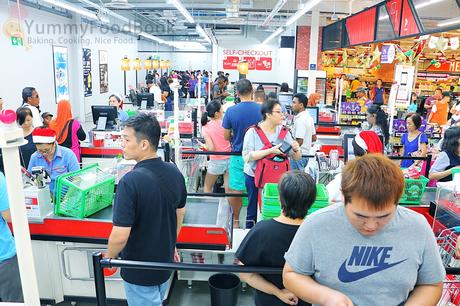 Our thoughts about this NTUC Fairprice Xtra Hypermart here at Jurong Point, is not the usual hypermart we've seen elsewhere. Although it looks the same from the outside but the real beauty lies within the store itself because it's more about strategic planning to provide maximum convenience to shoppers shopping for groceries.
If there wasn't for Marcus's tour explanation, we won't know either and after knowing that, it seems NTUC Fairprice has put in a lot of work into this store, not just this moment but probably observations and studies dated some time back leading to today's planning. It isn't all about just placing products the good old conventional way but a smarter way. Convenience such as:
Clustering of foods from vegetables to meat to seafood all in one big open-concept hall with no high blocking shelves and clear big signage indicating types of food so one can see all food sections at a glance.
One hall's worth of solutions to solve your daily meal problems from breakfast to lunch to dinner.
Larger price tags for easier read and we find this useful for senior citizens.
Ready-To-Eat section that is placed perfectly to facilitate grab-and-go meals for busy working professionals or simply just want to have a hot meal without grocery shopping.
Easier to get things from the pharmacy without getting the headache and frustration.
Bigger, interactive and colourful displays to indicate special offers and specials for the week so shoppers won't miss them out.
Wider selection of organic products.
Placement of products with accordance to shopper's shopping psychology.
Not forgetting a more relaxed experience can be benefitted from this strategic planning such as:
Wider aisles so that families and loved ones can walk together more easily shopping for groceries. You also bump less into other shoppers along the aisle!
Low shelves were used instead to give an airy, breathable, bright large space feel.
Kids can get themselves busy too at the kids' play area with fun activities, with kids' essential products nearby for easy pick up.
Interactive colourful displays for specials of the week. They even capture the eyes of kids!
Plenty of Self-Check Out machines.
Heating of Ready-To-Eat food is done for you.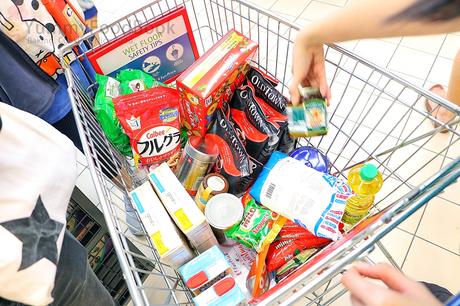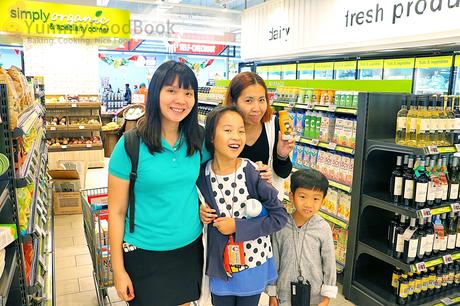 We got ourselves some groceries there and really loving this new Hypermart Concept NTUC Fairprice Xtra store here at Jurong Point. It's located at Level 3 along the Hongkong Street. Do come over to experience this store yourself for a new level of grocery shopping!