In a month time to Chinese New Year, have you plan on which caterer to engage in hosting your family members or corporate Chinese New Year party celebration? Are you still in the midst of sourcing and deciding on which caterers to choose from? You can easily decide by ordering at FoodLine.SG, a one stop Singapore based buffet catering portal with over 250 food caterers & cake shops, and over 5000 reviews and photos by past customer for reference.  With the food review system, quality assurance will be provided for orders made through Foodline.sg.
You can easily search and choose your favorite menu from 2018 Chinese New Year Catering (Chinese New Year Party Sets for small group of 5 to 10 person to full buffets for 20 – 100 people) based on the following filter options: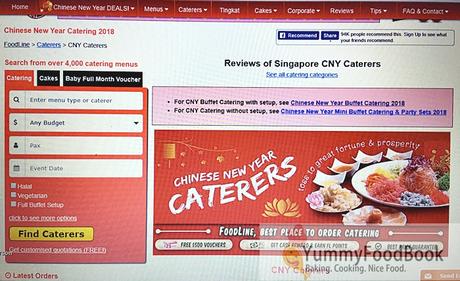 CNY Buffet Catering with setups
CNY Buffet Catering without setups
Halal
Vegetarian
Budget
No of person
Budget
Event Date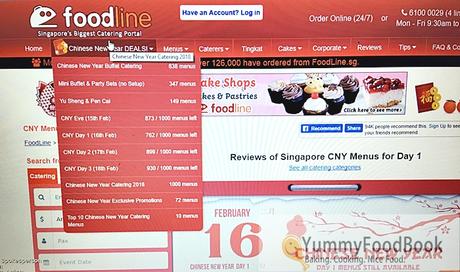 By ordering the caterer at FoodLine.sg, your event can be assured of getting the best price with Best Price Guarantee and satisfied with the catering services by having and 100% Satisfaction Guarantee. With the Best Price Guarantee assurance, the prices that you pay are either similar or lower than ordering directly from the caterer. Any unhappiness with the catering services will also be attended to. Click here to know find out more about FoodLine.sg Guarantee.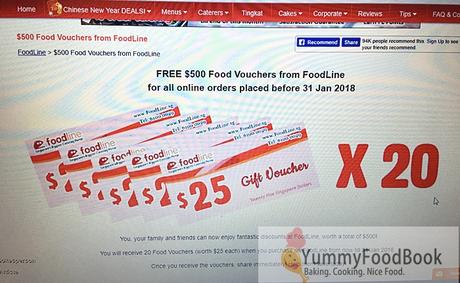 Your family and friends can now also enjoy fantastic discounts at FoodLine, worth a total of $500 .You will receive 20 Food Vouchers (worth $25 each) when you purchase on FoodLine from now till 31 Jan 2018. These vouchers can be use for your next catering, cakes and desserts ordering on FoodLine.sg. Simply share these vouchers with your friends or family members and the vouchers will expire about 6 months from your date of purchase.
For YummyFoodBook readers, simply apply the code 'YFB38' to get $38 OFF on your orders on FoodLine.SG. (Minimum spending of SGD 350 is required). Validity: 31 Dec 2018.