Last Sunday, Frog and I were invited to FairPrice latest AutoStore, an automated storage and retrieval system located at FairPrice Hub in Joo Koon. On 28 Mar 2018, FairPrice had officially launched the revamped e-commerce platform and renamed it as FairPrice On.  We were there to witness exclusively behind the scene of how Fairprice make use of "Goods To Man" system to automate storage and retrieval for fulfilling online orders.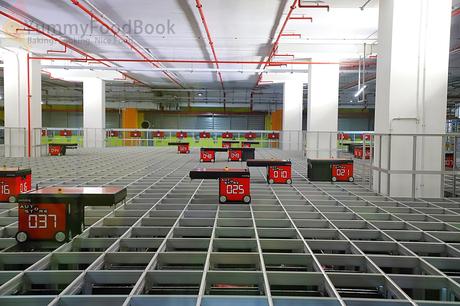 We are amazed at how the products (> 20,000 bins that is equivalence to 1.5X Olympic sized pool) are stored and by making use of 55 robots to retrieve the goods to the 17 picking stations which has lead to 4 times increase in operational efficiency. FairPrice On is able to pick up 220 products per hour and hence increases speed and accuracy of customer orders. With this new AutoStore high tech fulfilment system, FairPrice On now has 365 days of deliveries instead of previous delivery on weekdays only. Customers can also opt for collection at 71 stores locations island wide. There are 138 physical FairPrice stores for product exchange and refund as well.
So what about the selection of items on the revamped FairPrice On? There is a significant increase of items from 5,500 items in 2015 to now having 13,000 items online and this is good news for consumers!
Not forgetting 'Giving Back to the Community' mindset which FairPrice On adopts by offering subscribers the option of donating to the less fortunate by choosing from a list of 55 Social Service Organisations.
Overall, FairPrice's web portal and mobile app is improved and enhanced to make consumer shopping experience online more seamless, convenient and enjoyable!
Shop today at FairPrice On!
Stay tune for the next blog post on sharing our shopping experience on the new FairPrice On Platform.