Apologies for the lateness of this post - my to do list is as long as my arm! Just finished 16 pupil reports and I feel like my hand may drop off at any moment!
The lovely people at With Love cosmetics sent me some goodies to try out and they were well worth the wait! They've been up and running since 2009 in the North West after starting at arts and craft fayres and had such a good response they starting up their business. They are a small company so only hold six of each product at any time, and they use the best natural  ingredients so these goodies are really special! I was sent a Rhubarb and Custard soap (it looks like a Lush one but SO much bigger and MUCH better value for money at £2.95!), a Chocolate and Mint lipbalm and Purple Rain candle. I don't have a photo of the lipbalm because it didn't have a label on it, but here are the other two: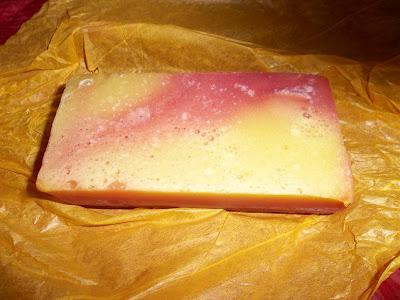 Rhubarb and custard soap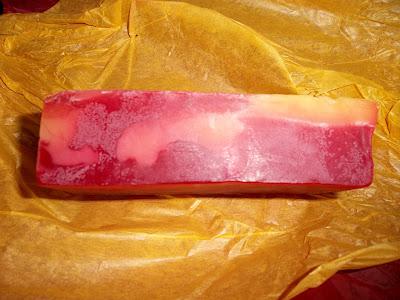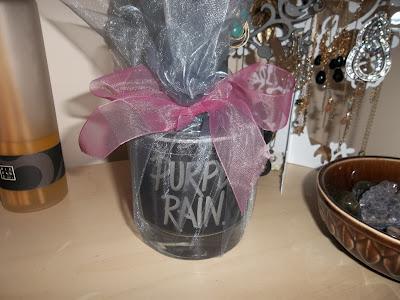 Purple rain candle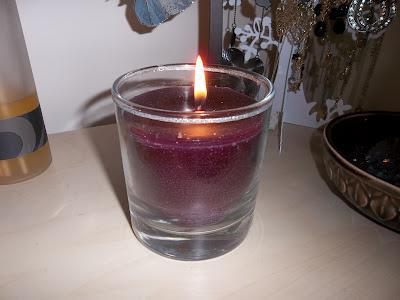 The soap was absolutely divine - it really did smell of Rhubarb and Custard, so much so I wanted to eat it! The vanilla smell was lovely and sweet without being too overpowering and it lingered on my skin after I had dried myself off. The soap was easy to lather up and has almond oil in so skin feels lovely and soft afterwards. Personally I think this is excellent value for money, i cannot recommend it highly enough, and there are so many other varieties to try on their website.
The lipbalm was also amazing - it's called 8 til' late, which is chocolate and mint, retailing at £2.45 for 10ml. It was really conditioning and left my lips with a glossy shine. The mint was stronger than the chocolate smell, and you could feel it tingling on your lips afterwards, but personally I quite liked the mintyness. Again, there are 3 other varieties you can try, I quite like the idea of 'I kissed a girl' which is Cherry Cola flavor - will it make me look like Katy Perry though I wonder?!
The candle was a really lovely thing to receive - I thought it would be tiny but it's MASSIVE, and so beautifully wrapped...I didn't want to take the tuille off! One of these would make a gorgeous present. Unfortunately I couldn't really smell the scent of the candle as I have a cold :( but I loved the little touch of the silver glitter around the outside of the glass.
On the whole, I really recommend this brand - I love that it's a company that's small and really passionate about what they're making, and it's so good value for money - thank you so much for my goodies guys! Go to www.withlovecosmetics.co.uk and have a little look and spread the love on twitter @WITH_LOVE4U x x