Hi Guys!
I have been so busy with work recently I haven't really had time to blog. I'm also going away tomorrow for a week to Wales! So sorry for the massive big gap between posts.
I got a few things this month, and the ones I was most excited about were my Bobbi Brown Corrector and Concealer kit. I got an eye cream too as I have terrible dark circles which are apparently due to dehydration...they said at the counter that now I'm 27 I really do need to start using something, and that the skin around my eyes was all crinkly and any concealer will be pointless without a proper base. I've noticed a big difference, although I have a little problem applying the powder after as I don't know what type of brush to use. Any suggestions?
So here's the pic of what i've got this month: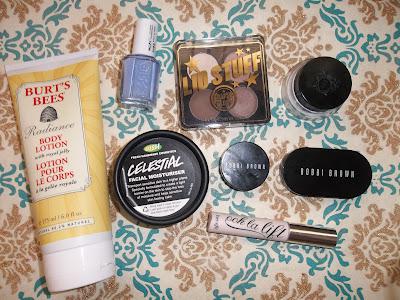 Burt's Bees Radiance Body Lotion
Essie Polish in Bikini So Teeny
Lush Celestial facial moisturizer
Soap and Glory Lid Stuff in what's nude
Bobbi Brown Corrector and concealer in Bisque/Sand
Bobbi Brown Hydrating Eye Cream
Benefit Ooh La Lift
The only thing out of the above I really want to mention is the Essie polish - it's one of the limited edition summer shades in 'Bikini so teeny', a light blue with tiny sparkles in. I will do a post about this if any of you like but I imagine there are already dozens out there! I'm not a massive fan - it didn't live up to the hype to me and it really doesn't last long. I found that it started chipping after only a day :(
The only other thing I got was something my boyfriend picked up for me. He works in the Trafford Centre and there is a new L'Occitane store now open within it. They were giving out deluxe samples bags at a stand and he got one for me: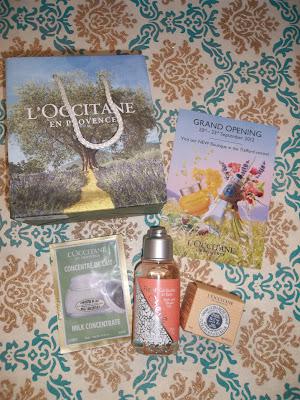 Concentre de lait body milk
Fleur Cherie bath and shower gel
Ultra rich face cream
Not bad for a freebie! I have a 15% off voucher too so there are a couple of products I want to get later and this is my first foray into this brand so I'm really pleased with my goodies.
See you soon! x