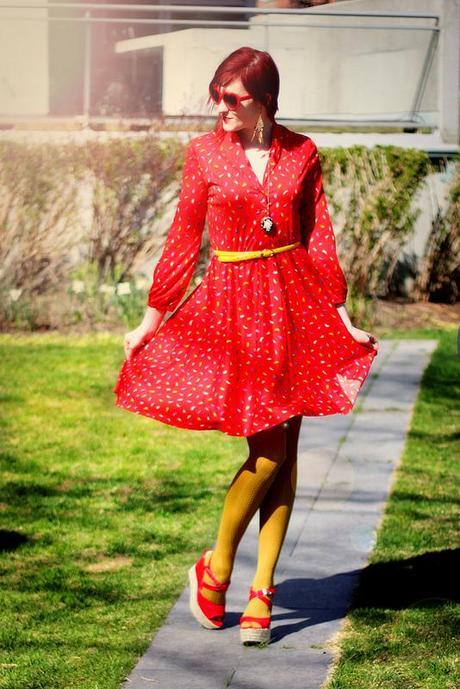 Dress
// Vintage via Etsy - SallyJaneVintage //
Tights
// Forever 21 //
Glasses
// Amazon.com //
Earrings & Necklace
// Thrift //
Shoes
// Beyond the Rack //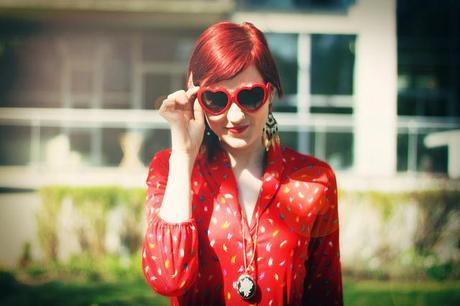 The flowers are out, the sun is shining down on Toronto and it's finally starting to feel like Spring is here to stay. My lovely, *and talented, friend and work-playmate Sahar, has been kinda enough to start taking my daily style picture for me! We've been having a ton fun thinking of locations to shoot at so stay turned for some exciting new backdrops here on Vintage Redheads!! I'm happy I get to share this little endevaour with my workmates since they're a big part of my day, my life and my fashion inspirations. I loved coming into the office and knowing that I can make someone's day but wearing a brightly coloured pair of tights on the gloomiest day of the week. It's nice to know that even something so small can amke someone smile so big :)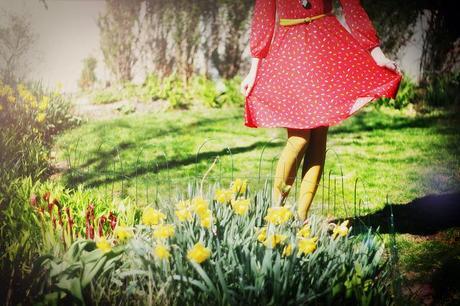 This beautiful feather print, fire red dress is one of my favorite dresses for this time of year. It's light, perfectly fitted and has a wonderfully whimsical pattern of multicoloure feathers falling down and swirling all around me. This little treasure came from Sally Jane Vintage, one of my favorite vintage shops on Etsy. I adore Etsy for vintage finds. Sally Jane Vintage has a faulous shop online and she's amazing at finding the most unqiue and on trend pieces(and plus, they're always bright and colourful, right up my alley). She also has a phenomal blog that is always full of gorgeous insprational pictures, style trends, music and more! Her vintage selection on the site is carefully selected for fit, function and fun! Her dresses are full of antique character and a rich history just like ones you'd find in upmarket vintage shops.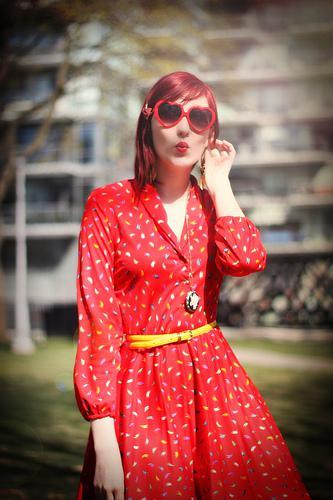 The little, surprise details on this dress are my favorite part of the dress and of buying clothes online. Sometime you just can't see everything about a wonderful piece of clothing online, and when you open the package for the first time you get to discover a plethora of accents, details and hidden treasures you never knew where there before. Some of the features only come alive when you put it on too! The wide, round sleeves with elastic wrists give a wonderful shape to the dress. An almost Victorian touch. And the folded, wide collar that extend all the way down the front is another great vintage touch that makes this dress a unique little piece for the Spring! Prints, either mixed together or not, are huge this season and it's nice to be able to break into your closet full of outrageous 60's prints and 40's patterns and know that despite traveling back in time, you're on trend, right now :)
Sally Jane Vintage has a huge selections gorgeous prints so be sure to stop by and get a one of kind piece no one else is sure to be wearing out on a warm Spring's day beneath the cheery blossom trees!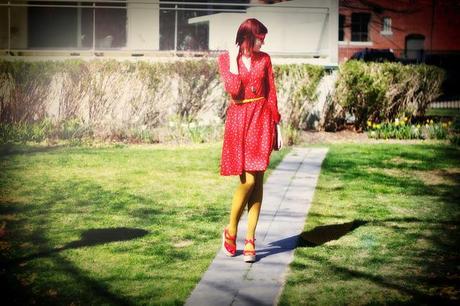 Happy Monday :)