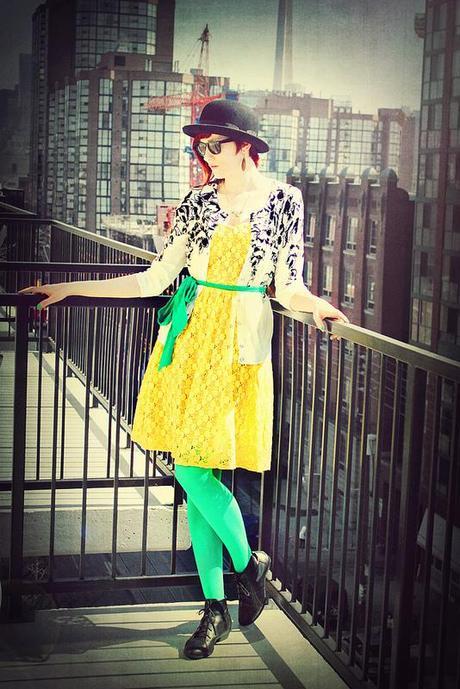 Dress //Ruche// Cardigan & Bowler Hat //
Nygard
// Shoes //
Ardene
/ Tights //We Love Colors//
A few weeks ago I had the lovely opportunity to attend Toronto Fashion Week. It was a busy, exhilarating, exhausting but most of all inspiring week! I'm sure posts from here on out will be spotted with bits and pieces from various collections I saw while sitting amongst all the bloggers, editors and fashionistas in attendance. The coats were off in the record setting warm weather in Toronto and everyone was just so happy to be free of their cumbersome winter jackets that even the most conservative dressers couldn't help but embrace the bright coloured fashions that perfectly matched the sunlight streaming down all around us.
Fashion Week is a strange, tented time portal for those who pass through those velvet curtains. Bulky winter coats and cool fall colours come down the runway when outside the Spring flowers are blooming and the chill of the winter is but a mere shadow on the horizon. These preview collections give onlookers a glance behind the glass at the styles and trends of the Fall/Winter season to come. This may make sense for the industry and all those writing up on fashion months and months in advance but for me, I can't help but find my Spring wardrobe to be immediately inspired by the dynamic and beautiful color combos, textures and curious accessories that I saw as trends for Fall/Winter 2012.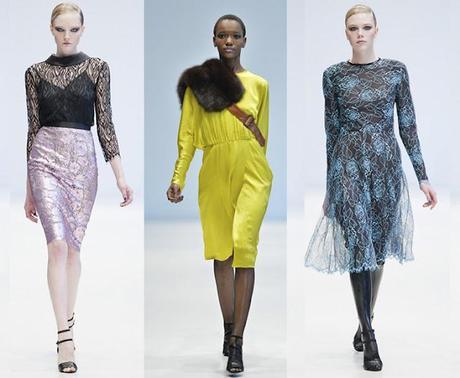 One show which stood out above others for me was Arthur Mendonca's Fall Collection. Mendonca always proves to be one of the more interesting collections and his accessory stylings are always sleek and simple, contrasting his elaborately detailed clothing. This year, after the seemingly unending collections of black upon black, an explosion of color was just what the week needed to finish things off. Friday is usually a very quiet day. The week is at an end, the shows tend to be from newer, less notable designers and the crowds tend to peter out. But Mendona held a sold out studio show, full of anxious onlookers and his collection did not disappoint his audience.  His collection balanced body hugging, feminine, lace patterns and masculine, architecturally styled suits topped with bowler hats - a personal nod from the designer to Stanley Cubric's "Clockwork Orange". Mendonca finds that beautiful blend between soft furs & hard leather textures, sweetness & sexiness in his tailored dresses and a perfect understanding of the modern working woman.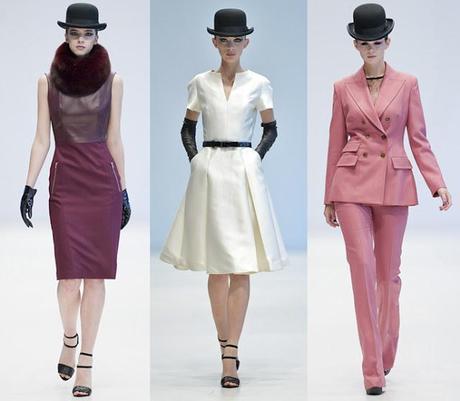 I found my own little bowler hat some time ago and it has become a staple to my spring wardrobe. As my denim vest was the item that saw the most play in the summer, this hat never seems to miss a chance to top off an outfit. You just need to be sure it's not too windy as my tiny head only barely fits this hat and with the slightest gust of wind I have more than once almost lost this hat to the streets of Toronto.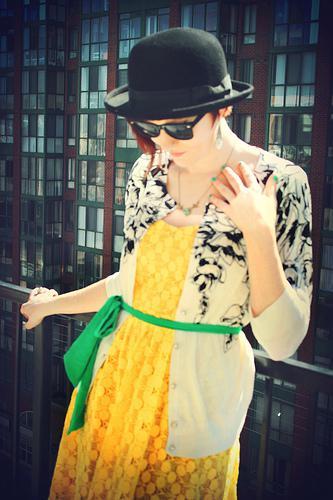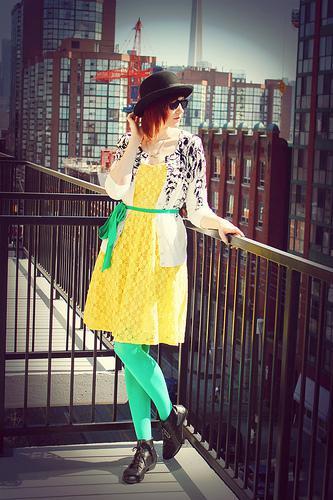 The lace on this dress and its bold colouring, was something I felt was truly Mendonca and styled along with this bowler hat I felt like I just walked right out of his Fall Collection. I'm not a stickler to "Spring Style" vs "Fall Style" or adhering strictly to what the season's trends advise. I'm inspired by the creativity of designers I saw during Fashion Week and I'm happy when I can find something within my toolbox that I call my closet to ignite new ideas for my own daily stylings - whenever they may come and where ever they may come from.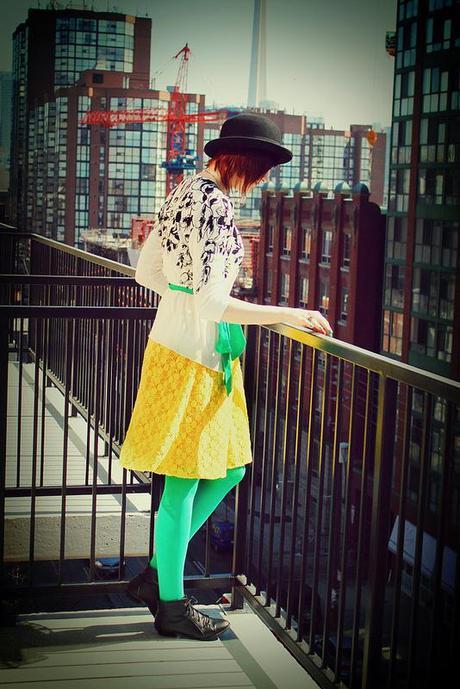 Hope you're liking the new background my new balcony provides for my photos! I'm trying my best to find the right time of the day to shoot and get my daily style pics done for y'all! I have quite the Spring outdoor to-do list to make this balcony summer ready!! ...Buy a new standing BBQ, plant herbs, install flower beds along the railings and plant with beautiful Spring flowers, and finally put in some large trees to give me some privacy from my neighbours! Phew! A trip to Canadian Tire is in order! What do you have planned for Spring? Tah Tah for now!!!