How did I not know about this website sooner?? Maybe I did, but i just rediscovered polyvore about a month ago and now I'm kind of obsessed…and by kind of…I mean completely. What I love about polyvore is that I can plan out outfits without making a mess of my closet! Heres a few snipits of outfits Iv created and love using polyvore. Let me know what you think of each outfit below!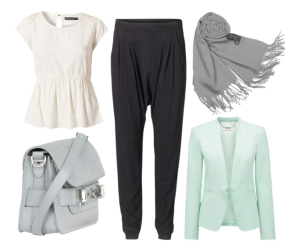 Outfit #1: Check Please!: This outfit is comfy yet cute at the same time. Iv been really loving these harlem pants because they're loose and extremely comfortable. I paired it with a doll top and my favorite mint blazer. Instead of going for a patterned scarf I used a plain gray color to keep the look simple and matched a gray purse to it!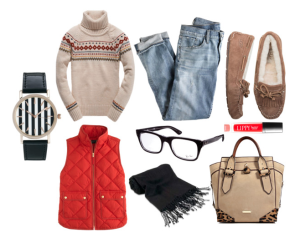 Outfit #2: Winter Bear: This is probably my all time favorite casual outfit for winter time. A chunky turtle neck with a winter design, a colored vest and jeans. This outfit is perfect for school, shopping or just a casual lazy day! I don't own that purse but I am dying to get my hands on it now!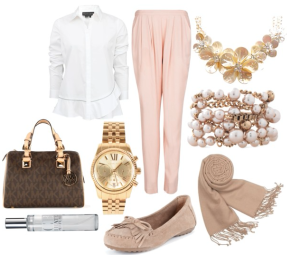 Outfit #3: Candy Land: This outfit is ultra girly and a bring a sense of spring time along with it! I love incorporating florals and pinks into my outfit without it being too overpowering. A clean white top with pink pants and a statement floral necklace with of course a stand out gold watch and some pearls is the perfect way to add some spring to your winter!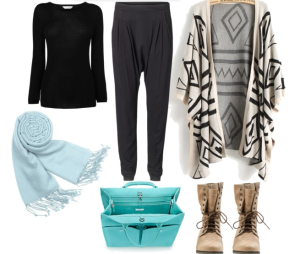 Outfit #4: Sweater Weather: Alas another sweater outfit, but i can't resist! Sometimes I can't help but curl up in a comfy sweater. Of course I want my outfit to still look cute so adding bits of blues and my favorite type of shoes this season the outfit goes from lazy to fashionable!
Arent I a pro at naming my outfits, its so much fun!!!
If you like my outfit inspirations follow my polyvore and respond with yours! What are your go to winter outfits?