Detroit…If you're not from the city or surrounding areas, Detroit might bring negative thoughts to mind. The cities reputation isn't the best, but it is currently emerging out of its darker days. A hidden gem indeed, Detroit has its fair share of beautifully designed buildings. From historical preservations like the Fillmore Theatre and Fisher Building to the new eye-catching locations, Detroit is a hub of inspiration for designers and architects everywhere.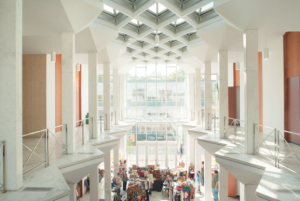 There was one man in particular, a legend to the city known as Minoru Yamasaki. Yamasaki had designed numerous buildings in the Detroit area throughout his life. Most of the buildings are located on the Wayne State University campus. His designs are a mix of modern and contemporary. Working with natural light and open spaces, Yamasaki grasped the hearts of many Detroit natives. His efforts in his work have never gone unnoticed. Yamasaki was known as  one of the best architects of the 1960s.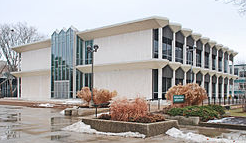 His designs were always ahead of the time period, surprising people by incorporating the ideas of serenity and peace from his Japanese roots. Four Yamasaki buildings are located at Wayne State University, each unique in their own way and admired by all.  His designs were elegant, functional and above all perfect. If you live near Detroit or have the opportunity to visit one day, stop by one of his buildings and take a peek at just how perfect his architecture skills are.
all images in this post were found via google