For the next month or two I will be posting all about essentials for winter, in my Winter Essentials Series. This week I'm talking about one of the main things you will need in winter - the coat!
Wrap up warm because it's going to get cold! Every year we look for the perfect coat that will see us through the cold and damp winter months, and obviously this year is no exception.
I always look for something that is a statement, a few years ago I bought a brown faux fur coat, which I still have and still looks gorgeous. Last year I bought a fur, tweed and leather number, which I absolutely adore, it might sound like a horrendous mix, but it is gorgeous and I always get compliments on it.
This year I was hoping to get a coloured coat, so I have something that I can wear when it's gray and gross outside. Just to brighten up my day. Here are my favorite four coats that you can find on the hughstreet.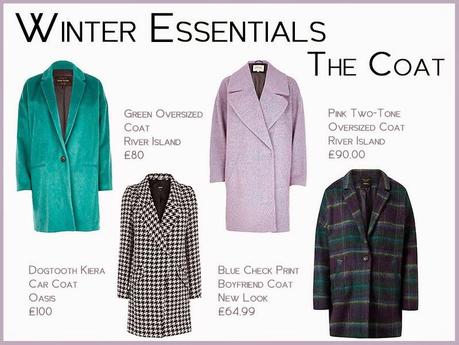 Green Coat - River IslandPink Coat - River IslandDogtooth Coat - OasisCheck Print Coat - New Look
Where are you getting your winter coat from this year, and will you be going for a bright number or a subtle black or monochrome?
x