Would you like to become the owner of a Galaxy Note 10.1 this March? If yes, then head over to our Club Trendy page, become a member and enter our contest!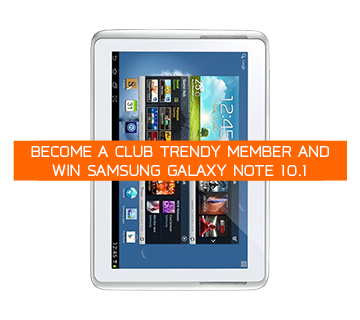 Good luck to all participants!
Thanks to its fantastic features, the Galaxy Note 10.1 is one of the best-selling tablets on the market, loved by users worldwide. If you want one for yourself, here's how to participate in our contest: join Club Trendy in March and buy one of our products – you get a Club Trendy 7% discount! If you're already a member, you only have to buy an item between March 1 and 31.
The contest ends on April 1 and we'll choose the winner on April 3.
*Our Club Trendy discount can be used only with specific products that cost under 100 GBP.