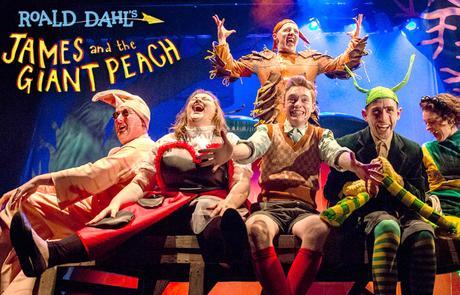 Hello Everyone...
KidsFest is back in Hong Kong and in a very colourful way. James and the Giant Peach opens next week and is surely going to be a treat for the entire family. The show is an on stage adaptation of Roald Dahl's James and the Giant Peach. The show takes you on an adventure with James and his insect friends Miss Spider, Old-Green-Grasshopper, Centipede, Ladybird and Earthworm as they travel half way across the world in a giant peach.
The kids are going to enjoy this treat as the characters promise to be in colourful costumes, performing to catchy music on a brilliant set. The show is recommended for children aged 4 years and above.
We are giving away one set of 4 tickets for the show, so that your entire family can enjoy a perfect weekend together. Just fill the form below and you are done. Here are the details-
Tickets: One set of 4 tickets
Date & Time: Saturday, 4 June,2016 at 12.30pm
Place: Lyric Theatre, The Hong Kong Academy for Performing Arts, 1 Gloucester Road, Wan Chai, Hong Kong
For more details and ticketing please visit www.hkticketing.com
Giveaway closes on the Wednesday, 1 June, 2016 at 5pm.
Terms & Conditions1. Entrant must be aged 18 years and above and should reside in Hong Kong.2. By entering the giveaway you enter An Array Of Thought's mailing list. We assure you we won't be sharing your details with anybody, we hate junk ourselves!3. These tickets are non-transferable and are fixed for the show on 4th June, 2016 at 12.30 pm and cannot be used on any other date/time.