Do you ever have that moment, where you see someone in the street or on the train and they perfectly embody everything you hope to achieve from your wardrobe. Casual, yet glamourous. Stylish without being try-hard. Sexy without slutty. Well, on Saturday this happened to me.
Let me describe what the mystery fashionista was wearing.
A black short leather jacket. Nothing fancy, just simple with a silver zip and a few buckles as embellishment. I've been on a search for the perfect leather jacket for ages and this has just confirmed my desperate need for one. A figure-hugging maxi skirt with a thigh-high split in an unusual brown/pink/muddy colour. Cute brown leather sandals. A bohemian woven bag. Brunette hair pulled back into a neat but unfussy bun, a beautiful olive tan and minimal make-up. I only wished I looked as good that day.
My new mission in life is to recreate this look and hopefully look even half as fab.
Queue a Pinterest search to find some examples. And lo and behond was I shocked when I stumbled across this image, linked to the river island website displaying what I'm 100% sure is the exact skirt for £22!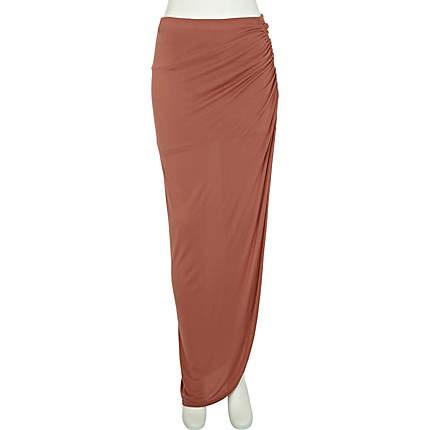 What an amazing coincidence – and yet more reasons why River Island is my fave highstreet shop!
My excitement was short-lived though when I discovered it was no longer available online in my size

. I'm so in love with the mystery fashionista's style and this amazing skirt, I'm determined to find it. Hopefully it will still be available in a store somewhere.
I'll obviously update you if my quest is successful.