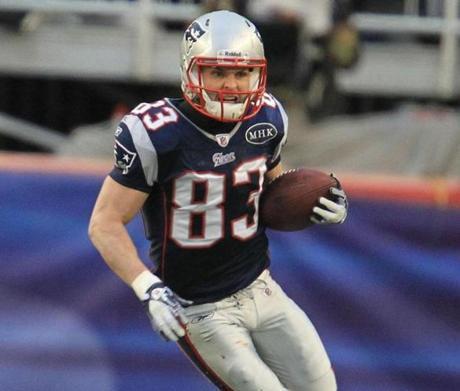 Photo: Stan Grossfeld/Boston Globe Staff
- Adam Parker
With the 2012 season about to get underway, New England Patriots' wide receiver Wes Welker finds himself in a peculiar situation — being a team star without a long-term contract in place.
At age 31, Welker is in the prime of his career, and over the last half-decade has become one of the best wide receivers in the entire National Football League as well as Tom Brady's favorite target — though the latter might be changing with tight ends Rob Gronkowski and Aaron Hernandez now locked up with long-term deals.
Ah, who am I kidding? Even with those two tight ends and now Brandon Lloyd as the deep threat, Welker is
still
 going to get his — he always does.
How Welker has yet to be inked to a long-term deal by the Pats' is beyond me. He's done everything right leading up to this point in terms of contract negotiations with the team — he made it known that he obviously wants a long-term extension with the team, but soon ended what was a short holdout to begin with and signed his fully guaranteed $9.5 million franchise tender.
Welker is prepared to play out the season under the aforementioned tender, but what then? Will the Patriots really let Welker walk and test the free agency waters?
To most people (including myself at first) this seems like a terrible move by the Patriots. After all, why wouldn't you want to reward arguably your best offensive weapon who, along with quarterback Tom Brady, has been a mainstay in the Patriots' offensive machine over the last five years?
Here's three reasons why it would be okay (not preferred) but
okay
if the Pats let Welker test his value on the free agent market.
1) 
Welker is a product of Brady and the Patriots' spread offense ergo a "system player". Though this has yet to be proven one way or the other (basically because the Patriots haven't flirted with the idea of letting Welker walk before now), it's still a viable factor when you think about the amount of money Welker might be worth in
any
system outside of New England's.
Basically what I'm saying is this — the Patriots may allow Welker to test the free agent market to see what's out there, but in the end, because of scheme fit, familiarity with the roster, coaching staff and organization (in addition to the money), Welker would likely end up right back in Foxborough before the staff has time to remove the name tag above his locker.
2)
He's 31 years old and, though he's a
different
type of wide receiver, you have to wonder how many more solid years Welker has in him after these next three or four. Not only that, he won't see as many target elsewhere either simply because
no one
slings the ball around the yard more than the Patriots.
Would teams like the Saints, Broncos, Packers, or a dark horse team like the Colts be solid landing places for Welker? Absolutely, but there's no guarantee that those teams come calling; especially when it comes to Welker's likely hefty price tag.
Is it going to be Larry Fitzgerald money? No, but Welker will expect to earn a solid wage and then some considering his phenomenal on-field production. Other than the Colts, no one else can offer that but the Patriots.
3)
He's beloved by his teammates, the organization and the fans. Not as much as Brady by any stretch of the imagination, but Welker is the type of stand-up guy that Patriots' owner Robert Kraft considers "family." For that reason, and maybe that reason most of all, there's no way Welker leaves the Pats'.
Be sure to follow Beard And Stache on Twitter 
@BeardAndStache
, and also Adam 
@Adam_Parker43
, Like our Facebook page 
HERE
!