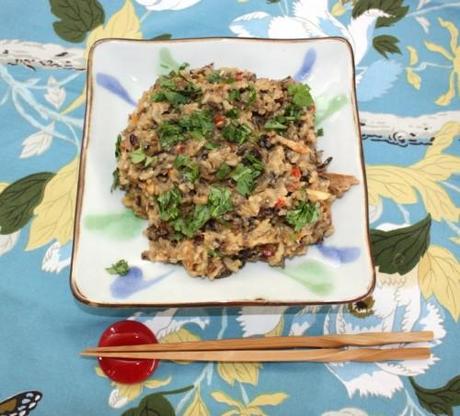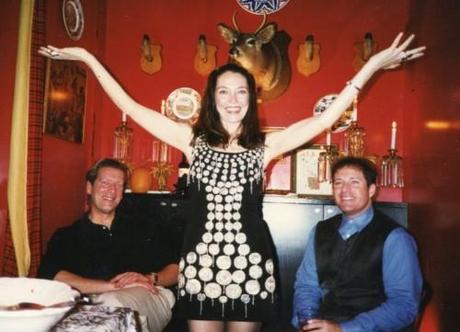 The inaugural Wild Wild Rice – a stir-fried wild rice recipe made all the more savage with a lawless quantity of additions– made its debut at a swank dinner party two dining rooms ago. (The storied red dining room on West 11th St.)
And how was it? Look no further than the ecstatic reaction of glamorous guest Gena Bone, whose gustatory opinions are le dernier cri in smart Manhattan dining circles.
This shaggy dog tale begins with Warren Ser, a charter member of the Bloated Pleasure Seekers club. Warren had volunteered to make something; the menu already planned, I faxed him one of the recipes. This fried wild rice recipe calls for 22 ingredients.  Perhaps a bit more than he'd anticipated, but Warren is not easily intimidated.
The Wild Wild Rice was artfully arranged on a platter and the glorious jumble was set on a lowish side board in the dining room.
As our guests were taking their places I noticed that the Wild Wild Rice was significantly diminished.  What was once a craggy peak had eroded into a slick smooth dome. A shape akin to a well-licked ice cream cone. For good reason.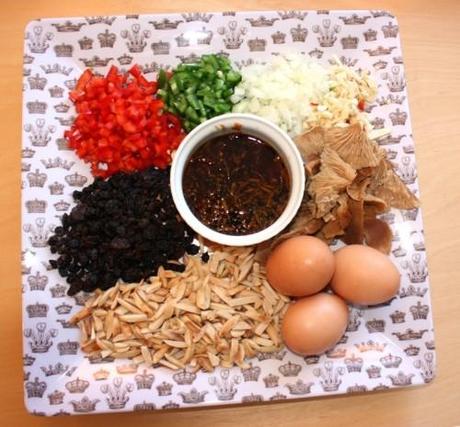 Stella, our beloved hound, was lurking nearby with guilt in her eyes and flecks of rice on her jowls.
My moment of frozen panic thawed when Liz Weiss took stock of the situation and with not a second wasted called out, "Please pass me that platter, I'm just going to swap it with the other half of that big batch Warren brought."
Liz returned with fluffy peaks of wild rice studded with bits of vegetables and herbs and savory sauces.  The dinner was a triumph.  Wild Wild Rice receives universal and lasting acclaim.
It was not until quite some time later that word seeped out that the entire batch of rice had been placed on the original platter.
Clicke here for the recipe for stir-fried Wild Wild Rice

Print This Post