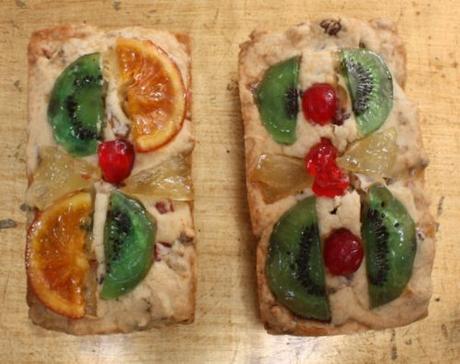 Have you noticed that the much-maligned fruitcake has become a retro-chic holiday delicacy? Or could this new-found appreciation just be the result of people entering the demographic blamed for fruitcake's ongoing revilement?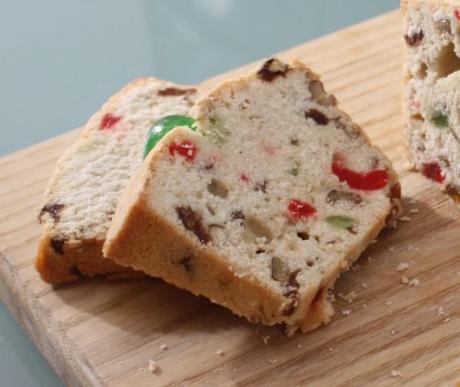 Some questions are best left unanswered.
My husband Steve is the established star fruitcake baker of the family; his loaves are loved from coast to coast. Steve's fans have looked forward to his dense, moist fruitcakes for years. And not in an ironic way.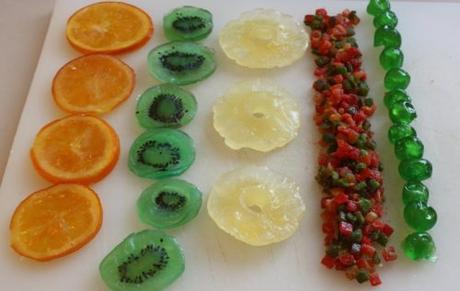 The new entry causing a stir this Christmas is my
light, white version
. It's not as ponderous as his, but still substantial. It gets added marks for being gussied up with luscious candied fruits from
Kalustyan's
spice market in Manhattan's Curry Hill neighborhood.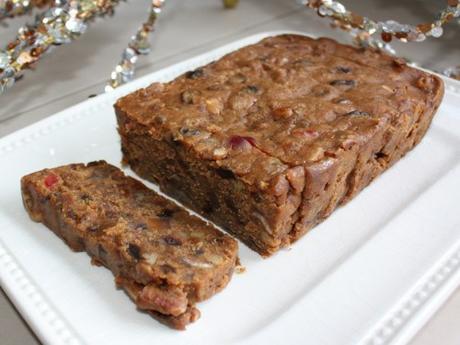 Both recipes have venerable roots. The provenance of Steve's recipe is the mother of his childhood friend Gordy Merino, of Summit, New Jersey. My light version has been passed down though a friend's Vermont grandmother, Nanna Jepson.
Truthfully, there's room for two winners in the battle for fruitcake primacy. And no matter which you might prefer, both fruitcakes prove that oftentimes the old ways are the best ways.
WHITE FRUITCAKE
Recipe makes four mini loaves or one full size loaf
1/2 cup unsalted butter
1 3/4 cups sugar
3 cups flour
3/4 cup milk
1 cup golden raisins
1 cup chopped nuts (either walnuts or pecans)
1 cup mixed candied fruit, chopped, plus some whole pieces to decorate the tops of the loaves. Choose for color as well as taste, e.g. red and green cherries; and candied citron, kiwi, pineapple and orange
1 Tablespoon almond extract
1 Tablespoon vanilla extract
1 ounce Amaretto liqueur
Preheat oven to 300°.
Grease and flour four mini loaf pans (or one regular size loaf pan). Lay a strip of wax paper across the bottom, then grease and flour that. (Pam baking spray or Baker's Joy work well.)
In a bowl, toss the chopped candied fruit, raisins and nuts with 1 tablespoon of flour. This helps disperse the fruit evenly in the batter.
In a stand mixer cream together the butter and sugar until smooth.
With mixer on low, add the three eggs one a time, mixing well.
Mix in alternately the flour and the milk. Mix in the almond and vanilla extracts.
Stir in the chopped fruit and nuts. Mix well.
Divide the batter equally in the pans, smooth the top, and decorate with a few pieces of candied fruit.
Bake at 300° for one hour for mini pans, one hour and fifteen minutes for one big loaf.
Test with a toothpick for doneness; it should come out clean.
Remove from oven, let cool a little, then turn out of the pan. Let cool completely on a wire rack.
When loaves are cool, sprinkle or spritz with the Amaretto. Let dry, wrap in plastic to store.
Print This Post