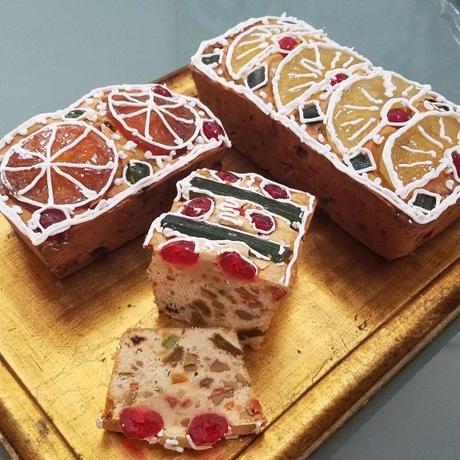 The clock's ticking on getting traditional fruitcakes done by next week - but all's not lost! My pal Frank Morgan's Nanna Jepson from Walpole, Mass, passed down this recipe for a light, white fruitcake that is good to go as soon as comes out of the oven. Sweet, cakey, colorful. It will stand out on a holiday buffet and better still, those bah-humbug "I hate fruit cake" cranks will be hard pressed not to nibble on this welcoming loaf.
This pristine Jepson light fruitcake recipe came to me in a rather waspy iteration. As you might expect, I swapped out the originally tutti frutti candied fruit mix for the originally called maraschino cherries only. And a wonderful counterpart to the more familiar dark, sticky genre. I'm not saying choose one over the other - Christmas ain't done 'til it's overdone, so two fruitcakes are de rigueur for a truly lavish Christmas spread.
Nanna Jepson's fruitcake calls to mind the pristine white clapboard churches that are the focal point of small towns from Massachusetts to Maine. Proud and beautiful in their honest simplicity. In contrast, Mrs. Merino's Fruitcake recipe evokes a more Roman Catholic vibe - elaborate, mysterious, the suffering of saints on display, sunlight dimmed by stained glass.
To paraphrase Rodney King, Why can't we all just get along? After all, Christmas is a time of reconciliation. And for the record, our Jewish friends love our fruitcakes too!
Recipe for Nanna Jepson's Light Fruitcake
Makes 4 mini loaf pans (or one regular size loaf pan)

1/2 cup butter
1 3/4 cups sugar
3 eggs
3 cups flour
3/4 cup milk
1 cup chopped walnuts
1 cup golden raisins
1 cup mixed candied fruit: red and green maraschino cherries, candied orange, lemon and citron rind ("tutti frutti mix if you can find it)
1 teaspoon vanilla extract
glace fruit for decoration: orange and pineapple slices, cherries, candied angelica (really pretty and not to hard to find online)
3 tablespoons brandy
Preheat oven to 300° Prepare baking pans: grease well with butter or baking spray. Line the bottom with a piece of wax paper, then grease the paper.
Cream together 1/2 cup of butter and 1 3/4 cups sugar
Add 3 eggs, one a time, mixing well
Mix in alternately 3 cup flour and 3/4 cup milk. Mix in the vanilla.
Toss together 1 tablespoon flour with the raisins, walnuts and candie d fruit, then stir into batter until well distributed
Mix fruit mixture into batter, Add 1 cup white raisins, 1 cup chopped walnuts, 1 cup mixed candied fruit
Divide the batter equally between 4 mini loaf pans. Smooth the tops. Decorate with pieces of candied fruit, pressing each piece into the batter slightly
Bake at 300 degrees for 1 1/2 hour; test with a tooth pick
Remove from oven and let cool for 15 minutes. Turnout onto and let cool completely on a rack.
Optional: when cool brush the sides and bottom of each cake with 3 tablespoons brandy. Let it soak in.
Using an electric mixer, whisk 3 egg whites and 1/2 teaspoon cream of tartar on medium-high speed in a large bowl until foamy, about 1 minute.
Reduce the speed to low and gradually add 1 lb. confectioner's sugar, beating until just incorporated. Increase the speed to high and beat until medium-stiff glossy peaks form, 5 to 7 minutes.
With a pastry bag fitted with a small round tip, pipe icing around the fruits on top of each cake. For durability, go over each line twice. Get creative.
When completely dry, store in plastic bags.
Print This Post