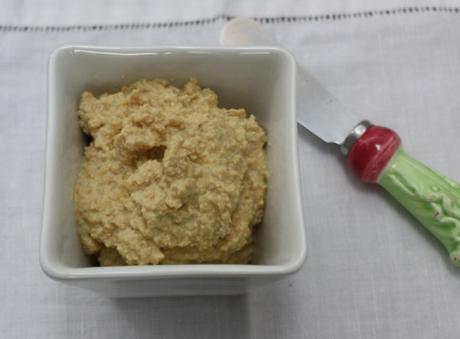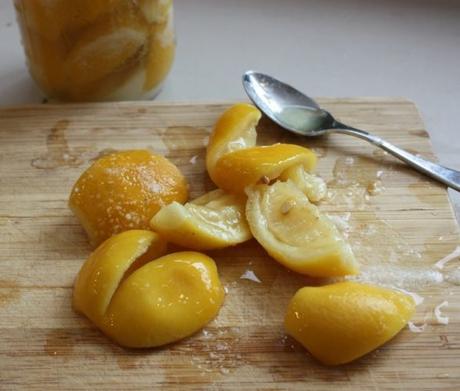 Preserved lemon mustard is a condiment with a lot of personality - sharp, hot and lemony. It's unique enough to be gift-worthy, yet versatile enough to use as you would any other mustard. It is not meek, but it's nothing to be afraid of either.
The first time I made this was with some store-bought preserved lemons that came in a gift basket. This time around I made my own with a recipe from Punk Domestics. Preserved lemon recipes are all variations of cutting the fruit into not-quite-cut-through quarters and cramming them into jars with an astounding amount of salt. Then it's a waiting game, four weeks at least.
One might imagine making mustard is complicated, but it's not. It's exotic only by the standard that few people do it. Mustard is actually a beginner-level project. For that matter, preserved lemons are completely basic as well. Home made mustard in all its varieties is delicious; you can try other Spectacularly Delicious (and easy) mustard recipes here.
Another selling point: home made mustard is cheap. Buy the mustard seeds in bulk from a spice store or online. Nuts.com sells 1 lb. of seeds for $6.49, which will make a ton of mustard (figuratively of course).
PRESERVED LEMON MUSTARD
Recipe makes 4 cups
2 cup yellow mustard seeds
3+ cups white wine vinegar
2 preserved lemons, pulp and seeds removed
2 T. whole coriander seeds
2 T. Coleman's powdered mustard
Water as needed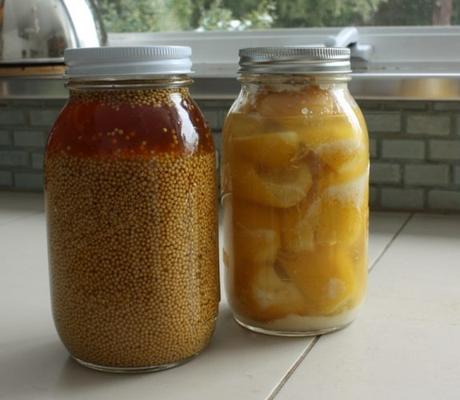 1. Put the mustard seeds and vinegar into a large glass jar. Add vinegar as needed to keep the seeds barely covered during the soaking process. Let soak for two or three days, until the seeds stop absorbing liquid.
2. Rinse the preserved lemons, scoop out and discard the flesh and seeds. Chop the lemon into 1/2″ pieces.
3. Put the soaked mustard seeds into a blender. Add the chopped lemon, coriander seeds and powdered mustard. Blend on medium speed for three to five minutes. As the mustard is grinding in the blender, add water in a thin trickle to keep the mustard churning, like a milk shake. Turn off the motor and scrape down with a spatula as needed.
4. After three minutes the mustard will be a little nubbly but creamy, like country-style Dijon mustard. If you want it smoother, keep blending, adding just enough water to keep the mustard circulating around the blender pitcher.
5. Spoon into clean jars. Tap the bottom of the jars on the counter or a cutting board to remove the air bubbles. Tap tap tap, you'll see small pops on the surface.
Close the jars and store in the refrigerator. The flavors are best after it's rested a week or tow. The mustard will keep indefinitely in the refrigerator.
Print This Post