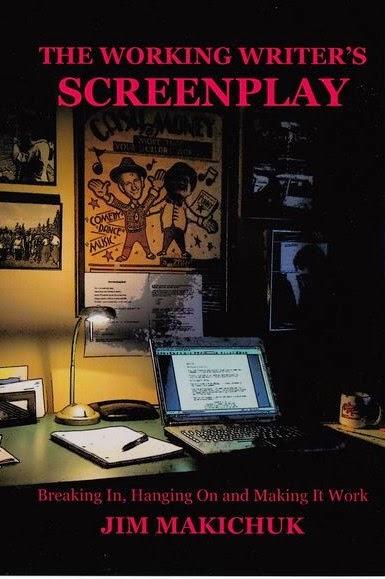 While writing my book on screenwriting last year I came upon the realization that it "wasn't about me." What I mean is that I didn't get this far by myself. And yes, that's my book cover above, call me shameless. And no, you don't have to buy one. But I got a deal for you.
But back to what I started to talk about. 
First of all, writing can be a damn lonely job, sitting over a laptop or whatever you use, a friend of mine still writes longhand and has someone type it for him. And secondly, writers aren't always best friends for obvious reasons; you might get their job.
As I wrote my book I discovered how I went from a TV station mailroom to a reasonably successful TV movie writer as well as having done episodic TV as well. Not as well as Aaron Sorkin or David Chase but still get people calling me.
My first job in TV was in the mailroom. From there I jumped across the country working at different TV stations. It was where I became a producer of sorts, for local TV commercials. But after three years of that I began to want to make movies. But I have one liability; I couldn't raise a dollar if I tried.
And that's when Harry Cole entered my life, both of us were making commercials for Kentucky Fried Chicken and Bill's Cadillac dealerships. Harry left to work in the commercial world outside and I remained there until I finally got tired and left.
But neither Harry nor I could make it work. That is until I said I wrote a screenplay called Ghostkeeper. Then something else happened. The federal government was giving investors a 100% tax write-offs on movies. This was meant to stimulate movie-making in Canada.
Then we realized we were living in an oil-rich province and oilmen love investing in movies so they could walk on set and take a selfie with a reasonably famous actor.
And then it came down to "how to get the money". As I said, I couldn't raise a dime, but Harry was a born salesman. So between my script and his sales expertise we raised around $650,000 (about $1.6 million today).
But then we split up and no more movies.
But then I forgot to mention I did a short film with another friend some time before. He was really talented, while I was more stubborn and able to write and shoot film. Together we were a great team. So good that our short film was a finalist in the 1976 Academy Awards. You know -- the Oscars.
Again, my life changed. That little 13-minute film changed our lives. And again because of a partner who wasn't like me, and it worked well. But eventually it didn't last. However that short film got me some great jobs.
Then, after not being able to make another feature, I ran into Paul Lynch at a party. Paul is one of Canada's more successful directors, he did the original Prom Night and hundreds of American TV series and movies.
A friend of his told him about me and within a week or so, Paul got me his agent in Los Angeles.
Again, someone was partially responsible for another move up. We were a team and even to today.
And then, someone else entered my life; I left Paul's agent because he never did anything for me and I jumped around several agencies and at one, met Frank Balkin. Frank and I got along just perfectly and I followed him to Paradigm, one of the big talent agencies in LA.
And once again, with the help of someone completely different from me.
So my lesson here is, don't try to do it yourself, find someone else who will push and prod you to keep going. Nobody makes it to a reasonable position in life without help. Even Spielberg had a person who "championed" him, of course that was the head of the studio.
But look around, find someone who's the opposite of you and someone more talented. It's okay to do that. 
Okay -- my book. If anyone wants a copy of my book, I will do this; it costs me $5 a copy and with media rate in the U.S. around $3, that's $8 for a $13 book. I even carry it to the post office for free.