Good evening Beautiful,
I'm running out of ways to start my blog posts. I usually talk about how my week is flying by, or the weather, or something that would classify as small talk.... but meh, it's getting old. I don't know how I'm going to start my posts going forward (until I decide to switch it up again).. I have some ideas in mind, but nothing too concrete yet. I know, this is super important and I need to figure it out ASAP. Just kidding. It's not that important, but mostly it's just a ramble to get this post started off on a somewhat interesting foot.
So far this week I'm 2 for 2 workouts. Whoop! I've decided that I want to start running longer distances now that we're back into race season which means doing shorter, maintenance runs during the week. Which means I might be back to 2-a-day workouts. It really all became clear to me today during my workout. One of my trainer friends was putting Jenny and myself through a workout on TRX. If you've been following along on my blog for a while, you know that like 6ish months ago Jenny and I did a TRX camp and in the beginning I really didn't think it was going to be all that hard (aka not worth $200). However by the end it did start challenging me more and I was impressed. Today... well, today was a much different story. We did TRX for about 30 minutes before Trainer Friend had a client. I remembered a lot of the exercises, but I didn't remember how to get into some of the exercises and I didn't remember exactly how to complete some of the exercises. Most importantly, I felt defeated by 30 minutes of TRX, when I used to be able to go HARD for 60 minutes of it.
Wah waaaaah....
Most of the workout today was legs. A lot of lunging, one-legged lunging, squatting, jump squatting, one-legged squating... stuff like that. I was a complete mess trying to complete TRX hamstring curls and hip raises. I couldn't do more than 2 hip raises in a row (given this was basically the end of the workout, but still)... I felt so unfit and so pissed (for lack of a better term) that I wasn't as fit as I was 6 months ago. We made it through the workout however, and went on to do this hard ab workout that Jenny found on Pinterest. There's supposed to be 3 rounds of 3 sets of 3 exercises, but we only made it through round 1 before we were both dying. Then to top off the whole workout, I introduced Jenny to tabata sprints on the treadmill. We started slow today because our legs were like jello and she had never done them before. Our "sprint" speed was only 7.0 but it was ok because we got to feel what it was like so we'll be able to increase our speed next time.
Can we talk about my lack of fitness again for a second?
Sorry - I'm just totally frustrated with the whole thing. I do admit time and time again that I'm not IN LOVE with running like a lot of people. I run to maintain my fitness, my body weight and my legs (lol). I don't find running relaxing. I have no desire to run a full marathon, although I might attempt another half next year. It's something I sometimes look forward to, but most times I dread. Is anyone else like this? When I was training for my half-marathon last year, my workout schedule for the week consisted of 4-5 runs, 2-3 strength workouts, 1 pole dancing/pole tricks class (yes... I took pole dancing and it's so insanely fun! I can successfully hold myself upside down on a pole and slide down very smoothly... at least I used to) and 1 yoga class. That's a lot of friggen working out for a week. No wonder I was so fit before. I need to get that motivation BACK. Any ideas on how to muster the energy for all of this working out? I won't be pole dancing again soon (I'm trying to be as frugal as possible this year) but that still leaves me with a lot of working out...
Maybe the Toronto Yonge St. 10km race will motivate me. Last year I ran this 10km race in 55 minutes. I was 2 weeks out from my half marathon and was running like 20-21 km each week, so 10km felt like NOTHING. I literally just ran the entire race, no walk breaks. Could I perhaps finish this year in 55 minutes again? I won't go as far as to say that I could get 54 minutes... but I think a good goal is to finish less than 56 minutes. That race is like 8 weeks away... which is the perfect motivation to get my butt out on the pavement running! Let me sleep on this, I'll get back to you on Thursday with my definite answer.
So back to workouts. Yesterday Jenny and I did the Dirty Thirty workout from Fit In Heels again. This is one of our favorite workouts, and our second time doing it.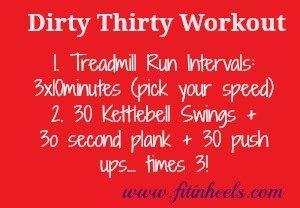 The first time we did it, we split the 30 kettlebell swings and 30 push-ups into 2 sets of 15. I didn't find the workout that difficult because of it. This time however, we did everything straight through and let me tell you... my lats are DYING today. It was awesome! I ran at 6.3 for all 3 rounds of 10 minutes of running and by the end of the third round of kettlebell swings and pushups, I was dead. Sweat dripping down my face, I think I actually had to walk it out a bit to get my heart rate down lol.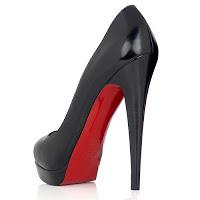 Hello dream shoes.
In a totally unrelated topic (which is odd since this section of the post is basically what I titled this blog post around), I haven't gone shopping in 2013 for anything besides groceries. Not even once. If you know me and my history with shopping (Heeey Andrea! I know you're reading this and laughing) you know that I have never once been able to go more than like ten days without buying SOMETHING, a pair of shoes, a sun dress, a tank top... ANYTHING. But I haven't! Want to know why? I'm saving up for something I've been dreaming for years about... My bloggy friend Katy from Fit In Heels would totally support my in my decision to save for a pair of black pumps designed by Christian Louboutin himself.
I'm about 3 months out from these amazingly fabulous shoes and I can't wait. The pair I want don't have the platform because I'm already so tall, these shoes would make me like 6'5". Anyways, I just wanted you all to know that not shopping is a super amazing accomplishment for me and I'm proud. I'm also excited that I officially no longer have overdraft on my bank account and my next paycheque will be the first time in about 5 years that all of the money I'm being paid is actually MINE. None of it is making up for overdraft... I'm all in the positive baby! Part of my goals for 2013 is to really work on my financial health. The first thing I did was consolidate all of my debt into one easy payment, and it also cut my interest in half. I then proceeded to cut up all of my credit cards except for the one I've had the longest, and I lowered the limit and paid it off. I have a little bit of money on there now, but nothing insane that isn't manageable. I then proceeded to get a financial planner who has helped me make some decisions when it comes to planning my financial future. I'm saving more money than I ever have before and paying off my overdraft is a massive obstacle I've overcome. It feels great!
Being healthy isn't just about having a strong physical body, although that's a lot of it. It also means having a healthy, balanced lifestyle. Not a lot of stress, being in control of your own future and not feeling overwhelmed by such silly things like credit cards and student loans. Balance is key! I plan on being completely debt free by the time I'm 26 (including student loans) and have enough saved to contribute some money towards buying a house! Whaaaaat?? Andrea (as mentioned before who is a former colleague of mine) would be so proud of me! She also probably never thought I'd actually run outside (she runs marathons), let alone a half marathon. Oh crap - Andrea, am I turning into you? :)
Now somewhat back on the fitness train, on March 3rd I'm Spinning 4 Kids! It's a fundraiser put on by the GoodLife Kids Foundation every year. The GoodLife Kids Foundation is a foundation that provides grants to programs that get our children and youth active, while helping to prevent the spread of the rising epidemic of childhood obesity. It's a great cause and it would be so great if you could help support the cause. I'm captain of the team "I'm Kind of a Big Wheel" (haha, I did not make this up) and the goal for our team is $1000. My individual goal is $125. Our team will be occupying a spin bike for 8 hours and someone must be riding at all times! Any little bit helps, you can donate to the cause by clicking here. It would be sooo appreciated and it would mean so much!
Alright... now that I've bored you with all of my "financial health" jabber, I'm off to hit the books for a while. I realized the other day that the course I'm working on now as part of my Holistic Nutritionist program is about 20 pages of questions to answer SHORTER than my first course, which makes me really want to finish it and ace another test. So I will bid you adieu and wish you a wonderful evening!
One thing before you go though...
If you look on the right hand side of my blog you'll see a button for Raw Elements. I really enjoy this company because 1. They're Canadian and 2. They carry some seriously awesome products. If you're in the market for some great supplements, check it out! You can get 10% off your order if you use the code "sarahohm".
Have you ever saved up a lot of money for something you've reeeeeeeally wanted even if people thought you were crazy?? What actions are you taking in 2013 to get yourself a little more financially healthy? Also, please leave me some words of encouragement so I start getting as fit as I was last summer!! Please please please please please! :)