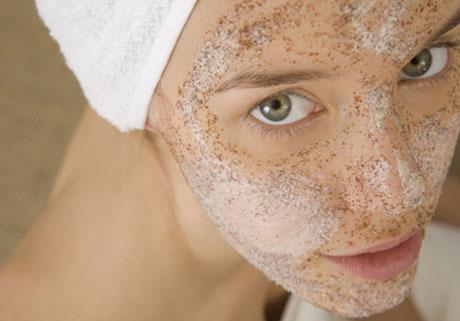 ( Photo Credit )
Hey There,
So I've been in the Beauty industry around 6 years now, having worked on counters, in Spas and Salons, but it still surprises me how many people don't exfoliate their skin or exfoliate too much. But at the same time, there are so many products on the market these days, I can see why it can get so confusing, and lets face it, those bright isles of the drugstores, pretty faces and beaming lights of the counters can be a bit overwhelming, (Unless your a complete fanatic like me).
Coming from my Beauty Therapist background, and my own personal experience, this is how I feel about exfoliating, and what I tell my clients…
As far as I am concerned the 'done' thing when it comes to skincare is, cleanse and moisturise day and night, apply a mask once a week, and exfoliate twice a week. For me, taking my face off at night, is an essential part of my daily routine, I see it as a treat, a mini pamper session after a days work. But I know for others it is considered a chore, and my clients often say they don't have the time, so I always focus on the above, 'the basics' , before bringing any other lotions and potions in to the equation.
Exfoliators and exfoliating seems to be one of the topics that comes up most often during my facials. I can feel straight away from touching someones skin if they use an exfoliator, or need one. But what worries me most, is when someone says to me they don't exfoliate because they don't want to hurt their skin, or it brings them up all red and sore. My first response is normally, 'What the hell are you using on your skin?'. An exfoliator is necessary for all skin types, it is just finding and using the right one.
Exfoliating helps give the skin a good deep clean, it gets rid of all the dead and dry skin cells, and as a result helps remove the build up of dirt and' crap' in the skin. It clears the way so the rest of your products can really work deep in to the skin, and can actually help balance the skin. For me the texture and appearance of my skin always looks improved after regular exfoliation, and my blemish marks go away a lot quicker. An added bonus is that my make up always sits on my face a whole lot better. As I always say, good make up, starts with good skincare.
Here are my top picks, I've used and liked them all myself, and although I've put what skin type I'd recommend for each, my skin tends to vary between dry and spotty, it is also very sensitive and all of these have been fine for me.
SAVE
Good Things Manuka Refining Scrub £5.99 – I was brought this by two friends, (Who obviously know me very well), it got my full attention at the word 'Manuka Honey', a honey I swear by for its miracle work on sore throats.  However I was a little concerned that only 'honey' is mentioned in the ingredients?? Anyway, I like it either way, its got quite a sweet smell to it, the consistancy is quite thick and creamy, and the Oatmeal works so gently on my skin. This scrub is a little drying, because of the Kaolin, so ideal for oily skin, (Full review coming soon).
The Body Shop Vitamin C Microdermabrasion £14.00 – Does The Body Shop ever dissapoint? I first tried this, when I spotted it in my mums beauty box, (We all know what I say about my mom and her skincare right?) and have since brought myself one, and got several freinds on to it to. I love Vitamin C products, they brighten my skin tone and imrpove my complexion, and this scrub is great. Its quite the opposite to the 'Good Things' scrub, less of a creamy consistancy, and instead made up of millions of little micro beads, (Or Garnet Stones as they say), good for all skin types but you may want a sample first if you have sensitive skin. Full review here.
Neutrogena Visibly Clear Blackhead Scrub £3.79  – I was recommended this by a friend, during university. So not only was the price tag spot on, I was pretty impressed at its work on my blackheads. I really liked the formula and consistency of this one, it reminds me of the Origins Checks and Balance Cleanser (With out the scrub), and again it was very gentle on my skin. See my post here.
SPLURGE
Elemis Papaya Enzyme Peel £31.00 – I have worked with Elemis products for 3 years now, and I've always raved about their exfoliators. The Papaya Enzyme Peel is perfect for those who have sensitive, spot prone or mature skin. The fruit enzyme is a natural exfoliator, and smells incredible, (Which is always a plus, if your about to put it on your face for 6-8 minutes). It is full of Milk Protein, Vitamin E and Marine Alga, all of which nourish and protect the skin.
Elemis Gentle Rose Exfoliator £29.00 – If you like more of a scrub then this is perfect. The Morrocan Rose gives the product a lovely smell, while also hydrating the skin, while the Jojoba beads get to work on refreshing the skin. You can even feel the beads getting smaller as you work them round your skin. This is my 'go to' product in facials, as I find it fits most skin types.
Merumaya Skin Brightening Exfoliating Peel £19.50 – I tried this at the end of 2014, I only had a sample size but I was really impressed, with my skin looking refreshed after one use. The Pomegranate Enzymes, exfoliate the skin, while the Hyluronic Acid, and Aloe Vera, soothe, protect and hydrate the skin. I would say this one feels a little stronger than the Papaya on my skin, and I actually felt it tingle a bit when I first applied it on my hand, but still suitable for most skin types. See my full review here.
Dermalogica Daily Microfoliant £41.00 – I know it says 'daily', but I wouldn't use it daily, and you don't have to. I've been a fan of Dermalogica since it transformed my teenage skin, and their Daily Microfoliant has to be one of their 'best' products. It comes in powder form consistancy, and as soon as it is mixed with water it gets to work, using no artificial colouring or fragrances, just the essentials, Papain, Salicylic Acid, and Rice Enzymes. Just typing this makes me want to repurchase it.
Do you exfoliate regularly? What are your basic skincare steps? Have you got a 'go to' skin scrub?
Happy Hump Day,
Lots of Love,
KBxx