This certainly is the year of remakes and remakes of remakes (Godzilla for one) and I'm not even mentioning Transformers, although LA Times reviews it as very good even though it's almost three hours of crunching transformers and Mark Wahlberg.
But the one that caught me with the question "why?" is a film opening in L.A. called Begin Again. It's about a loser guy who meets a lonely girl singer who he figures he can make into a star.
Sound familiar?
Do you remember a movie called "Once", about an Irish guitar busker who meets a woman from Eastern Europe who plays magnificent piano? You know, the movie made for almost nothing that won Best Song for the movie and they played it at the Oscars.
Now you remember? Here's the poster.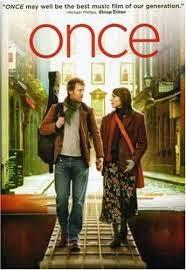 So if it wasn't enough, the writer/director of Once, John Carney, had a shot at doing the same movie over again but this time with big movie stars.
Well, Mark Ruffalo and Keira Knightley are sort of stars. Ruffalo isn't all that bad but I still can't figure out why Keira Knightley has a career at all. Just compare the both of these to the original movie.
What made the original movie is that the stars of that movie were real, they really were "undiscovered" and that was what made Once a good movie. 
But with the Hollywood version of Keira and Ruffalo, it's harder to believe that they're broke and poor and starving. The reviews have not been kind even if the ad in the paper says "Songs from Keira Knightley".
I can't wait.
Okay, I know, they made a movie and I'm just envious. Maybe a little, but not because it's a good movie, just because they got to make a movie and movies are hard to make. 
And I'm sure someone approached approached John and said he could make a bunch of money by doing "the American version". Eh?
Still, I don't think there'll be Oscars for Begin Again next year.