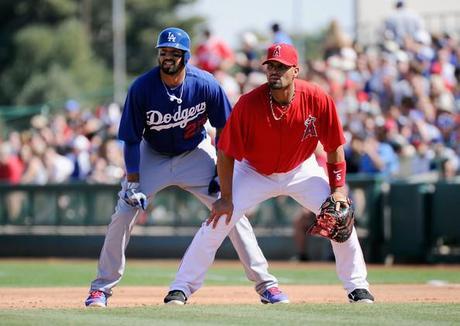 Photo: Getty Images - Kevork Djansezian
- Adam Parker
Who is the best player in Major League Baseball?
It's been an easy question with an easy answer for quite some time now. The best player in baseball, at least for the better part of the last decade, has been Albert Pujols.
But with Pujols' early season struggles coupled with the dominance of Matt Kemp with the Dodgers, the former Cardinals' (now Angels') first baseman might not be the best player in baseball any longer. Hell, he might not even be the best player in Los Angeles.
ESPN.com selected Pujols as the greatest player of the decade from 2000-2009. But 2012 is a whole new ball game. While Pujols remains homerless, Kemp is on a Steve Nash from the free throw line-type hotstreak at the plate -- he just doesn't miss.
Pujols and Kemp may be off to completely different starts thus far in the young season, but who will be top dog at the end of the grueling 162-game season? Will 'King' Albert defend his throne? Or will Matt Kemp rise up and usurp it from him?
Though the Angels' first baseman resides at one of the deepest positions in the sport, he's always continued to prove that he's a notch above the rest of guys at his position such as Prince Fielder, Mark Teixeira, Ryan Howard or Adrian Gonzalez.
The hardware and accolades that Pujols has garnered so far in his 11-year career is simply staggering.
Here's a quick summary:
9-time All-Star (2001,2003-2010); 3-time National League MVP (2005, 2008, 2009); 6-time Silver Slugger Award winner (2001, 2003, 2004, 2008, 2009, 2010) a two-time Gold Glover and, most importantly, he helped lead the Cardinals to two World Series Championships in 2006 and 2011.
It's no wonder Pujols has earned the banner of 'The Machine.' I bet if we saw an x-ray, instead of human organs we would see nothing but wiring and pneumatic pistons powering the man many believe was 'created' to play baseball.
He signed a monster contract in the offseason with the Angels to get the most bang for his buck while he's still in his prime at age 32. The only problem is, Albert doesn't look like Albert out there right now.
As it currently stands, Pujols' homers are absent and have been replaced by doubles. Meanwhile, Kemp leads the Majors in home runs (7) and RBI's (18) and OPS (On-base percentage plus slugging) with a mark of 1.432.
Baseball, like all professional sports, is a business where 'What have you done for me lately?' takes precedence over past successes. In that mindset, it would be criminal not to include Kemp at this point in the discussion about MLB's best player.
Sounds to me like Pujols is having issues with some faulty wiring or his motherboard is on the fritz.  Either that, or the less likely of the two -- he's become completely obsolete and will soon be replaced by a 'newer model' in Kemp.
Kemp's two Gold Gloves, two Silver Sluggers coupled with a 2011 All-Star selection, induction into the 30-30 club and being named the 2011 Player of the Year by
Baseball America
 has clearly proven that he's no slouch.
They both are phenomenal players in their own right. That being said, I think the best way to answer this question is to ask yourself, 'Who would you draft if you were starting a team from scratch?'
Pujols or Kemp?
You decide.
Be sure to follow Beard And Stache on Twitter 
@BeardAndStache
, 
and also Adam 
@Adam_Parker43
, Like our Facebook page 
HERE
!